Every now and then a company wanders into your inbox claiming to do something like make an amazing laptop nobody else could and generally, you assume they're full of rubbish.
When the laptop finally arrived, after a long crowdfunding campaign on Indiegogo that raised $1.4 million from backers, I was suspicious even when unboxing it, simply because Indiegogo has trained me to be skeptical.
Eve-Tech, the company behind the Eve V, did the opposite: it completely blew me away. This Finnish startup you've almost certainly never heard has pulled off something impossible: one of the best laptops I've ever tried — and it may be even better than Microsoft's own Surface Pro.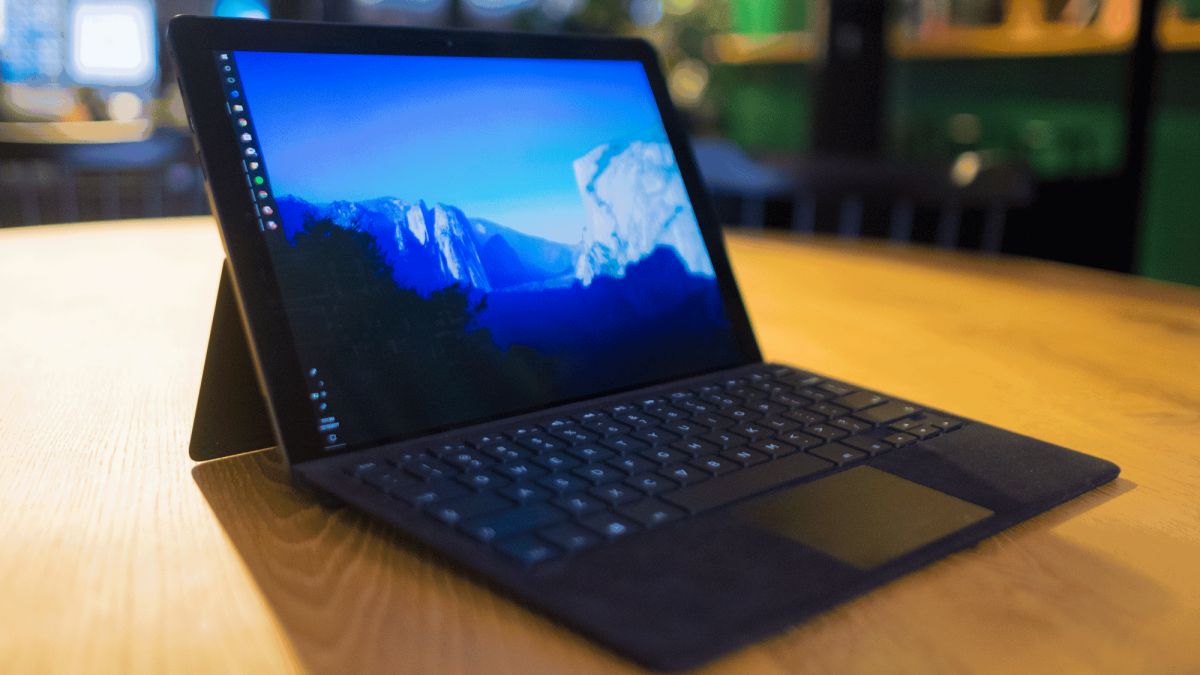 Wait, really?
Let's rewind to where all of this began: earlier this year, I was looking for a MacBook replacement after successfully prying myself away from the macOS ecosystem. After years of neglect from Apple, and a series of bad hardware decisions for the MacBook Pro, I was ready for a change — but finding a laptop to replace it seemed difficult.
The Eve V, which appeared on Indiegogo, seemed too good to be true: a convertible laptop, like the Surface Pro, with even better specs. There are a bunch of options for specs, but the high end, there's a i7 processor, 16GB of RAM, a 1TB SSD and a gorgeous IGZO display at a nice 2880 x 1920 resolution, all in a 12-inch case.
I'll be entirely honest: my expectations were low, but as I unboxed the Eve V on the day it finally arrived, I was blown away by two things: the thought that went into the product experience, which comes complete with a book with each backer's name, and the industrial design on the device itself.
The Eve V might be one of the most premium non-Mac laptops I've ever held. It's cold to the touch when you first pick it up, but feels great — with lovely machined edges and zero horrible stickers (cough, Intel) on the device. It gave me throwbacks to the very first Chromebook, the CR-48, which did something similar and I adored for the clean design.
There's a ton of fun surprises on the hardware side, which I wouldn't usually bother going through, but this is something unique enough that it's worth doing. First, there's a hidden fingerprint sensor inside the power button on the right of the device.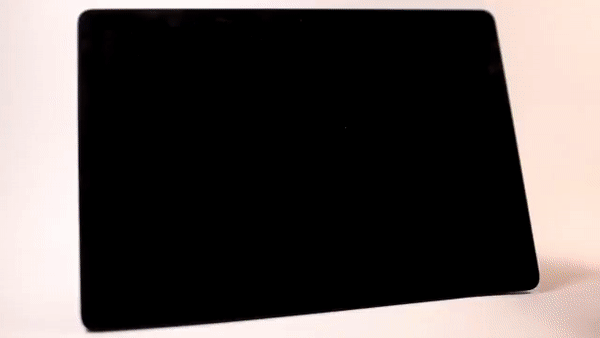 Not only does it work, it works really well — like Touch ID on the MacBook Pro well, which is surprising given it's so thin and embedded in the power button. I had extremely few occasions where it failed to scan, and it's so fast that I often found myself on the desktop before realizing what had happened.
The ports are also a breath of fresh air,: you'll find a Thunderbolt 3 USB-C and a normal USB-C port on the side, along with two old-school USB-A ports as well, for all those other devices you've got lying around. It can charge over USB-C, and it works with USB-C displays while charging from the same cable, just like the new MacBook Pro.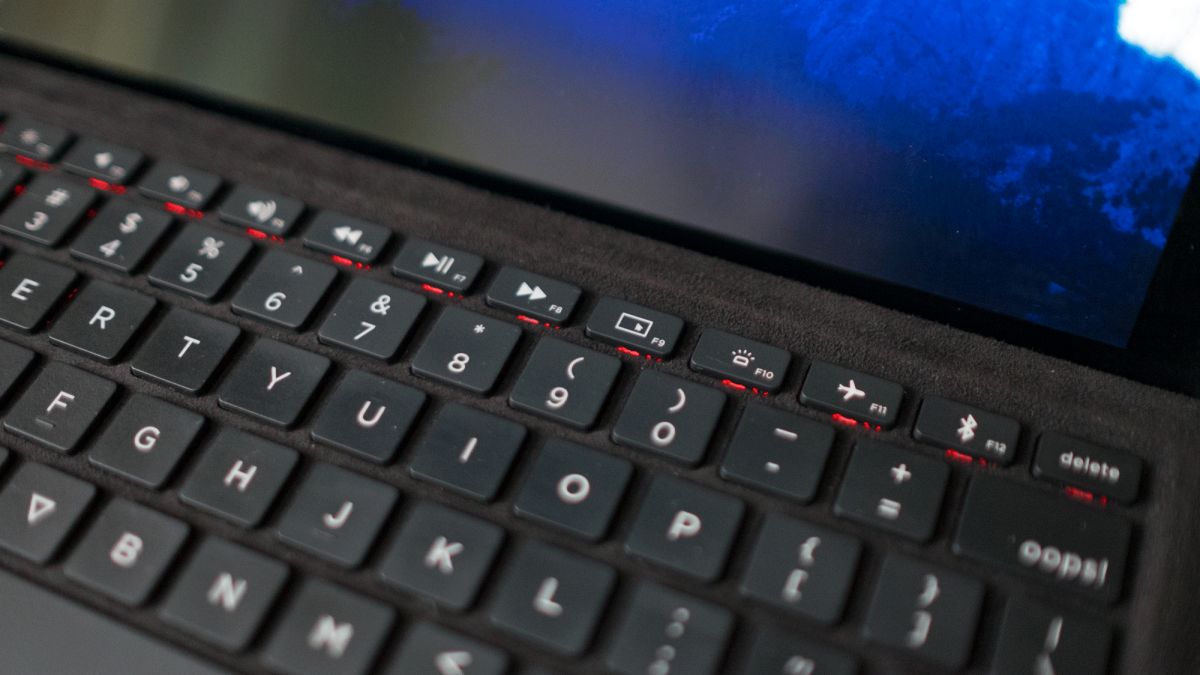 What's cool here is that Eve didn't cheap out on the graphics in the tablet: I spent two weeks working exclusively on the device with Dell's 4K HDR display and it didn't skip a beat where most laptops with integrated laptops would fall over — that's likely related to the Kaby Lake processor inside, but it's impressive nonetheless from something in this form factor.
Just like the Surface Pro, Eve V has a detachable keyboard, but, naturally, there's another surprise: this one is covered in even softer alcantara than Microsoft's and can even work as a wireless Bluetooth keyboard. Also, it's got a RGB LED backlight so you can set it to whatever color you like, which is a fun touch.
There's one niggle with the keyboard: because of this fancy wireless stuff, there's a tiny battery wedged in there, making it a little heavy. If you pick it up too fast from a desk, it falls off with the momentum because the magnet can't keep it on. I learnt pretty quickly to just scoop it up properly, but it's something to watch out for.
So how'd Eve get all of this so right? As you'll quickly find out, it asked the crowd for advice, and listened, adapting the hardware design throughout the process to get to this. Basically, the Eve V is the sum of what its own audience wanted it to be... which turned out to be pretty awesome.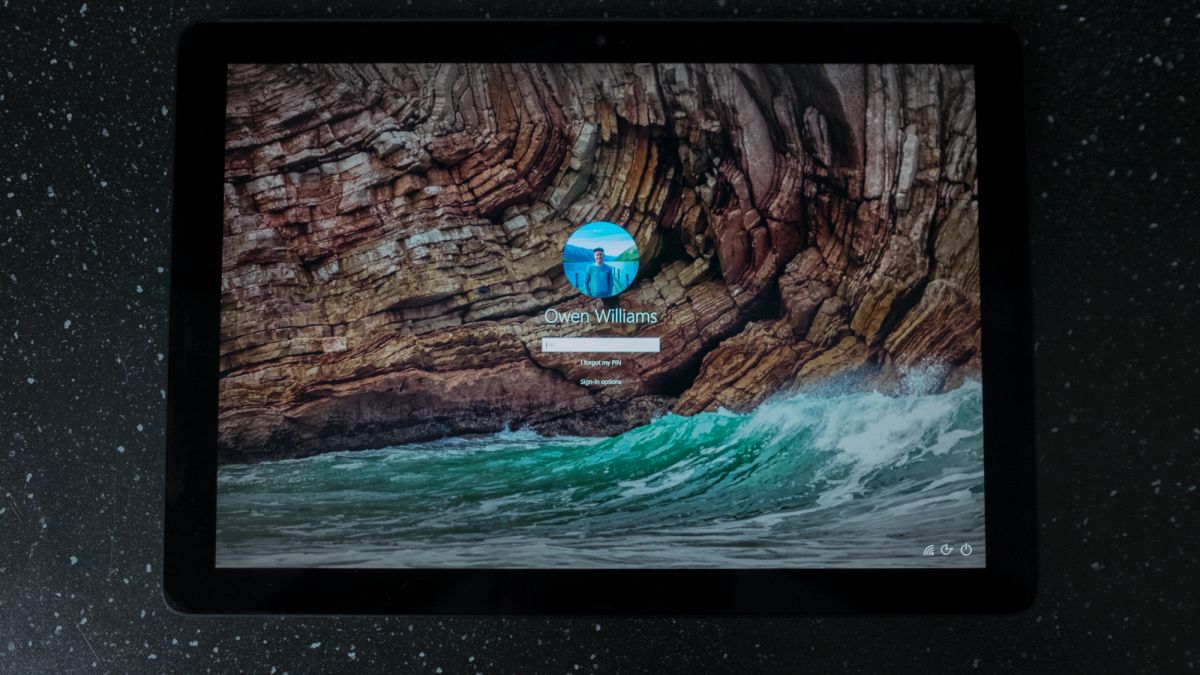 What's it like to use?
This is not a Windows vs macOS post, so I won't get into that: I genuinely still like using Windows so the Eve V was an obvious choice. We can debate the gradual decline of the Mac for hours, but to me it's no longer even on the table. With that in mind, let's talk about this thing.
One of Eve's philosophy's with the device was basically: no bloatware, and they stuck to it. There's only one extra app bundled with the Windows install, which controls the IGZO's color profile, and that's it. I've used my fair share of Windows laptops over the years, and outside of Microsoft this is exceedingly rare, even now, so it's a welcome change to not need to spent an hour removing cruft.
I'd call myself a pixel density enthusiast, so the screen on the Eve V was where my main curiosity lay. At that 2880 x 1920 pixel resolution it's got more pixels in less space than a MacBook Pro, and the color reproduction is wild. It's just lovely to look at, and having so much breathing room on a small device like this is something that changes the experience entirely — too many laptop makers still include sub-par displays, but Eve nailed this.
I have the i7 model of the Eve, but I'm generally impressed with it on a daily basis. For the size, it's basically able to handle anything I throw at it without some fans spinning up (yes, even Slack) because... there are no fans. 🙃 I've even started doing full-on web development with Bash on Windows directly on the device, with my 4K screen, and it doesn't skip a beat.
Since the Eve V seems to be full of surprises, another one that I love and haven't seen anywhere else: far-field microphones, like you'd find in the Google Home. For voice calls, the Eve V is fantastic because these things can pick you up regardless of where you are in a room, or even if there's a lot of noise.
Unfortunately, the webcam on the front is... well, not great. It does the job, but it's pretty poor quality for a device that shines in almost every other area. Would this stop me from buying it? No, it's a webcam, and the quality suffices, but it's still a thing that bothered me on a few video calls.
The question people ask me immediately about it isn't about anything except the trackpad: is it crap? Just like the Surface Pro, it's built into the removable keyboard and... while it's a little small, it actually works pretty well. No real complaints here, just make it bigger next time around.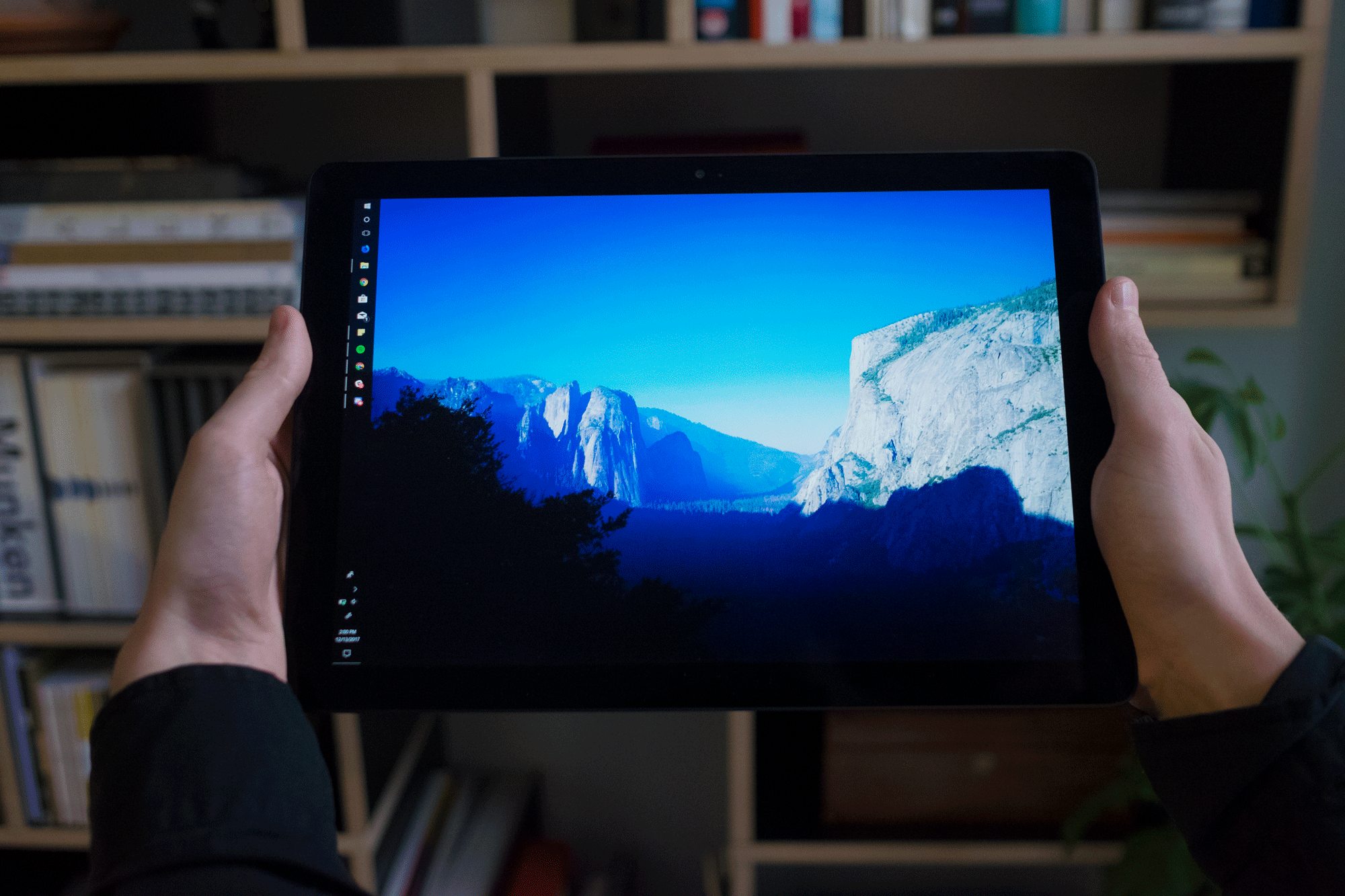 On the keyboard front, however, it's actually pretty fantastic, with a great amount of travel for a detachable keyboard. It feels like using the real thing, and I didn't find myself craving going back to a real keyboard.
My only real issue is that I'm still unsure on convertibles as a category.
I never woke up thinking I wanted a laptop that's also a tablet, but it is nice, especially being able to rip off the keyboard for watching Netflix. I always just find the hinge situation a bit... weird, compared with a laptop that can hold up its own head, but Eve's strong hinge makes up for this somewhat.
As always, I'm sad that there's no LTE in the Eve V, but I don't really know any other consumer device that has that either... it would just be the icing on the cake, I suppose.
All of this is to say one thing: the Eve V is actually just lovely to use.
Sure, it has a few small niggles, but unlike the 2016 MacBook Pro I owned and disdained on a regular basis, this thing works and they've created a damn premium feeling device at a fraction of the price, even when put up against the Surface Pro — I literally can't believe it.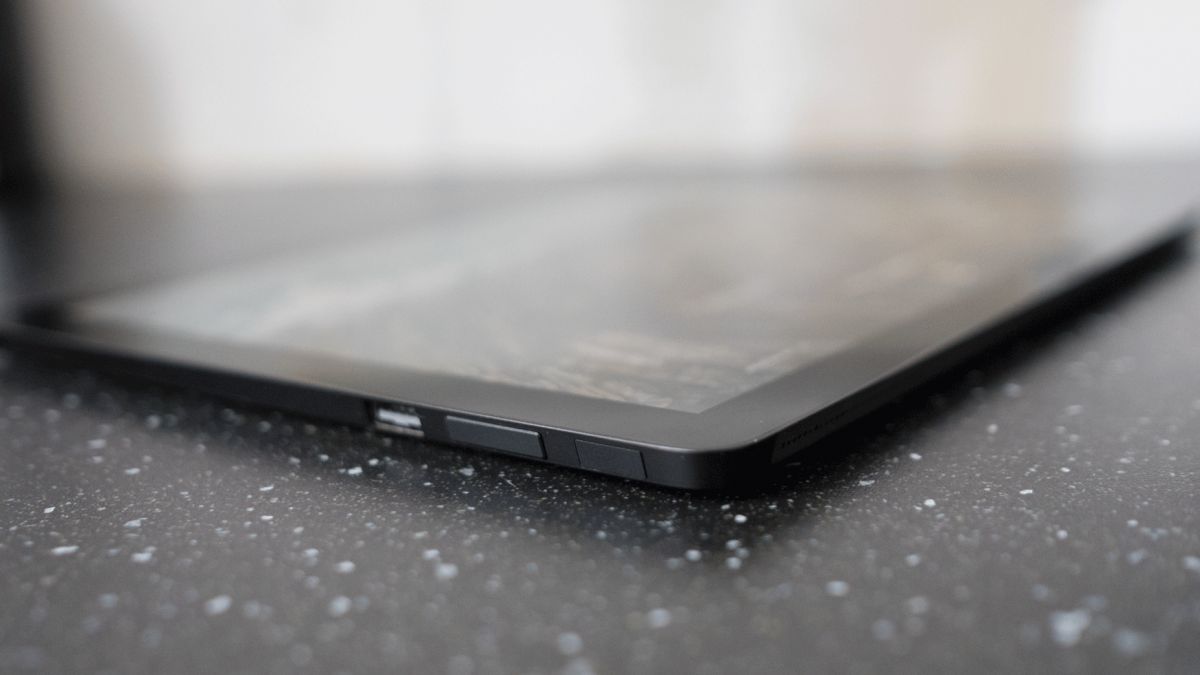 Surely there's a catch
Well, yeah: you probably actually can't get one of these things, especially given the price point: €1,649 vs a base price of €2,499 for the Surface Pro 5. That's a huge discount, and one worth considering if you're able to wait around for a long time to maybe get a new computer.
Here's the rub. Eve is still growing its production facilities, so it's only making the V available in limited production runs just like OnePlus did in the earliest days. I don't know if that's a hype building technique or not, but given the positive reviews from the press almost all around, it doesn't matter to me so much.
So, the catch is this: you somehow need to catch the Eve V when it's available on one of the company's flash sales. The easiest way is to subscribe to its email list, but it still means having a fast trigger finger. Until the company can expand beyond doing this some consumers will ignore it, which is a shame because the Eve V is legitimately good.
The biggest question that's in my mind despite how great Eve V is remains this: will Eve-Tech be around for a long time, and what's the support like on this? As someone who suffered through awkward hardware problems in OnePlus' early days as it found its feet, I'm not sure I'd like to go through the process of begging for help again on a brand new device that suddenly broke.
I'm not saying it's the same, but putting your money in Eve is spinning the wheel, because it's that new and that's a risk worth considering.
For what it's worth, I've been impressed with how Eve engaged with its community throughout the process and has almost religiously touted that they'll do anything for their backers.
That cult-like status, I suspect, is what Eve is hoping to achieve here, just like OnePlus did in its earliest days. Like those people that won't stop telling you about their great new Crossfit scheme, Eve's hardware is good enough that it might just create a new cult of its own.
It's impressive that a startup based in Finland can come from left-field and ship a Windows laptop with improvements on Microsoft's already-legitimately-awesome Surface Pro 5.
The fingerprint sensor, great industrial design and bloatware-free guarantee is awesome and this is a company to watch: they might be about to turn the industry upside down.
P.S - I plan to sub out the somewhat potato photos later with new ones. Dutch grey rainy rays aren't conducive to product photography!