There's been a lot of discussion about the future of publishing over the last few years, particularly as Facebook traffic began cratering, leaving publishers scrambling to find new sources of traffic. What's never really discussed, however, is how those platforms work, and how news sources end up getting mountains of traffic from them, let alone approved for them in the first place.
Google News is one of the biggest news platforms on the internet, and you're seeing it almost every day even if you don't know it.
Any time you search for a newsworthy term like "iPhone" you'll get a carousel of top news about the term at the top of the page, right above every other result, which is visually distinct with images and logos to draw you in. But, how does one actually appear in the carousel? As I've found out, it's non-trivial.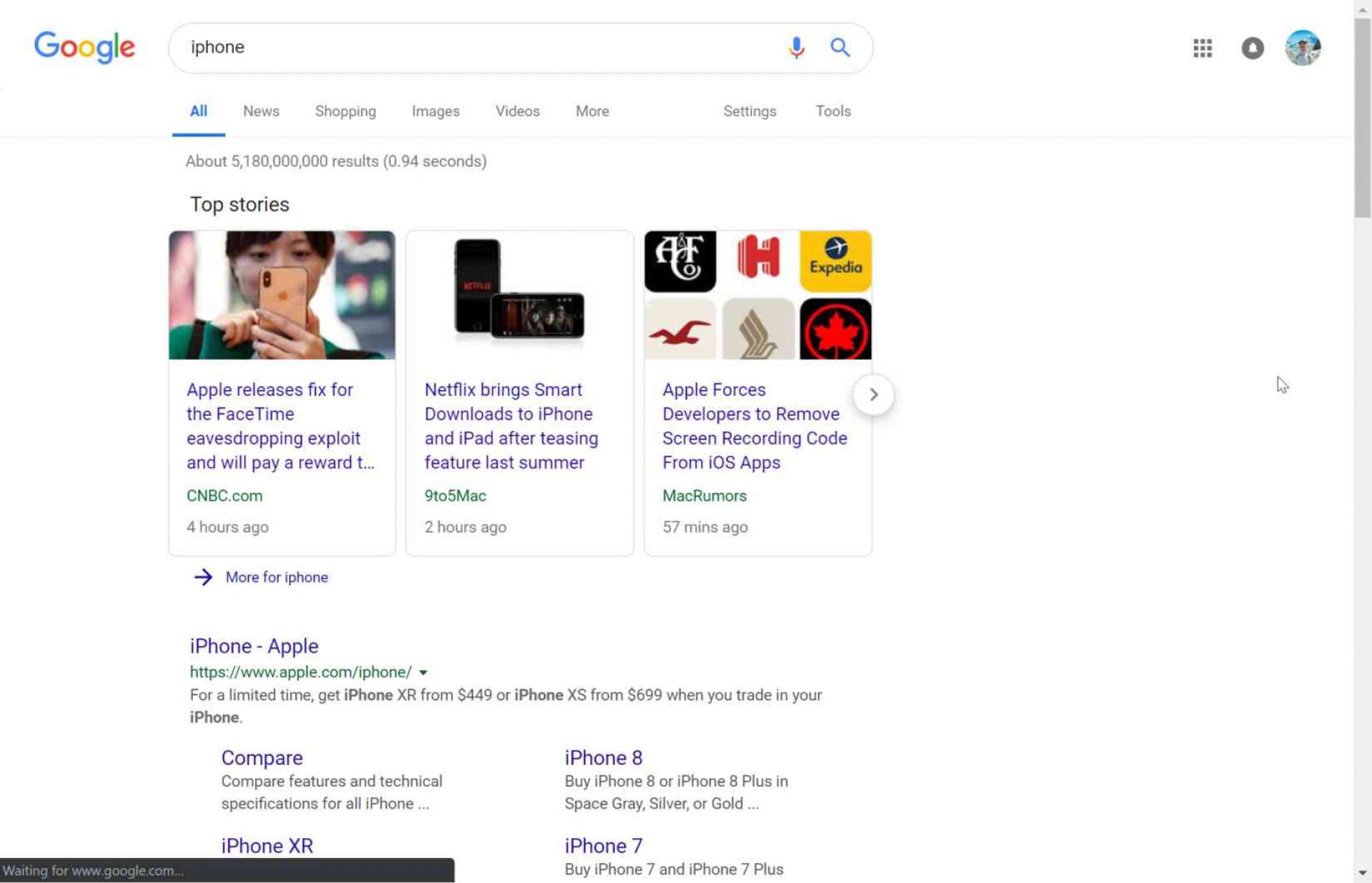 Well, it's not easy. Google doesn't want you to know, and it doesn't disclose how it works, even to the publishers trying to use it.
Not only does this carousel drive a disgusting amount of traffic, how it actually works on the back-end is a mysterious process with hidden rules, gotchas and changing goal posts, designed only to allow the largest, well-known of publishers in.
If you are whitelisted, you'll receive an avalanche of traffic, special search-related features, and priority in the algorithm as a result. If you're not, good luck fighting it out with all the other small sites.
Getting approved
If you're looking for what it takes to get into News, here's what Google says it takes to get in and get the precious features that will drive all of that traffic, which doesn't seem so difficult on first read:
Best practices
In general, news sites should feature content that's clear and free of grammatical errors.
Be accountable and transparent
Content should feature transparent information about the author, clearly accessible contact information (such as email and physical addresses, and phone numbers), and posts with datelines and bylines.
Limit ads
Advertising and other paid promotional material on your pages should not exceed your content.
I have been working to get approval in Google News for something like two years for this site, and despite constant tweaks, submission for approval and roundabout progress, I've made zero progress.
If I submit Charged to news, despite an average of 150,000-250,000 views a month, no advertising or clickbait oriented articles, as well as a regular cadence of newsletters on a daily basis and original work, the company will reject the request. Rejections are met with either radio silence or a note that it can't provide feedback on why you were excluded, and that's that.
Google's making the rules in secret, and applying them how it sees fit, with no recourse. Here's what you get if you submit a request to get listed in News and find yourself rejected:

The advice? A single sentence about heading over to the forums to chat with other publishers, because it won't respond to you personally, and you must wait another six weeks to apply again.
Essentially, Google is choosing the winners and losers in the news race, with small independent publishers left to their own devices if not approved. It isn't the end of the world, but it's certainly bizarre given the current media climate.
What's strange is that this is really misaligned with how Google talks about the industry and the work it does with the Digital News Initiative (DNI). I've attended the company's industry events since the DNI was founded, and it loves touting how it's supporting publishers of all sizes—without really giving the details of how.
All of its success stories are VC-funded organizations, and it isn't open to contact from smaller publications, so anyone independent or without that kind of funding is left hanging. In the days of RSS, this would be fine because there were other ways to get traffic, but not having this kind of access today makes growth an uphill battle.
Incentivizing bad habits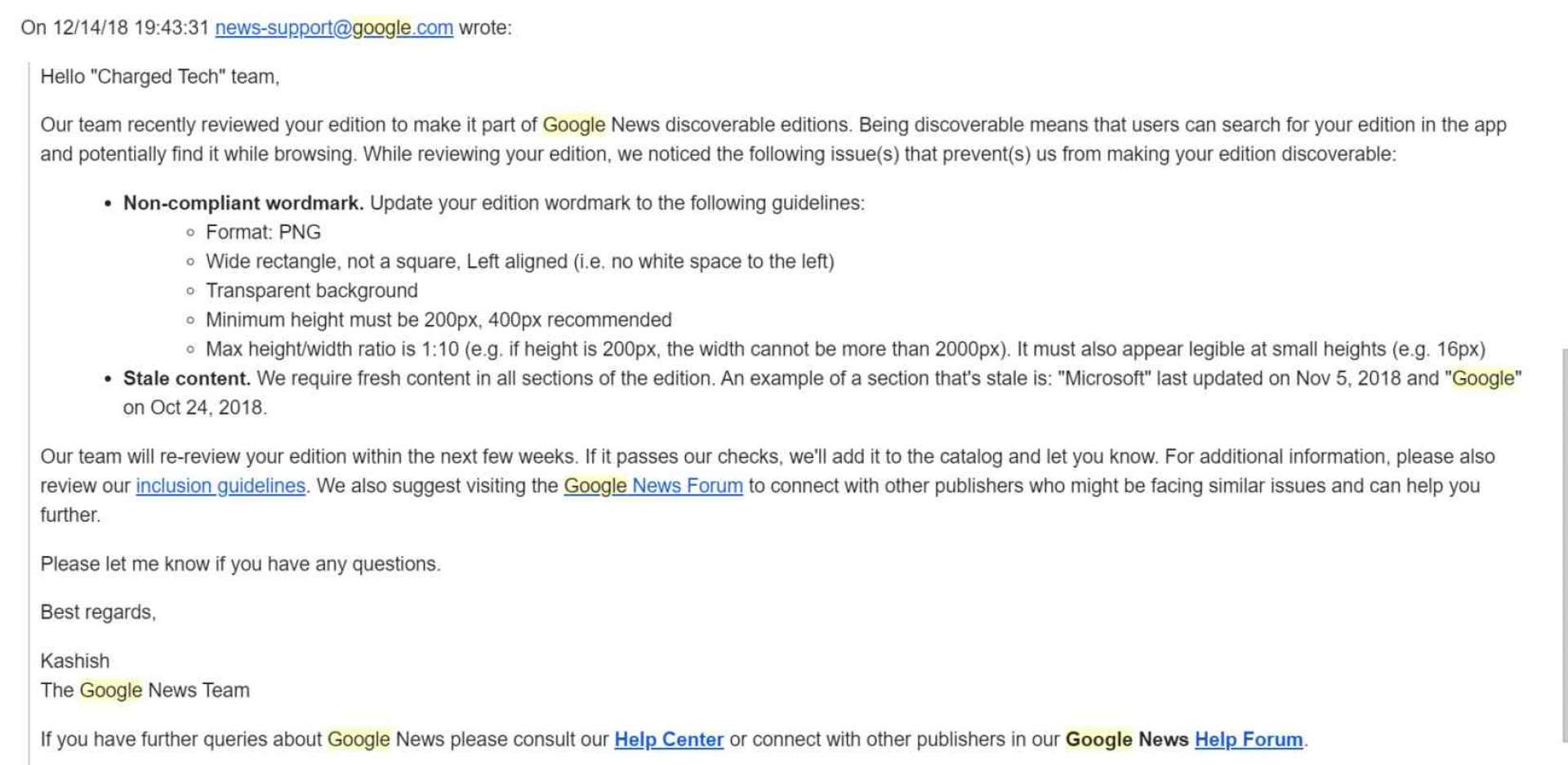 One of the biggest frustrations I have today with the news industry is that it's based on quantity more than anything else. Head over to Techcrunch or Huffington Post and there's so much content coming out of these organizations that it's impossible to keep up; my philosophy has been to publish only when there's something worth saying as a result.
The problem, unfortunately, is that Google doesn't think you're a real publisher if you're not writing content at that pace. I discovered this may be the reason I'm not being approved when I found another way to get approved, via the very broken "News Producer" tool which allows instant submission to the mobile-based version of News.
After configuring my site, then submitting it for approval I waited a month and heard back from an actual human for the first time: "We require fresh content in all sections of the edition. An example of a section that's stale is: "Google" on Oct 24, 2018." A few other issues were presented, such as a stretched logo, but that's easily fixed.
Not only was this section updated a week before their reply, after resubmitting, posting a bunch, and figuring it was adequate this time around... I received another rejection: "We require fresh content in all sections of the edition. An example of a section that's stale is: "Microsoft" last updated on Nov 5, 2018." Yet again, this was just over a week old, and apparently too stale for inclusion.
The team isn't willing to take replies to emails (everything gets a canned response that the inbox isn't monitored), and decisions appear to be final. What I don't understand is why posting cadence is even relevant at all, when the company could encourage organizations to post less often but higher quality stories.
I've not really found out much beyond this, because everything falls on deaf ears. Reaching out to the Digital News Initiative invites silence, as does contacting Googlers directly about the issue, and even the company's public email addresses. I assume that I'm too small to have the company reply to me, but I'll never know.
Roadblock
After spending weeks of time adding the right structured JSON to my site for News, messing around with custom author profiles and other things that might have not been compliant and submitting almost every six weeks for over a year, I've given up on Google News entirely. I implemented the company's AMP standard in pursuit of a small SEO boost, and I've stopped trying beyond that because there's nothing I can do.
It's a massive potential source of traffic that some organizations say drives thousands of visitors daily, and the process is about as opaque as it can get. I understand the motivation behind curating News, but the lack of accountability is concerning when the company is so loudly touting supporting journalism.
I'm not saying my little website is a world-class journalism entity worth crying over, but I do find the lack of transparency on Google News startling: Google is acting as an unaccountable, uninterested gate-keeper, approving sites at random with little oversight. If you find yourself, like me, on the 'rejected' side of the fence, you'll be wondering why, but don't have any recourse.
RSS is all but dead, and I still proactively use it, but the reality of digital journalism today is that blogs like mine need these types of platforms to survive. Google News, Facebook and others drive a huge amount of traffic, but all of them are gate-keeping lazily, while getting lots of happy PR for saying they're supporting journalism.
This is the same experience as I've had in the past when attempting to gain access to Facebook's 'Instant Articles' technology. When I worked at The Next Web, we spent months trying to get access to the standard while the big organizations like The New York Times ran with it, then found ourselves negotiating with Facebook to use it late in the game, once the largest players already had a massive head start.
These processes need to be transparent. It's exhausting being a small publisher, and the platforms don't give a shit.
There's no reason the public shouldn't be able to see why a site was rejected, or whether it was approved, and the reasons about why -- let alone the publisher itself. Google has a responsibility to help publishers of all sizes, but right now, it's hard to say that it's really supporting anyone outside of the giants.
Edit: A few people wrote me to say that they saw this story on Google News! This seems cool, but it's not actually quite true, and appears to be a side effect of my site's AMP support more than anything else.