4K and the HDR mess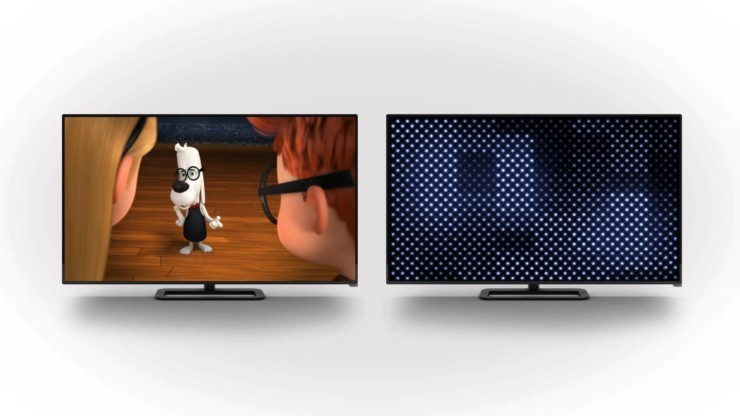 If you've tried to buy a new TV, like me, recently, you'll have noticed that the 4K HDR trend is in full swing — including the usual attempts to confuse the hell out of unwitting consumers who don't know what 10-bit FALD means.
I'm a full-on convert to 4K and HDR: they're technologies I was initially skeptical of that are game-changers when it comes to actually watching content. When you upgrade you quickly notice the detail it extracts; sweat on a person's face, reflections on a window and so on.
Just like the "Full HD" and "HD Ready" scams from TV makers in the past, something similar, but far more frustrating is going on now. 4K is surprisingly unaffected this time around, and most 4K panels seem to be alike, but High Dynamic Range (HDR), a technology that replicates the full color and brightness spectrum as intended by the content creator, is a mess.
Here's how it works: there's a few important things to consider when mulling a 4K HDR display. First, don't bother going 4K without HDR, you're just shortchanging yourself on a device that gets replaced extremely rarely.
From there it gets complicated for what HDR actually means — it encapsulates a few different elements including color-depth, brightness and the way the TV is lit. In short, with HDR you need to consider the HDR standard the TV supports, the panel color depth and the type of back-lighting it uses. 
Like the lamest standards battle of all time — Blu-ray vs HD-DVD — HDR has a similar problem. Right now there's an open-source standard called HDR10, and the proprietary one, Dolby Vision. 
The difference between the two standards is such that HDR10 is software based, but restricted to up to 1,000 nits of brightness. Dolby Vision requires a physical hardware chip for decoding and can decode up to 10,000 nits of brightness (which right now isn't even a thing).
Now that you're confused, like I was, the standards themselves don't matter so much as content availability. TL;DR, it's best to consider a TV that supports both standards, but as of right now there's still broader support for HDR10.
Panel color-depth is the next issue. When I was shopping around I started noticing TV makers advertising "10 bit color" on their screens, only to discover that underneath they meant the software supported 10-bit color, but the panel itself supported only 8-bit color. 
I won't go into this here too much, but checking for 10-bit color on the panel is important. If you end up opting for an 8-bit panel it'll still look great compared with what you're using now, but again, it's a shame to squander an upgrade opportunity. There's more on this part here.
Lastly, the backlight: I never gave a flying hoot about the backlight on a TV before, but with 4K HDR it suddenly matters because you're now getting the full spectrum of brightness (both light and dark) so this matters. 
I won't go into it too much because there's some great reading here about it, but bet on the wrong backlight technology, like local dimming, and you'll see a 'halo' effect as the TV is unable to dim parts of the panel specifically enough. 
OLED TVs are great because this doesn't matter due to the way individual pixels are lit, but they're expensive, so look for "Full-array local dimming" (FALD) for the best experience on normal TVs.
So, made it this far? Yeah, I'm sure you skimmed that, but it's easy to understand how 4K HDR is such a mess — and I've certainly left out some obscure element that's important to consider as well. 
It's awesome technology tainted by marketing snake oil, and it's hard to know what anything really means at some point, leaving most people to fall back onto the thing the salesperson recommends. Trust me, 4K HDR will blow you away, but it's a slog to figure out what it really means.

The point of explaining all of this is that it appears it's about to be properly fixed: Vesa, an organization that defines many TV standards, is creating a new label that requires TV makers to certify themselves and cut through this rubbish. 
If you see the DisplayHDR sticker from 2018, you know it's actually certified to be HDR capable, and it should indicate the brightness capabilities alongside it rather than letting the TV maker interpret the standards itself. 
Until then we're in the awkward pre-teen phase with 4K TVs, so my general recommendation if you're upgrading now is simple: use the Wirecutter's best pick. 
It's worth upgrading, particularly because there's some great content in HDR available now (Stranger Things on Netflix is great!), but take the time to understand what's going on carefully first.
---
Instagram changes its core functionality
For the first time ever, Instagram is changing its core functionality and now lets you follow hashtags in your feed. This isn't earth-shattering news in itself, but it is an interesting study in the company reinventing itself.
Instagram was almost exactly the same for years, and never really expanded beyond the square photo, but suddenly, up against formidable Snapchat competition in 2015, those walls came crumbling down.
Since then, Instagram has reinvented itself: it's got Stories, portrait and landscape photos, carousel posts and now, hashtag following. It's fascinating to see a company that was so focused on being the place to share a photo in a rigid format expand successfully into something more than that.
Hashtag following seems well considered: you can train the service that while you like #barracuda the fish, you aren't interested in the American muscle car that shares the same name — and it'll learn that. 
With Instagram hurtling towards 1 billion active users it's fascinating to see how great of an acquisition it was for Facebook. It's growing incredibly thoughtfully and somehow still maintains its status as the "nice" social network.
Hashtag support is rolling out as of today, so you probably already have it. I suspect this may make me use Instagram more, especially because discoverability of new people was a problem for me on the service. 
Instagram is betting on this feature as the foundation for a lot more in 2018, and I'm curious what that means going forward. Better advertising targeting? Probably. A way to surface beyond just the bubble of people you follow now? Yup.
---
Tab Dump
Facebook to book revenue locally
Here's something unexpected: Facebook will book ad revenue locally rather than routing it through Dublin to avoid tax. This is a rare move that may hurt short-term, but help win a lot of political klout, and get ahead of coming new EU legislation. 
South Korea mulls emergency cryptocurrency tax
Crypto is huge in South Korea, and the country held an emergency meeting this week to decide whether or not to slap a tax on it in the short term:
In Seoul, after an emergency meeting on Wednesday, South Korea's government said it will consider taxing capital gains from trading of virtual coins and will also ban minors from opening accounts on exchanges.
How Steve Bannon et al tried to sabotage Twitter
This wild report from BuzzFeed looks into something previously unmentioned: a war on Twitter, the company, from the same people who used it to incite a lot of hate. 
They looked into how to hurt Twitter using editorial, financial and legal pressure, and it seems to have worked, at least in the short term.
---