Amazon grows by 159,000 employees in one quarter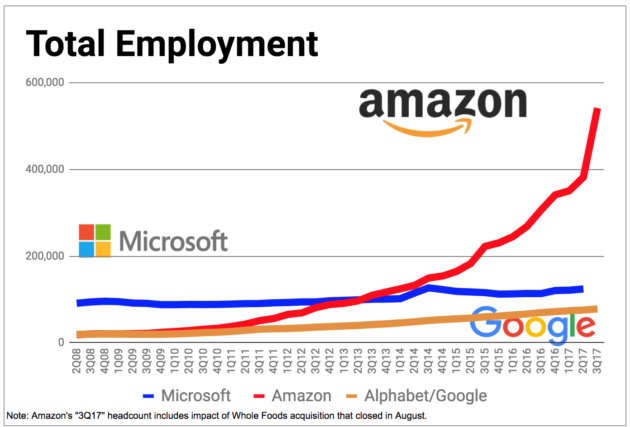 It was earnings day yesterday for Amazon, which saw great performance despite swallowing Whole Foods for $13.7 billion, but perhaps the most interesting component is that the company became the US' number two employer almost overnight thanks to the deal.
It's easy to forget the scale of Amazon's ambitions and just how many people it takes to move all that stuff around: the company now employs over 500,000 people which puts it far ahead of traditional technology companies.
Integrating so many people in a single quarter will be incredibly difficult. Startups and corporates alike struggle to onboard employees from different cultures but the scale here is staggering 
Sense of scale: Microsoft has 124,000 employees, Apple has 116,000 and Google clocks in at 78,000. 

Why it matters: Amazon isn't breaking a sweat despite this scale. It's doubling down on the philosophy of spending the majority of its profit rather than hoarding it, and it appears to be working.

Tidbit: Amazon just gained licensing to be a pharmacy in 12 states, priming itself to disrupt yet another old-school industry.
---
Google promises software fixes for Pixel issues
Despite the "issues" claimed across the internet by many on the second generation Pixel, Google says it believes the issues can be resolved with software in a matter of days. 
Perhaps most interesting from the post is that Google quietly added a new display mode called 'sRGB' to the Pixel XL that lets it accurately display images based on color profiles. The company was surprised people didn't respond well to that change so plans a new mode that allows the user to change it to how "normal" phones show images.
It turns out that if you train people for years that over saturation of photos and videos is a good thing, they'll think your screen is broken when it's suddenly not doing that anymore. 
Such a move seems like a gross over estimation of people's desire for accurate color versus making the display 'pop' and Google appears to have learnt its lesson here. 
In response to the hardware issues the company says it isn't seeing wide spread issues, alluding to that blogs may be blowing it out of proportion, but voluntarily extended the free warranty to two years.
Why it matters: Google is serious about the flagship phone industry with Pixel, and asking people to front over $800 for a phone that might work isn't reassuring. Offering long-term warranties like this gives extra assurance Google has your back, beyond what any other phone maker offers for free.
Another lesson: It's easy to mistake tech reporting on issues as widespread problems with phones, something I also did here as I cancelled my Pixel order, because it gets a lot of clicks when a company fails like that. It might be time to double down on this newsletter... 🤔

---