Google officially kills Allo and Hangouts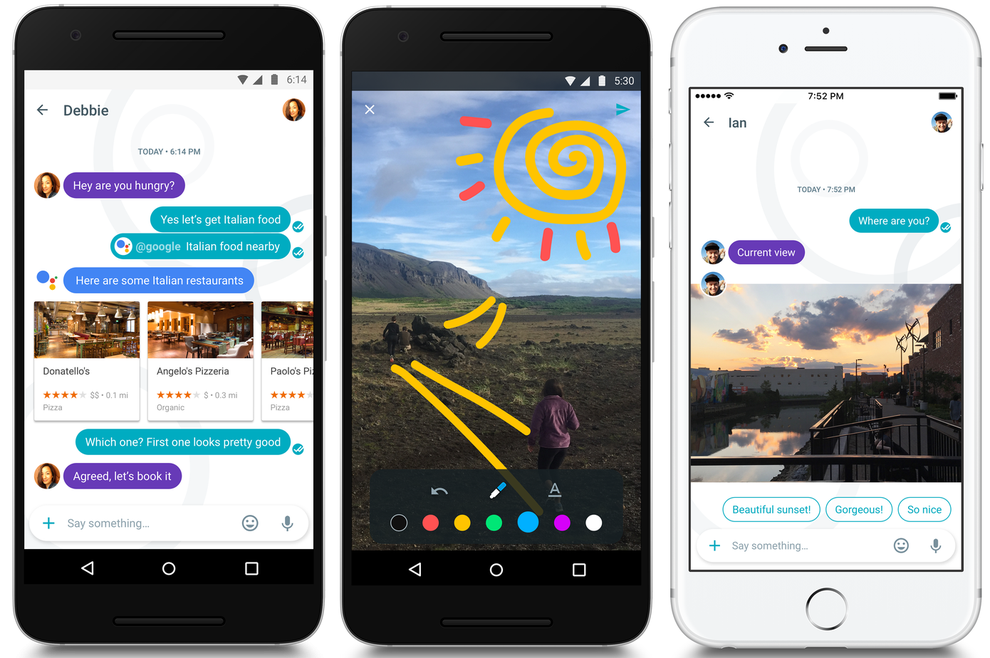 After a series of reports from 9to5Google this week detailing Google's plans to refocus its messaging efforts, the truth is now out: Hangouts and Allo are dead. 
We get official confirmation of this in what feels to me like a 1,000 word post saying Google has no idea what to do:
Communicating with the people in our lives is one of the most important things we do every day, whether it's chatting with friends about an upcoming trip, calling mom to check in, or touching base with colleagues. Over the past few years, we've built products to help improve the way you communicate and today we're sharing an update on our current efforts, and our focus moving toward a simpler communications experience.
Google has a long history of launching, killing and recreating chat apps that started with Talk, a chat client based on the Jabber protocol and a core part of the Gmail experience. Six years ago, it 'unified' Talk by re-branding it to Hangouts and launching across mobile platforms simultaneously.
Hangouts had a good run at first, then stagnated as time went on. As recently as last year, Google started pushing consumers away from Hangouts to Allo (which is now dead) and its new products, Meet and Chat.
It's truly impressive how incoherent the Google messaging strategy is, particularly given that Android has more than a billion devices out in the wild. When Hangouts officially goes away, we'll be left with.... the SMS app, which Google is focusing in on with its 'RCS' standard, despite it being slow going. 
By contrast, Apple's iMessage is built-in to its default messages app, available without much configuration or tapping around if you're signed in with an Apple ID. Google had that with Hangouts, but it's going away with no coherent plan to replace it. 🤷‍♀️
---
UK releases 250 pages of internal Facebook documents
The government actually went through with its threats to release a cache of documents it obtained by force last week, and we now get a rare look at inside Facebook's secretive product development culture. 
There's a bunch of interesting tidbits in the emails that tell a story about how Facebook was building the product at the time. For example, when Twitter launched its 6-second video platform, Vine, an engineer recommended within hours of launch that the company cut off Facebook API access for the product. Zuckerberg replied within minutes: "Yup, go for it."
Perhaps the most telling snippet is an email in which Zuckerberg discusses API development and security threats. He replies to a VP that he is "generally sceptical [sic] that there is as much data leak strategic risk as you think" and that he "just can't think if any instances where that data has leaked from developer to developer and caused a real issue for us."
Ominous! If we're honest, the emails are rather banal: they simply describe people figuring out how to build a product as they go, but they're made far more interesting by the fact that Facebook is so secretive, and we have few insights into its culture like this. 
I ended up spending most of yesterday reading these, and they're worth taking a peek at to understand how we got to where we are today. As to their importance, I'm not sure they've amounted to much other than a tool for the UK government to use to piss off Facebook, firing a warning shot across the company's bow: stop ignoring us, or we'll keep doing this.
---
Tab Dump
Australia is desperately trying to pass a shitty anti-encryption law
Government-mandated backdoors for encryption might arrive as a result, or companies might just completely block the country instead. This isn't looking good, however, and would seriously hurt consumers if it does pass.
Huawei's CFO arrested in Vancouver overnight
We don't know why, but Huawei's Chief Financial Officer was arrested in Canada while transferring between flights, and is likely to be extradited to the US. Reportedly, it's because the company broke trade sanctions, but it's a big secret right now as to what's going on, and arresting an executive of a Chinese company like this is unlikely to go down well.
Qualcomm's 855 processor is an impressive next-generation CPU
Coming to a non-Apple device near you soon, Qualcomm's next generation chip is a beast. It gets top-end 4G LTE speeds, at 2Gbps, on-device AI support and impressive improvements for its image-signal processor. I'm surprised, after a few years of dud releases, how far ahead this chip is in the industry.
eSIM support is finally here for iPhone XS and XR users
Let's send non-competes back to the middle ages
Seagate just announced a 16 terabyte hard drive
This is a space that is quietly trudging along, but I had no idea so much space was available in spinning disks these days. What's wild is Seagate is planning for a 100TB disk in just five years.
---