Apple plans renewed e-book push
The e-book space, for all intents and purposes, has been won by Amazon — but if you weren't paying attention you wouldn't even be able to tell, with the company barely pushing innovation forward since it became the dominant marketplace for digital books with Kindle.
It feels like forever ago, but the bitter war between Apple and Amazon that raged on, pushing prices down and famously resulting in Apple being investigated for e-book price fixing and ultimately paying $450 million to the US government as compensation. 
Since then, Amazon had almost no competition. iBooks has lived on, but Apple didn't actively invest in the space, and Amazon was free to reap profits: and it has. Now that Kindle 'won' the e-book format, publishers have seen an equilibrium return — particularly as Amazon's focus went elsewhere, and somehow, print books are back as the most popular way to read.
Today, the news is in that Apple is back in the space this year, and plans to revive its iBooks store by re-branding it, and aggressively pushing back into the market. First, iBooks is being renamed just to 'Books' (more on the removal of the 'i' across Apple's brands another day) and Apple has hired a key executive away from Barnes & Noble to reboot the brand.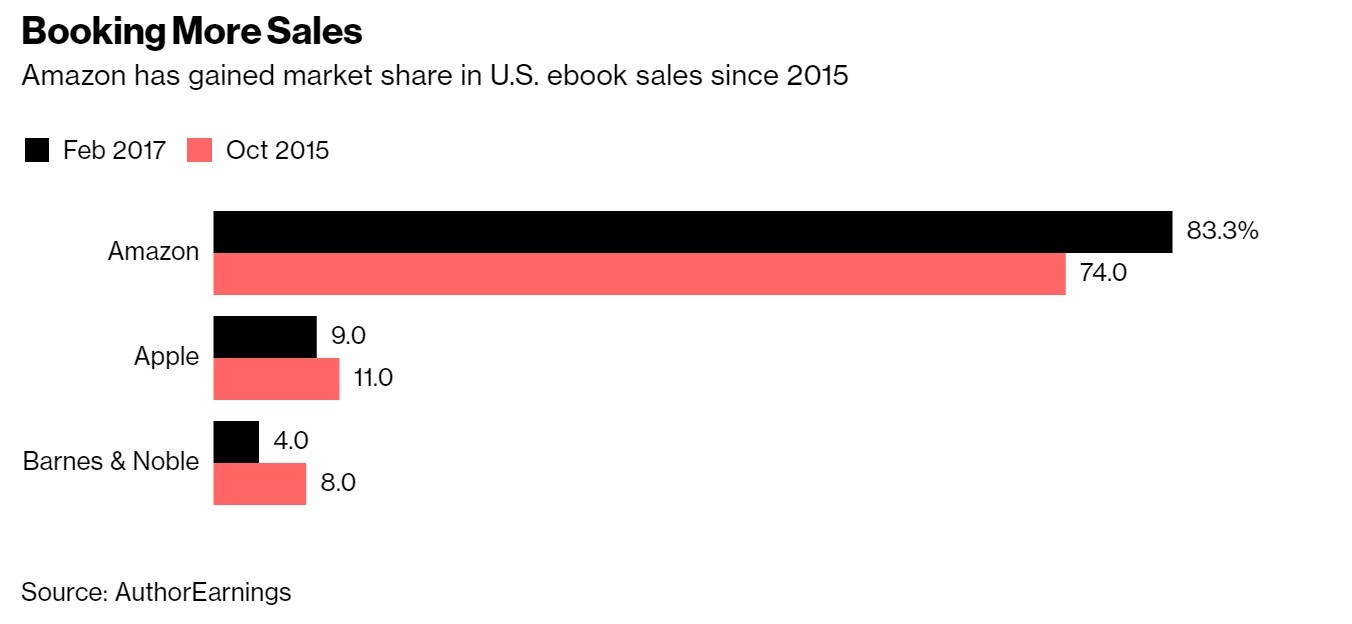 More competition would be good. If you look at the chart from Bloomberg above, marketshare in the space is... well, uncontested for Amazon, naturally leading to the format's languish — Kindle hasn't seen innovation in the last few years beyond small improvements, and prices remain almost at the same level of their physical counterparts.
I'm not convinced Apple will be playing the game wholeheartedly, especially given a lack of e-ink devices (I believe the Kindle is so good because you can't do anything but read), however it's yet another tent-pole in what may help resume iPad sales from their decline. Regardless, maybe competition can revive the format and make things interesting again.
Funnily enough, Amazon has also shown renewed interest in the space in 2017. Amazon plans physical Kindle stores across the US, starting with Manhattan, and the Kindle Oasis was a fun new spin on the existing e-ink device after years of the same format. 
That said, unless Apple really begins to compete, Amazon has no real reason to double down — particularly as the line item for e-books on its revenue is so difficult to see with all that other money it makes (AWS makes $18 billion), even if Kindle is reported to be a billion dollar business.
---
Tab Dump
CNN closes down Casey Neistat's Beme
Whew, this didn't last long, especially with it as their new bet for 'millennials' at CNN.
Intel's last quarter of 2017 was great
$5.4 billion in revenue! It's great to be the biggest chipmaker in the world — but the elephant in the room is will Spectre et al make a dent at all in the first quarter of 2018? Unlikely, given people have nowhere else to go.
Apple's iOS 11.3 gives back control over batteries
A preview of Apple's next iOS update gives users control over their batteries if throttled. Note that Apple doesn't proactively alert if you're throttled, but offering a way to control it when you realize you might be is a fantastic middle ground. 
Sonos counters HomePod
This is going to be a long, bitter war, I suspect. Sonos has pre-empted the HomePod release by offering two Play:1 speakers for the same price as a single HomePod — a genius competitive move, and one that signals Sonos must take this up a notch if it wants to compete. 
Sonos is poised to do well out of this, if it plays its cards right, as Apple defines the category and legitimizes Sonos' own products — we shall see if Sonos' presence in Apple stores is for much longer.
---