A new narrative for Google at I/O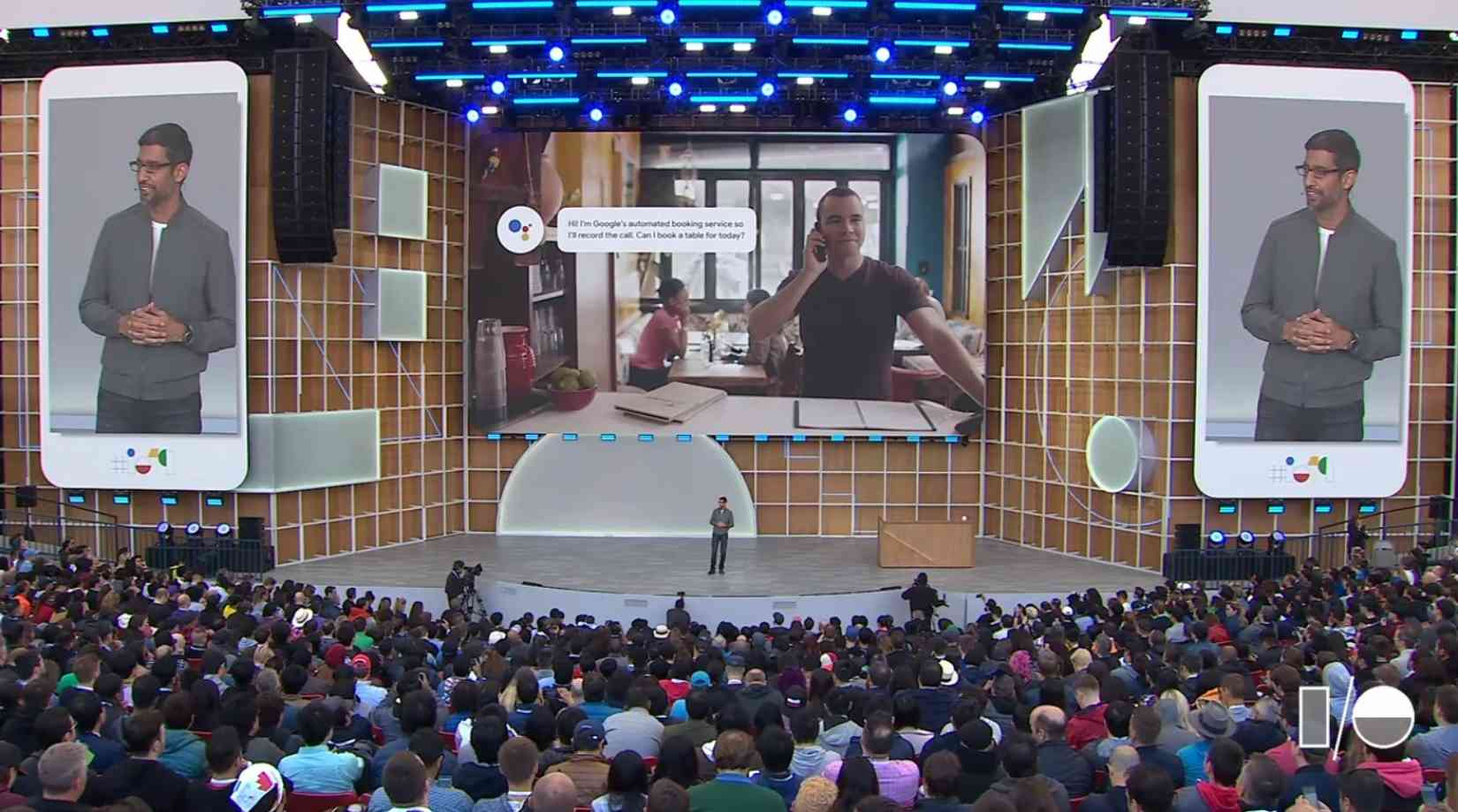 Google I/O this year was different. Not only was it the first time in years that the company used the event to debut new hardware—more on that later—but it also marked a drastic redefinition of how the company builds its products, and the narratives it cares about when announcing them.

That narrative? Google cares about privacy now—and it's bending over backwards to prove it to you. In a jab at the current price of high-end smartphones like the iPhone Xs, the company's CEO, Sundar Pichai, said "We think privacy is for everyone — not just for the few" as he introduced the Pixel 3a, a $400 mid-range phone with high-end features.
Google, it seems, has found religion: privacy and advertising doesn't need to be mutually exclusive, and it's applying that ethos across its products. As each announcement was made, there was careful concern to cover off the privacy angle, and interesting new features to boot—on a new home device, there's a physical disconnect switch for the camera that disconnects it from the motherboard. On Maps, you'll see incognito mode. On phones, Google committed to providing locally-performed machine learning, rather than use the cloud.
Across the board, the tune seems to have changed all of a sudden. But, it's a refreshing wave of self-awareness: Facebook faces one of the worst privacy scandals in technology's history, and Google has largely avoided being caught in its wake—so it's getting out ahead of the pack.
What was fascinating about all of this is that Google has successfully pushed many of its A.I. advances forward and moved to local-first processing, without compromising on incredible results. One of the highlights of the entire event was an announcement that voice recognition can now be largely performed offline, on-device, thanks to improvements in how it's stored and executed—bringing the model data down from 100GB to just 0.5GB, which fits nicely on a device.
After sharing this news, a demo showed off what this actually means for Android users: incredible voice recognition with almost zero latency. After asking the demo gods for luck, the presenter launched into a series of back-to-back commands like open calculator, show John Legend on Twitter and so on, which were interpreted instantly, like magic, no connection required (and in a live demo to boot).
As this was demonstrated, the jokes immediately flew on Twitter about Siri, the perpetual butt of the A.I. joke, which performs much of its processing offline for privacy reasons as well, which it used as a crutch for years to excuse how far behind it was. Google, it seems, understood the appeal of privacy-focused features, but actually made them work.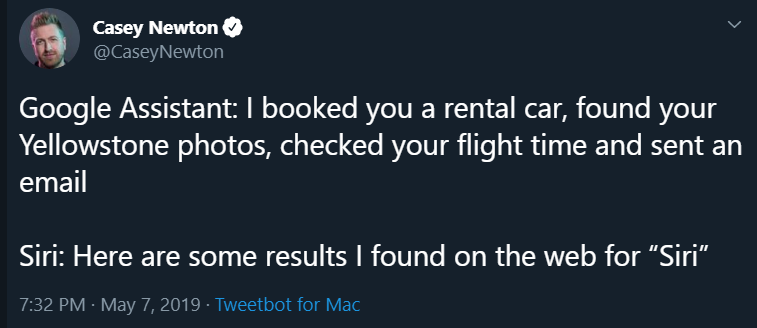 Other demonstrations were just as magic. Last year, Google demonstrated a feature called Duplex that calls restaurants and other businesses to make reservations on your behalf—it was widely panned as something that would never launch, but is available in the majority of the US already. At this year's event, Duplex gained new features for booking via the web, doing things like reserving cars and hotel rooms, while you sit back and watch. 
Watching Google I/O yesterday live, from the comfort of my couch rather than the audience in Mountain View, I was struck by how intently Google has focused on helping people do stuff better. From a heavy focus on accessibility features during the keynote to ways to book cars, work offline, or better understand the world around you—the theme was straightforward: using AI advances to help you during the day, rather than get in the way.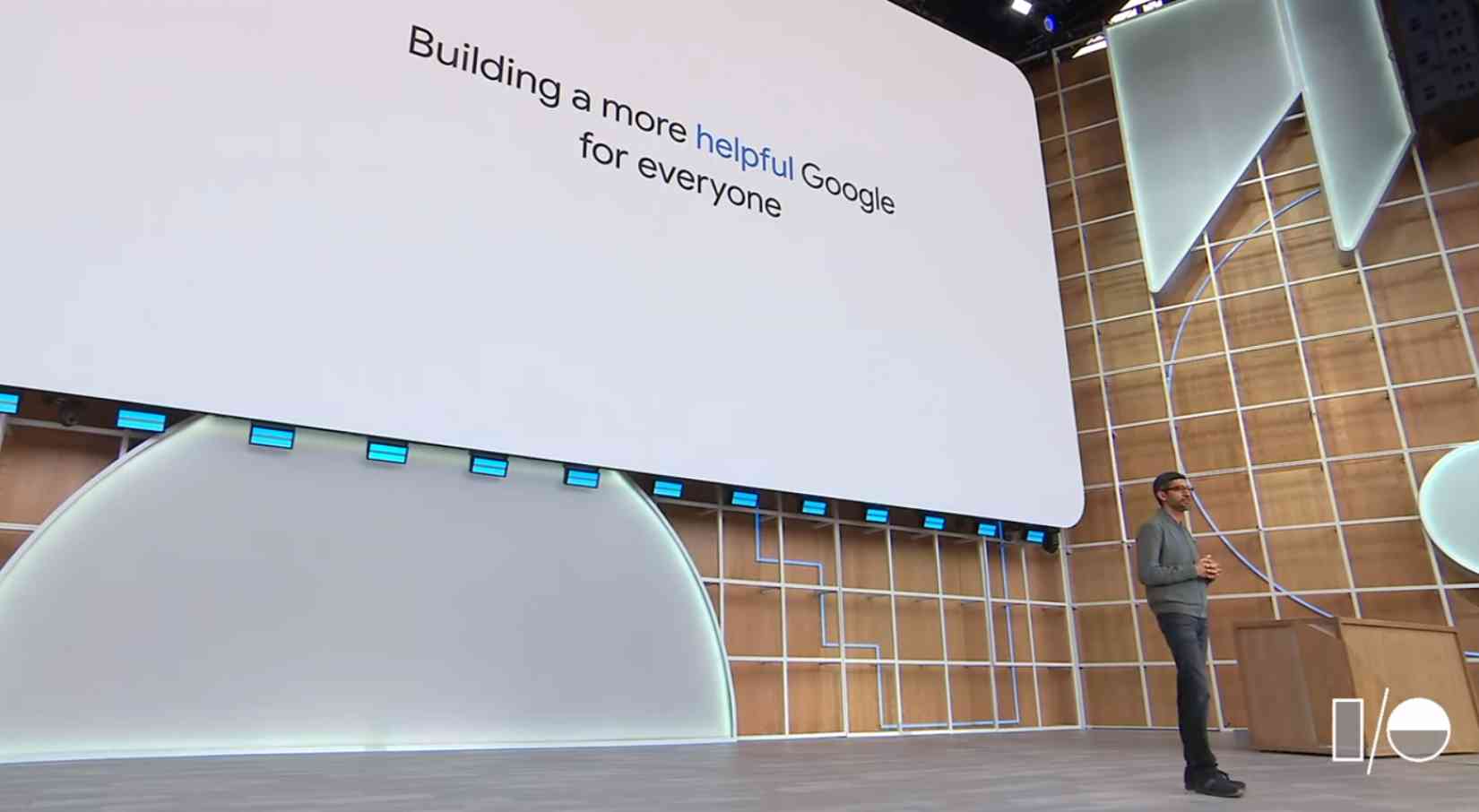 Moving A.I. to on-device processing—also known as 'edge' processing—has incredible benefits across the board, from reduced latency to lower cellular data usage and bandwidth costs. Google is aggressively expanding into emerging markets like India, where throughput is limited, so switching to an offline-first model actually helps further its causes in these markets, which have much more growth potential than the U.S. or Europe, where smartphones have saturated the market.

With privacy now in the conversation, Google actually has my attention. I wrote last year that Google needs to come down on a stance on privacy because it was sending mixed messaging—and until this event it was always somewhat cagey about what was really going on behind the scenes. Being vague in the past meant that people didn't trust features that might be legitimately cool, or might avoid putting an assistant in their house, but now it's trying to send the message, like Apple, that it doesn't share your data with anyone else, and that it's minimizing the amount it collects too.
Will that message land? It's unclear, but audiences that might have been hesitant in the past to buy a product from the company may find themselves considering a Pixel or Home now—which is a great first step away from the smoke and mirrors that the company employed before to make it feel like it could be trusted. And that's what mattered about I/O: unlike Facebook's conference, just a week ago, it did more than talk about privacy: it shipped features that actually make a difference, proving it's more than just hot air.
---
One giant TL;DR of I/O announcements
Here's the big list of I/O announcements you should care about, and why:
1) Google is moving many of its A.I. features offline 
The 'next-generation' Assistant will be able to understand you without a data connection—even in airplane mode. Google shrunk its machine-learning models down to just 0.5GB, and shared that it'll switch to a privacy-focused model, only uploading learnings to the server, not the data itself.
2) Accessibility features were a big focus—and many of them might be useful for everyone
The I/O presentation talked about an incredible amount of accessibility features. The standout feature, now built into Android by default, live captions every video on your screen regardless of whether it's a video call, live stream or Twitter embed. It's performed locally, and will likely change absolutely everything for millions of people globally.
Another feature, Assistant calls, allows people who may not be able to answer the phone to do so—by typing. Assistant picks up, transcribes the messages, and allows the user to reply by typing or via automated suggestions. Called Live Relay, the functionality will probably end up being used by millennials like myself to avoid answering the phone entirely—but it demonstrated how offline A.I. can help make the world more accessible for those that need it.
3) Google Pixel 3a is here to break the flagship trend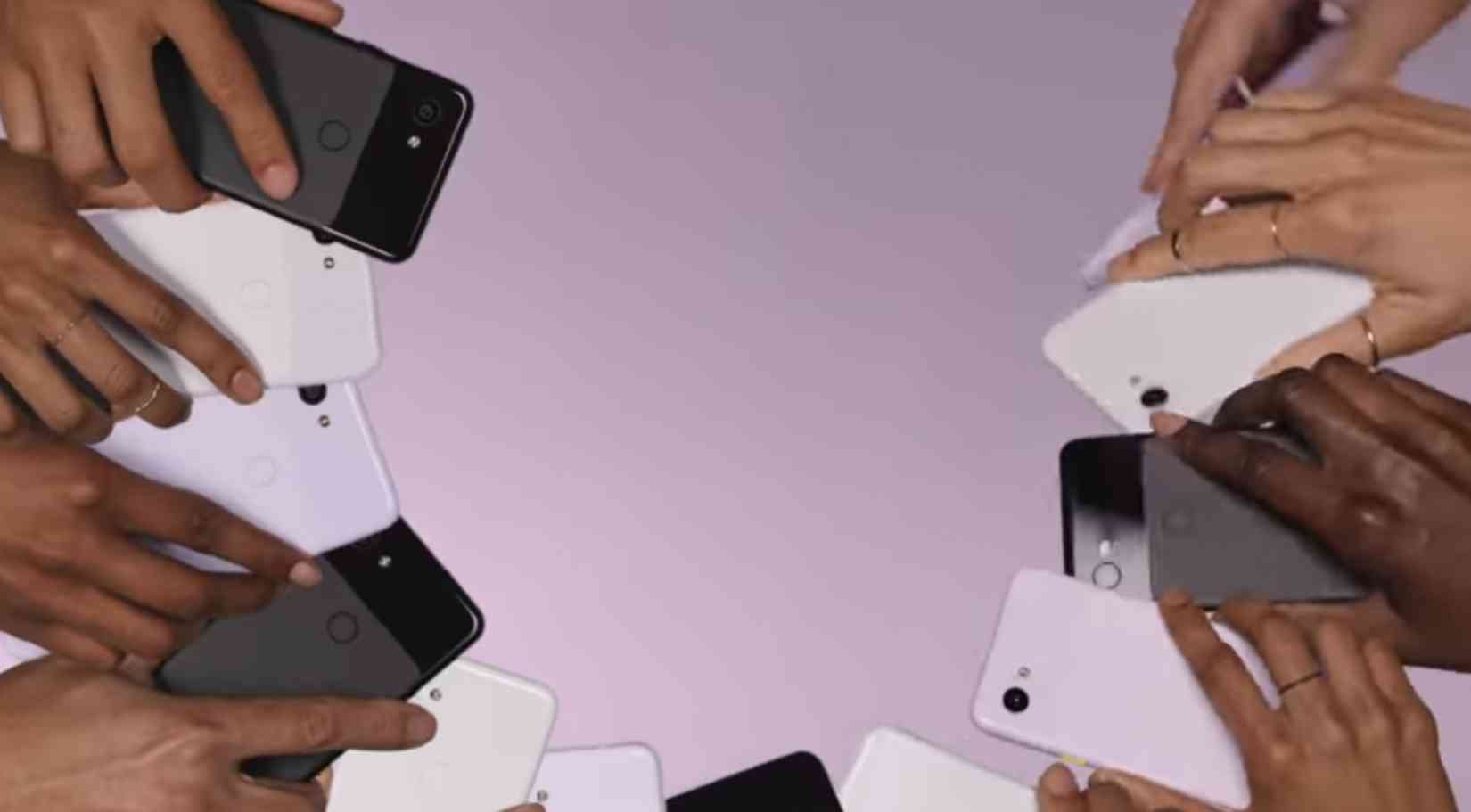 As smartphone sales continue to peak at the high-end, Google has thrown its hat into the mid-range ring with a new, cheaper version of the flagship Pixel phone, the 3a. At just $399, it seems like a steal, with the majority of the features from the more expensive Pixel, including the same camera, display and many other additional features for a fraction of the price.
The difference between this device and the higher-end model are interesting: it drops the waterproofing of the Pixel 3 and the wireless charging to save on cost, but gains a headphone jack (yes, really). The CPU is a little older and storage tiers are limited, but that's the point: this thing is $399. Oh, and it's literally in stores already. 
Along with a global launch on day one, that's an impressive feat that makes me wonder if this might be the magic trick that cements Pixel as a serious player in the smartphone industry.
Comparing with a top-end iPhone in a store, this phone just looks outrageously cheap—without real compromises. Taking advantage of the perception that iPhones are getting ever-more-expensive is a smart move that actually might carve out an entirely new market, and I suspect they'll be surprised by how quickly this gets traction.
4) A switch to Nest for the home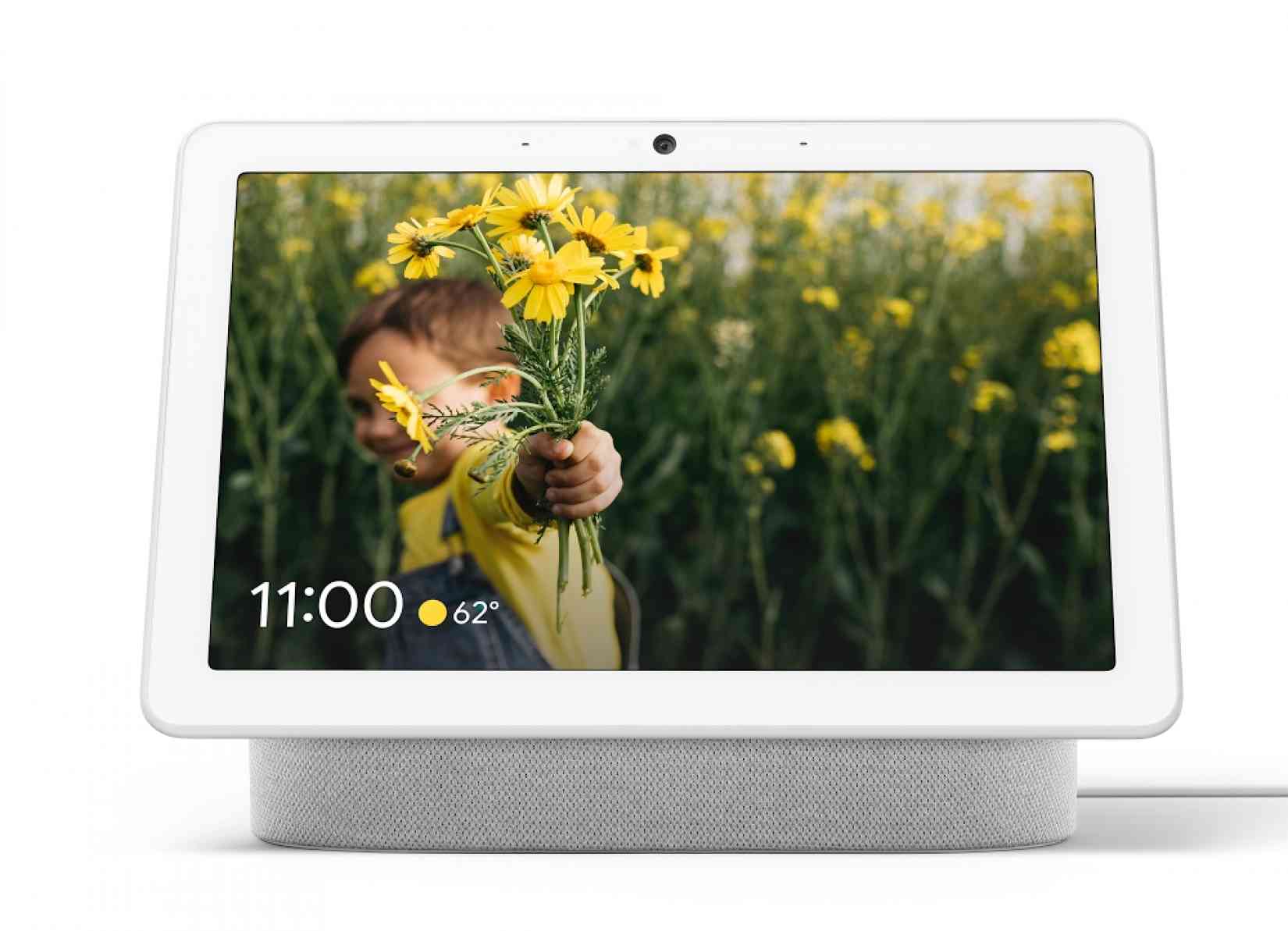 While Google unveiled a new, larger version of its 'Home Hub' at 10-inches, it also subtly dropped a big change: many of its home hardware products will now use the Nest moniker instead of Google. It's a little unclear to me the motivation here, but I think they realize that Nest's brand is powerful, and already synonymous with the smart home, so they're going all-in now that they're on the same team as the wider Google devices folks anyway.
So, with that in mind, the 'Google Home Hub' smart display announced last year is the 'Nest Hub' and the newer one is the Nest Hub Max. Hub Max is a big change for the smart display: it now has a camera for video calling, and understanding who's looking at it—a feature that reminded me of Face ID—and has gained the ability to do things like stop timers with a 'shush' gesture instead of yelling STOP THE TIMER at it.
It also had a focus on privacy, and sports a hardware camera/microphone dismount switch, which physically dismounts the electronics for those who don't want an always-on camera in their home. Smart—and for once, consistent messaging—but I'm not sure I'm ready for a camera like that in my kitchen yet. 
Compared with how Facebook announced Portal's privacy features—a flimsy plastic camera cover—Google hit it out of the park, at least, but it had to: after it bungled privacy so poorly with the Nest home security product, which was later discovered to have a hidden microphone and caused outrage. Now, it's gone and committed to actually being transparent about it and even allowing full control over what data is tracked, but that's only because people were so upset about what happened previously.
For $229, it's an interesting device for those that don't want to shell out hundreds for an iPad or something, but if you already have one, it's probably not necessary.
5) Android Q got a bunch of wild features
I won't bore you about a smartphone update—The Verge got the exclusive hands-on with all those bits—but my biggest highlights here are a new 'focus mode' for getting work done, and dark mode, finally, arriving for everyone.
---