Google makes a legitimate run at fixing messaging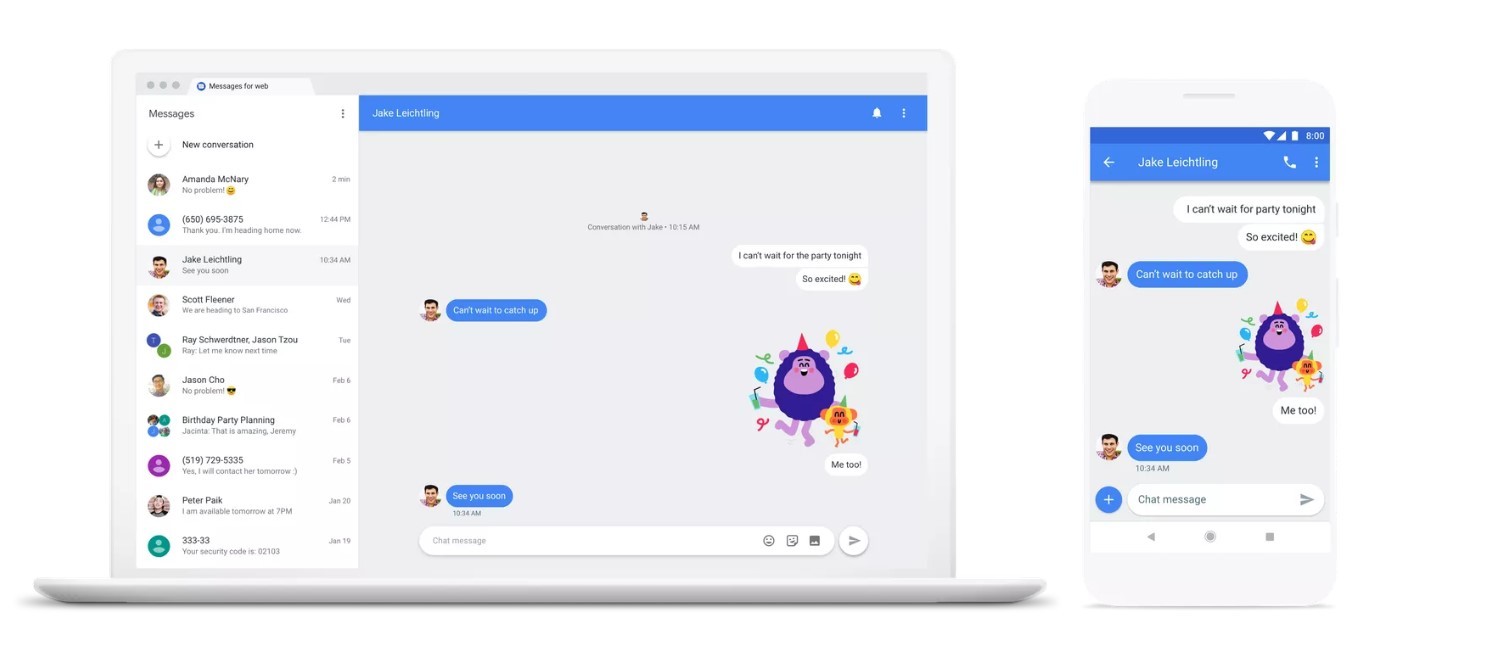 There's a long-running joke that Google only knows how to introduce new chat services, despite the fact that it already has a slew of them. 
Today, Google has Hangouts, Hangouts Chat, Allo, Duo and Android Messages — but now it's adding another one, simply called "Chat." Before you react with ugh, Google — this might actually be the first time the company has most of its ducks in a row. and it's not technically an app. 
Chat is an upgrade to Android Messages, the company's SMS app, that builds on an open standard called Rich Communication Services (RCS) and enables much more than just 140 characters. 
It adds read receipts, typing indicators, full-resolution images + video and group texting, but without the need for actual internet access. Google's also launching a desktop chat app, and the ability to sync between any Android device too.
The RCS technology doesn't add one thing: encryption. Given RCS is a standard that could change over time, it's easy to imagine this being added retrospectively given the current debate over privacy.
Google has been working on RCS for years in an effort to create a standard that will eventually push carriers to upgrade from SMS to something more capable. RCS is that technology, and it has the support of more than 50 carriers across the world, so it's going all-in against iMessage — but it'll be make or break on the carrier's side.
RCS works just like you'd expect, and is transparent to the user: it'll dynamically add rich features when supported by the user's carrier, and automatically fall back to SMS when it isn't, or the recipient isn't using a compatible device.
There's a huge play here for a few reasons: messaging is fragmenting into walled gardens with iMessage and Facebook Messenger, and carriers (as well as the platforms that aren't Apple) do not like that: 
Google's pitch to carriers is simple: SMS is going to be replaced one way or another. You can either be part of the replacement or continue to watch Apple and Facebook run away with text messaging.
When it's said like that, it's rather simple: SMS is stuck in the past, and messaging is running away to proprietary over-the-top technology instead. The big problem, to date, has been that Apple has been resistant to engage in discussion about the standard at all for obvious reasons.
What's really interesting is that the tide is almost certain to change if every carrier out there ships support for RCS, which is what appears to be happening. 
Until recently, Apple was resistant, but rumors point to discussions now occurring directly between Apple, Google and mobile operators. If Apple even supports just receiving those RCS-enabled messages, it'll be a win for everyone as the walled gardens begin to fall.
The long-running joke that Google endlessly launches chat services might actually come to an end if this works. Yeah, that's a big if but the cause this time around is noble — and not just in Google's own interest for once; open is a win for everyone.
I could talk all day about RCS, and why it matters, so feel free to jump in here and ask a question/share your thoughts. 
p.s — This means Google is basically killing Allo, by the way.
---