Magic Leap's first product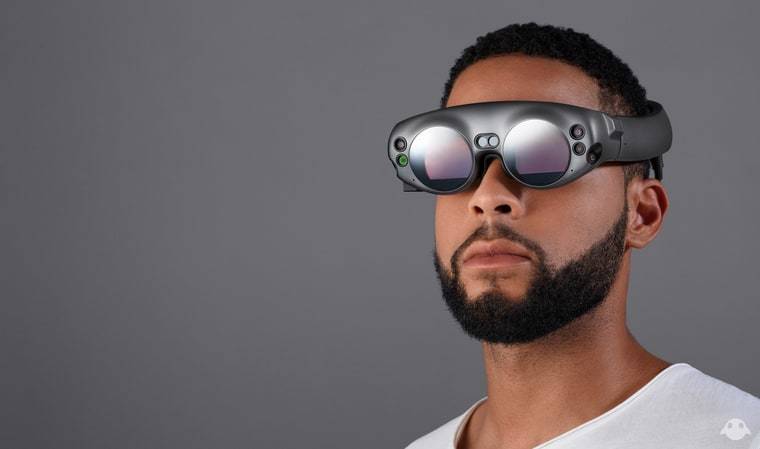 Many of us were starting to wonder if Magic Leap, the mysterious company working on a secret Augmented Reality headset, was actually going to build something with all that money it had in its pockets — but it finally unveiled its first headset yesterday.
Called the 'Creator Edition,' the company's first augmented reality device will ship sometime in 2018 and promises some wild technology along for the ride. This first cut is aimed squarely at developers, but is not disappointing on the innovation front.
The headset looks a little goofy (and poorly photoshopped), but packs a bunch of cameras on the front to see the world and uses lightfields to produce overlays at different depths on top of what you're seeing. 
Magic Leap promises you'll be able to build on top of the environment you're standing in, and the most interesting feature is something called persistent objects. This maps out your room, then allows you to place virtual objects like a TV on the wall — and remembers it later, between sessions.
That alone is revolutionary, if it works as promised. One of the limitations of AR technology so far has been that it's mostly transient: throw some objects on the wall or whatever for a while, but it'll forget that later. 
In the distant future where we all wear AR glasses (maybe, if they can get them to a point where they're lightweight), walking into someone's home which is decorated virtually will almost certainly be a thing, and recognizing unique rooms long-term is important for that.
Right now, Magic Leap sells itself as a way to bring digital experiences into the physical world and it's hard to deny that it's exciting if it's able to pull them off. Hololens, Microsoft's competitor is a magical experience that sucks you in despite the technical limitations, so I'm excited the space is moving forward.
I have a bunch of questions about this device still, and Magic Leap isn't forthcoming with many details. In particular, it appears you need to wear a hockey-puck sized computer on your waist to power this thing, which is less than ideal. 
Rolling Stone got a full-on hands-on with Magic Leap during a visit to the company's HQ and it's worth reading at some point: 
The billion-dollar technology of Magic Leap seems so effortless at times that it would be easy to underestimate it. And in some ways, that's one of the key innovations of the technology. It can feel like it's not there.
There's so many hurdles for Magic Leap to address before it launches the product: content, hardware design and even just expanding the field of view (hint: still limited) but it's good to see it opening up, even if just a little.
I'm still skeptical about this one, especially given how much secrecy surrounds it, but I'm open (and hopeful) that we'll be surprised in the end and this doesn't turn out to be over-promised hype yet again.
---
Apple plans to combine iOS and Mac apps
An interesting tidbit from Bloomberg yesterday that many of us have wondered about for a while: Apple apparently plans to bring iOS apps to the Mac in 2018 to help build out choice more.
The report says: 
Starting as early as next year, software developers will be able to design a single application that works with a touchscreen or mouse and trackpad depending on whether it's running on the iPhone and iPad operating system or on Mac hardware.
Neat idea — similar to the ambitions Microsoft had when it started out with Metro, and what Google is doing with bringing Android apps to Chromebooks. 
Unlike the two others, Apple has one of the best app catalogues in the world and this is a shortcut to getting everything onto the Mac as developers begin to ignore native desktop apps. 
It immediately brings up the question of will the Mac get a touchscreen again, but I suspect that's not the right thing to ask. What this is likely to mean is a single binary that works across mobile, tablet and desktop — optimizing for mouse at the larger end automatically.
Such a move also appears defensive as frameworks like Electron — which allow developers to build once and target Windows, Mac and Linux with a single codebase — seemingly everywhere.
This is just a rumor right now, but if this happens it'd breathe new life into the Mac's selection of apps for sure, especially at a time when Microsoft's native Windows Store actually appears to be getting traction.
---