SpaceX makes rocket science seem easy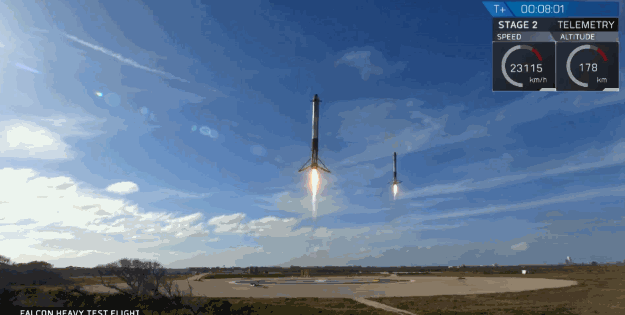 If you missed the SpaceX launch last night, you missed a little piece of history being made: Elon Musk's rocket company launched the heaviest payload since the Saturn V in the 1970s — and made it look easy. 
There's an incredible HD recap on SpaceX's YouTube here (launch action begins here, landing action begins here). It's far too easy to be breathlessly excited about this because it went surprisingly smoothly for a rocket that hadn't been tested in this configuration before, particularly considering the number of things that could've gone wrong!
Not only did SpaceX nail the launch, it landed two out of the three booster stages successfully in the wild shot you see above — the third booster failed to fire successfully and came down hard in the ocean near the ocean-based landing ship. Overall, a pretty good score.
Falcon Heavy matters because it's new, large-scale launch capacity that's previously been seriously missing. The company can now say it's capable of putting 140,000 pounds of cargo (~63,000 KG) into space, twice the capacity of any active rocket program. The payload this time around was Elon Musk's Tesla, because no customer wants to pay for a ride on an experimental rocket. 
The idea was to put the car in Mars' orbit, but it looks like the rocket worked too well, and will spend eternity chilling out in the Asteroid Belt instead. Anyway, it truly was a sight that felt like history being written because of all the technology improvements here; they're not just throwing shit into space, but they're catching it too.
It's great people are excited about space again, but maybe a minor bummer it took SpaceX's slick marketing to revive interest at all — but hey, who can complain? 2.3 million concurrent viewers tuned in on YouTube last night (warning: autoplay video) to watch the stream, making it the second-largest livestream in the site's history.
Up next? Finding a market for this rocket, particularly because since it was envisioned and designed, satellites that are smaller and cheaper have become far more prevalent. Anyway — watch the video, it's magic.
---
Snap's surprise
While you and I were busy watching rockets launch, Snap reported earnings — really good earnings. 
Nobody expected this; the company added 8.9 million users in a quarter (a 5% jump, which is respectable), $285 million in revenue and it reigned in its costs to $350 million, a solid $50 million less than anyone expected. Almost all of the revenue improvement has come from pushing to automated ad tools the company built itself.
A secret from its earnings is Snap successfully doubled down on the "rest of world" revenue that it previously ignored. Instead of focusing only on the US and Europe, where the market is saturated, Snap's renewed interest and optimizations for Android meant it grew in a big way in emerging markets.
After basically being a laughing stock since its IPO, it's a solid result that's surprising because it seems like Instagram is crushing the company. It's essentially been able to prove there is a market, particularly with its augmented lenses, that Facebook has not been able to steal away.
While many people might have considered the app to be dead, Snap, at least this quarter, has proven there's still life in it.
---
Tab Dump
The HomePod reviews are in! Here's a few good ones
As you'd expect, they say the kinds of things you'd probably guess: incredible sound in a small package, Siri is still disappointing, and the speaker is lacking a number of key features (like the ability to deal with multiple users).
The Loop has a cool look inside Apple's anemic test chamber, Techcrunch has a good look at audio quality (with tidbits direct from Apple), BuzzFeed has the real-human-angle take and WhatHifi has the audophile review. 
Small takeaways from me: almost all of these reviews agree you must be willing to go all-in on Apple Music, or this thing is somewhat pointless, particularly given the price point. One weird thing is Apple's choice of glueing the power cord inside the HomePod, meaning if it's ever torn, it'll require a replacement device (competitors have nice, integrated but removable alternatives). 
Anyway, I'm sure if people were considering buying this, the reviews aren't relevant. Still, it's fun to watch, because Apple also validated Sonos' entire pricing strategy, making its array of speakers from small (Play:1) to large (Play:5) look reasonably priced for the first time.
Airbnb is battling to stay private
Quartz reported this week that US companies are increasingly resisting going public, and Airbnb is the latest company to be fighting to remain private. An interesting article that's looking at why, and how the company's CEO is battling investors.
Why paper jams persist
If you want to feel like you're in the 1990's, just visit a corporate office and try connect to a Konica Minolta! Great read about why paper jams are still a thing.
---