Windows 10 gets its next major update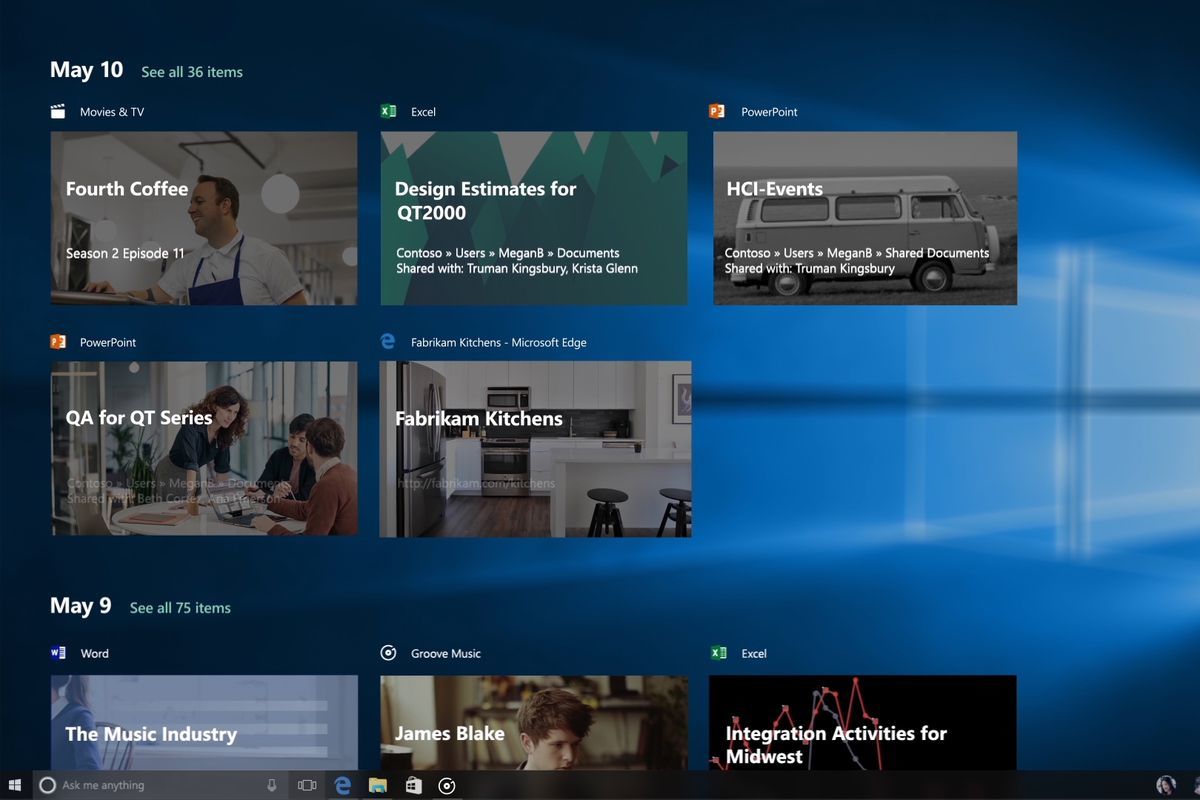 It seems like Windows 10 is the name we're going to get forever, but with Microsoft releasing a bumper-sized yearly update at this point it's struggled to find a great way to name those updates without it getting confusing.

First, we started with November Update in 2015, followed by Anniversary Update, Creators Update and finally last year's release, the Fall Creator's Update — if you happen to live in the Southern Hemisphere, where it shipped in Spring, you'd be forgiven for being lost.
The latest update is simply called the April 2018 Update but was originally called Spring Creators Update and found itself both delayed and renamed at the last second for unknown reasons. Thus brings the naming scheme almost full circle.
There's a new Timeline mode that syncs your activities between your phone and computers, so you can pick up where you left off, a smarter do not disturb mode which blocks notifications intelligently (such as when you're playing a game) and massive HiDPI improvements for 4K displays, among other things.
If you're using Windows 10, the update is a massive improvement for day-to-day usability and to me shows that the company is pushing to build new ideas on the desktop when most of its competitors have turned to mobile instead.
Tab Sets, for example, is a forthcoming feature in the next big update allows you to add tabs to any window and combine based on task or any other organization method. If you're coding with Sublime Text, you could combine that window directly with your browser, and keep everything organized. 
Features like this, and timeline, show that the company hasn't given up on the PC yet — but it'll be telling whether or not these ideas continue to be invested in under the new organization structure announced earlier this year.
Today's update is available right now and brings some legitimately useful new features to Windows 10 while remaining free. 
---
WhatsApp co-founder leaves Facebook
Jan Koum, the co-founder of WhatsApp, is leaving Facebook four years after being acquired — reportedly as a result of disagreements about encryption, monetization and more. 
Under Koum, WhatsApp basically went nowhere new over the last four years, but grew to a staggering billion users on the platform and eventually caving to data sharing with Facebook despite promises not to over the years.
Posting about leaving on Facebook, Koum said that he plans to pursue new hobbies: "such as collecting rare air-cooled Porsches, working on my cars and playing ultimate frisbee."
Staff movements aren't particularly interesting on their own, but Jan Koum's position at Facebook on its board, and that most executives at his level haven't left already is surprising — Facebook's core executives are incredibly loyal to the company.
With Koum having been reported publicly to disagree with Facebook, and that he had been unsettled by being forced to share data, preferring to build features such as encrypted messaging, the writing was on the wall: this was a culture clash, and he was not in control of his own creation anymore.
The departure comes almost four years to the day that WhatsApp was acquired, which happens to be the amount of time it would have taken for Koum's restricted stock to become available for sale. Convenient timing, which says a lot about why he was still there.
---
Events coming up
Facebook's F8: May 1 - 2 (Starts today)
Microsoft BUILD: May 7 - 9
Google I/O: May 9 - 11
Apple's WWDC: June 4-8
---