Nvidia: cryptocurrency is evaporating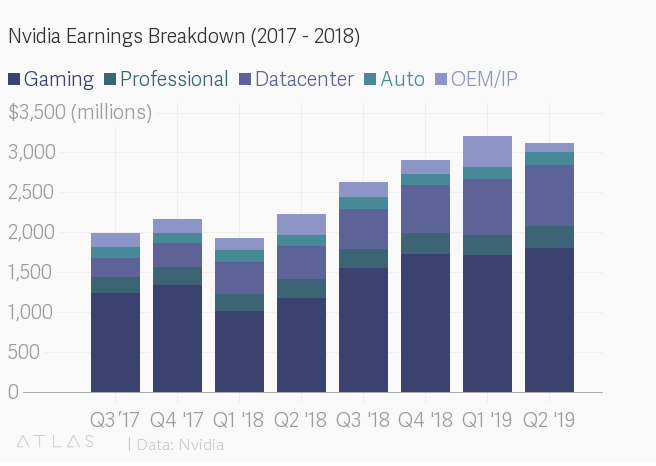 GPU-maker Nvidia has a fairly bleak outlook on cryptocurrency, which has been responsible for $289 million of revenue at its peak, just last quarter, for the company. 

When it reported earnings today, the impact of falling prices in the digital currency industry showed up: the company had forecast to make $100 million in graphics-card sales to miners, but did just $18 million.
That's a dramatic shift from just a quarter ago, and the company's CEO said that "we consider it to be immaterial for the second half." 
The shift is likely due to the increasing difficulty for Bitcoin, Ethereum and other coin miners to actually make a profit as the remaining pool dries up. 
The takeaway: This isn't a death knoll for crypto, but another piece of evidence that the initial hype wave is over. As Ethereum's price is falling, along with other coins,  the community is splitting over whether it's worth retaining as an investment.
---
Google employees begin to protest China censorship
The Google-China relationship has been a long-winded, meandering tale that culminated in Google pulling out of China almost entirely a few years ago. As it pushes to come back, it's working on a censored search engine... except employees aren't having it:
Employees wrote [an internal petition] that the project and Google's apparent willingness to abide by China's censorship requirements "raise urgent moral and ethical issues." They added, "Currently we do not have the information required to make ethically-informed decisions about our work, our projects, and our employment."
As this story unfolds, I'm reminded that Google's organization is one of the few large technology companies that is largely willing to be guided by its employees' ethical compass, at least publicly. 
On more than one occasion, Google employees have successfully killed, suspended or otherwise changed the course of projects. Just this year, internal protest about a Pentagon AI project saw it cancelled, and many more others have been influenced internally in the same way.
It's clear that Google employees aren't comfortable capitulating to China's demands, but what remains to be seen is whether or not it will matter. The company is missing out on a huge chunk of global search by not playing in China, where it had as much 31 percent of searches before leaving. 
The takeaway: As Google looks for new growth, I suspect it'll be hard to ignore the Chinese market, where Apple has had to make similar compromises in the pursuit of continued growth. If employees manage to neuter the project I'll be surprised, but for the sake of open access to all, which Google supposedly stands for, I hope the company reconsiders its stance (and silence).
---
Tab Dump
16 Year Old Australian teenager stole Apple data for over a year
This is a wild story about a 16 Year Old teen in Australia that successfully broke into Apple's internal network multiple times over the course of a year. The teen was tracked down by the FBI, and he had about 80GB of confidential data in a folder called 'hackity hack hack.' Yeah, Apple's security was defeated by a high-school student.
Elon Musk tells all in New York Times interview
Musk has been increasingly erratic in the last year, going off on Twitter rants, attacking investors on quarterly earnings calls, and even potentially breaking the law by publicly tweeting "funding secured" after dropping that he wanted to take Tesla private.
Musk struggles to retain his composure multiple times during the interview, admits an addiction to sleeping pills, and says he chose $420 as the price to take Tesla private in reference to weed culture. Wild read, don't not click this one.
Amazon is trying to buy a movie theater chain
First they came for the book stores, then they wanted physical movie theaters too.
---