Facebook shrinks for the first time ever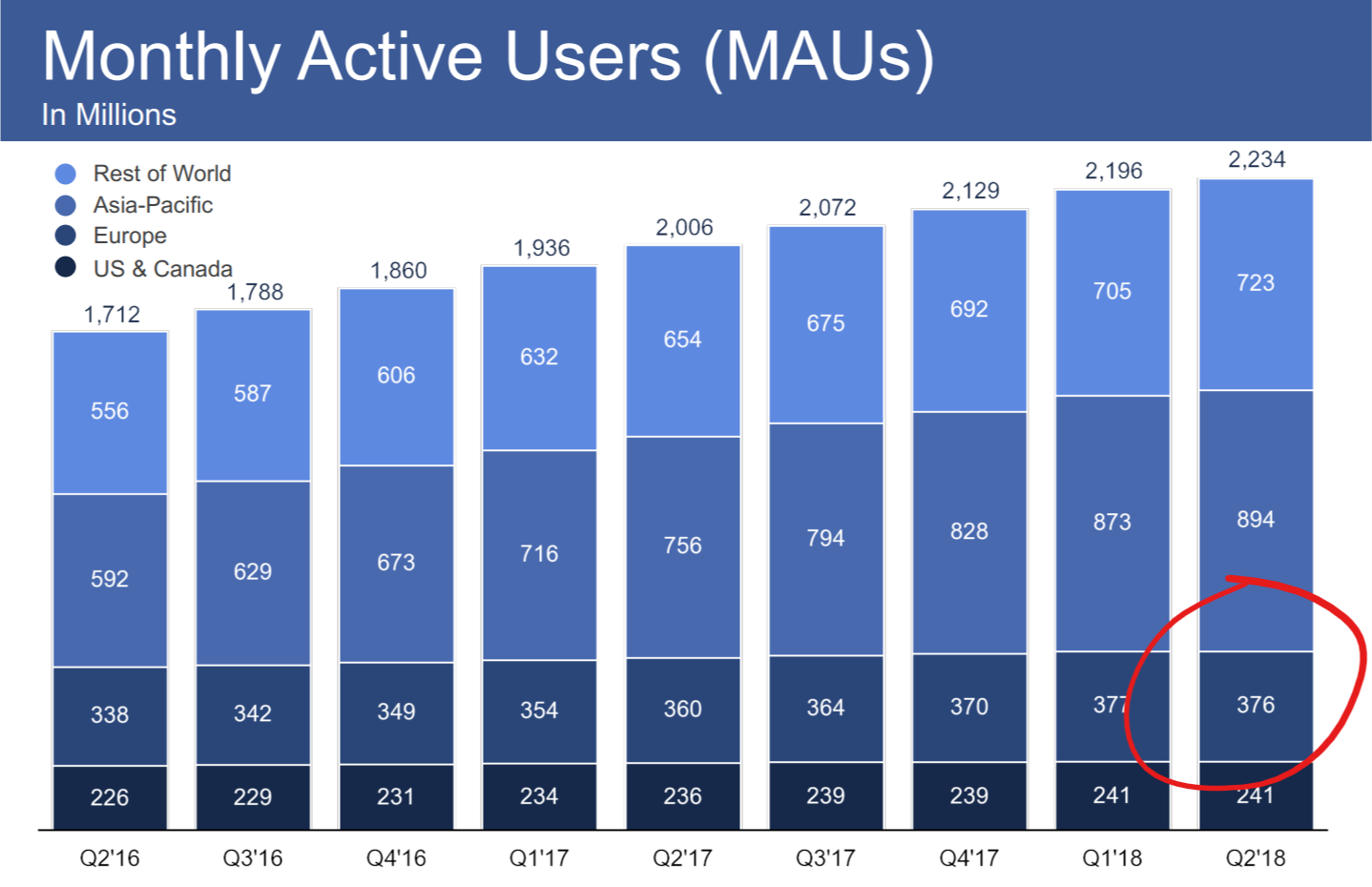 It's been a barrage of bad news story after another for Facebook in the last few months, and we finally know what impact it's had on the company: active users shrunk for the first time in reported history on the service. That's likely an ambient effect of GDPR going into place in Europe, along with the company being in the news repeatedly, but it's a stark shift from just a year ago.
During earnings yesterday, Facebook shared that it both missed estimated revenues and less users logged into the service last quarter. US active users remained stagnant again, and in Europe Facebook reported it lost a million users in the quarter, but reading into it more that also means it lost many more, because the service historically grew 5-10 million a quarter over the last three years.
Knowing that investors wouldn't take this news well, Mark Zuckerberg trotted out a new metric on the call: 2.5 billion people use something in the 'Facebook family,' daily, including WhatsApp, Facebook Messenger, and Instagram. That metric has never been trotted out before, and we hadn't expected to see it anytime soon, which demonstrates how desperate the company is to maintain face.
Casey Newton, Silicon Valley reporter at The Verge, alludes to just how important this metric is: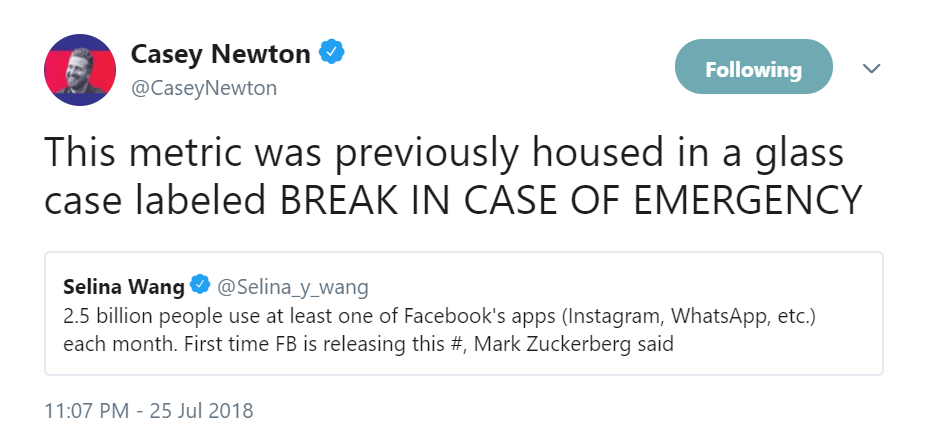 To be clear, Facebook still made a ton of money last quarter: it saw a 42% increase in quarterly revenue to $13.2 billion, but that's turned out to be not good enough for investors, and the share price started completely falling apart last night. Facebook stock fell 30 percent in the minutes after earnings, and many worry such a dramatic fall may cause major ripple effects across the markets once they open today: I'll be watching closely.
You're probably thinking, like me, that stocks go up and down, and it doesn't matter in the long run. Others have pointed out, however, how important that number is to Facebook for hiring, retention and long-term planning is the "most closely watched internal metric" at the company.
The news you read today will be full of hyperbole about Facebook, and that it's dying, but it's important to remember how broad its reach is. It owns Instagram, which is essentially the next Facebook, and has succeeded in growing that property, along with WhatsApp, Messenger and many other popular apps.
Even if Facebook declines slowly and loses active users long term, users will ebb and flow into the company's other properties. The strategy of hedging its bets is working, and the Story format in particular is poised to overtake Newsfeed reach anyway. What we need to see, however, is if advertiser money is able to follow fast enough.
If anything, we've seen today that Facebook isn't invincible after all. Over the last series of earnings, there was a sense that it was untouchable and that any bad news — even a Senate Hearing and talks of monopoly breakups — wouldn't hurt the company's trajectory. 
Now we know that Facebook's user base might be quietly balking, and what will be most telling is what happens in the next quarter: does the trend continue? Or do they all just move to Instagram anyway?
---
Qualcomm announces Apple plans to ditch Qualcomm
It was Qualcomm earnings yesterday too, and the company had a surprise piece of news: it says Apple is planning to ditch the company altogether in the next iPhone, with plans to switch entirely to Intel modems. 
Qualcomm makes a number of different chips for phones, including CPUs, modems, and other bits; Apple only uses the modems today.
Apple has had a long, pained relationship with Qualcomm. It exclusively used the company's modems for much of iPhone history, but that changed with the iPhone 7, which quietly shifted to a split of two modem suppliers under the hood dependent on which variant you purchased.
With Qualcomm's long-winded lawsuit over Apple's use of its patents in the iPhone relating to battery life, continued demands for royalty payments and the company's attempts to block iPhone sales in the US, this move can't be surprising at all for the company. 
It was inevitable if relations were this bad that Apple would look to self-preserve by shifting away from the company. With repeated threats, while still doing business, to try and block sales, it only seems logical.
The news is somewhat devastating for Qualcomm, which may lose up to $400 million in sales if Apple does ditch the company as a supplier. It's a boon for Intel, however, which only just got into the modem chipset realm in 2013 after failing to make its WiMax technology a thing a few years earlier.
---