Tesla's truck is here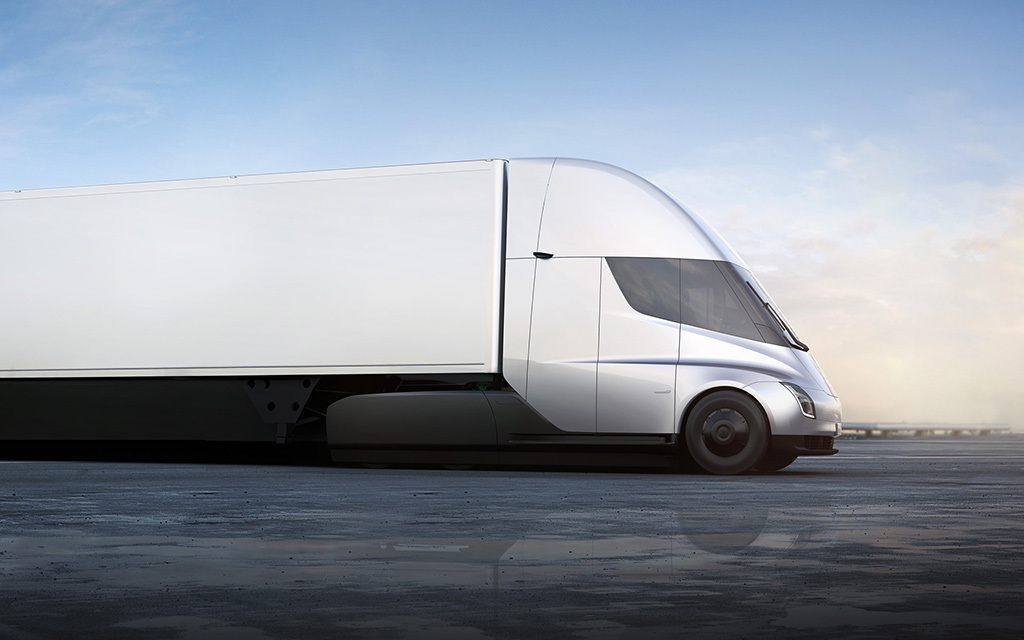 The holy grail of electric vehicles has always been trucks. The trucking industry is enormous and people tend to look to it for validation for any automotive revolution (or to rubbish promising new technology).
For months the industry has been talking about one thing: can anyone build an electric truck that's able to go far enough on a single charge to be feasible for actually disrupting the old-school industry? If you're in the US, that magic number is just under 500 miles.
Tesla today announced a semi-truck that aims squarely at that number: it has a range of 500 miles (claimed range, that is) as well as a 'megacharging' solution that would deliver 400 miles of power in just thirty minutes. Also, it looks dope, and features a number of great safety features like a wrap-around windscreen.
Without naming any specific prices or numbers for the truck, Musk claimed the semi would be cheaper than diesel based engines, but it's hard to validate that without proof.
Oh, and it'll gradually decimate the truck driving industry with autopilot that gets better over time (it's restricted to lane guidance and auto braking right now). Level five autonomy -- the ability to drive itself entirely -- is a ways off, but this is a start.
The biggest question I have after watching this event: is this something Tesla should be doing right now? 
This is a company that's struggling on a fundamental level to produce anything at scale, is unable to clear an amassing inventory, and it's beginning to become clear that things aren't as rosy as they'd like them to appear. Does it need another distraction, or maybe just some focus?
This very, very long analysis from Seeking Alpha points out what's going on behind the scenes is concerning:

Contrary to the CEO's claims, the Model S never financed the Model X and the Model X never financed the Model 3. Consequently, Tesla exists at the mercy of other people's money and interest expense began to climb more sharply to close in on $500 million per year. [...] 80% of cash raised this year has already been incinerated.
The trucking industry could prove to be a valuable cash pile if Tesla actually ships this thing in a reasonable timeframe, but it's burning cash (and expanding that burn) at a scary rate. Tesla, as it stands now, burns about a billion dollars per quarter.
I do have to wonder aloud if it's not already distracted by the SolarCity acquisition, solar tiles that also haven't shipped, Powerwalls that have seemingly become an afterthought, a Tesla music streaming service (?!) and that random tunnel boring company.
Unlike the other products mentioned above, the Semi at least is a product that the company produced as a side effect of needing it for itself: they've already been using them internally for some time to ship parts around and it's obviously something that works. If it can deliver it to the world and businesses actually give a shit, it could be a game-changer.
The trucking industry made more than $676 billion last year in the US alone and perhaps this is what ends up funding the company. Many big enterprises are already doubling down on clean delivery infrastructure and there's already competition here: Daimler, Bosch and others are already building green trucks - even IKEA is investing in its own version, as is DHL - so now is good timing for a launch.
Now the really bad news: the Semi goes into production in 2019. Yes, that's right, two years from now -- so it's likely not going to be on the road (or the profit margin) for the next two or more years. 
But fear not, the next story has a potential way out... and the Semi already has customers.
---
Oh, Tesla made a sports car too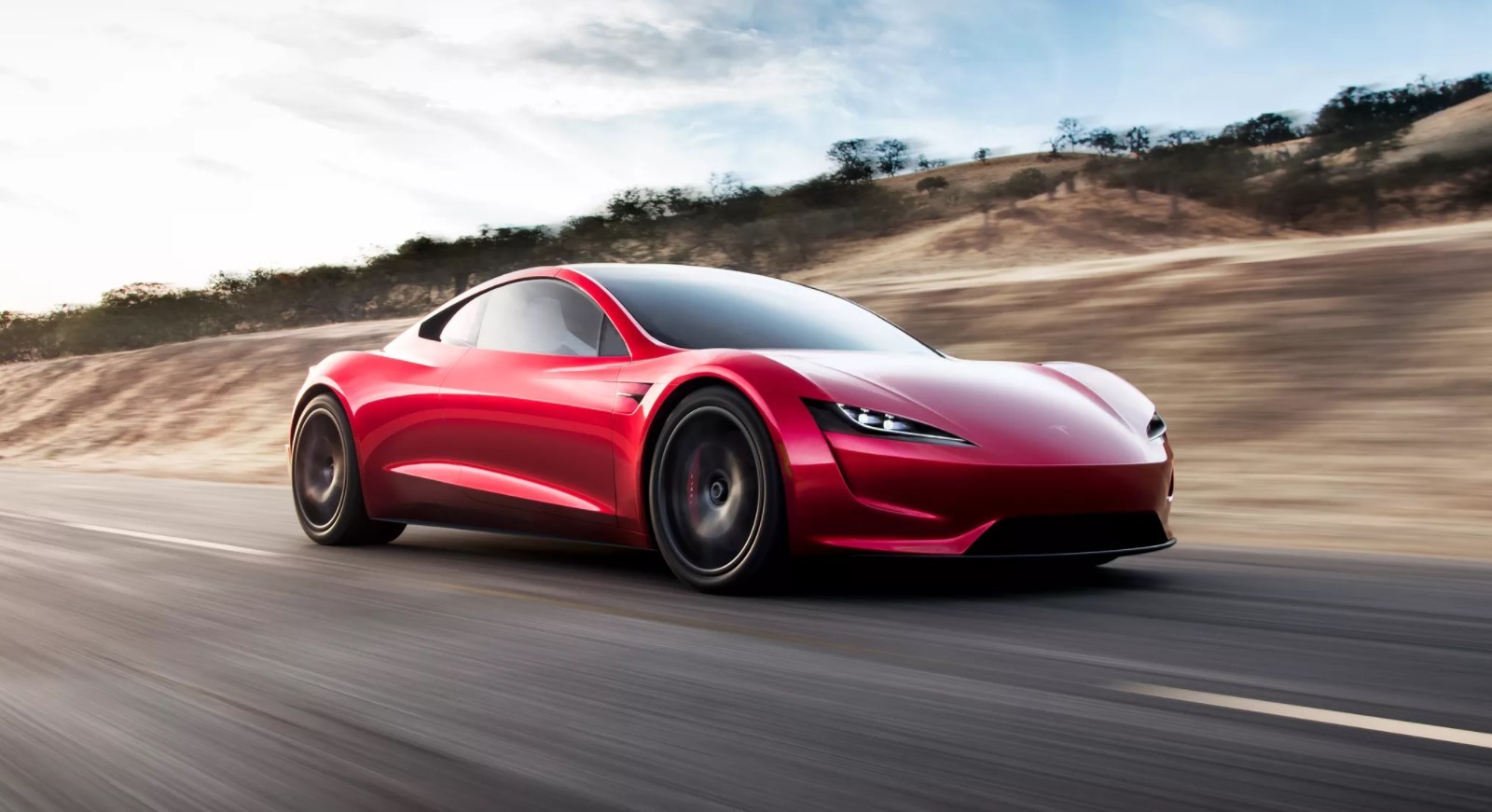 Yes, behold, Tesla's new "car" in its lineup: a $250,000 second-generation Roadster that will be the fastest car ever made when it's on the road and can do 0 to 60 in 1.9 seconds, cracking the 2-second mark for the first time ever.
The new car is beautiful and has the specs to match too: it can go "above 250 mph" and claims to have a 620-mile charge distance (about 1,000 kilometers). Audacious claims -- but only a prototype. 
According to Musk "The point of doing this is to give a hardcore smackdown to gasoline cars" but perhaps there's something else at play: the car can be reserved despite it not being in production yet for full price.
If you're one of the first 1,000 plopping down $250K, you'll be first in line to drive this beast. The marketing on the reservation site almost reads like a parody: 
"Founders Series Roadster reservations require an initial $5,000 credit card payment, plus a $245,000 wire transfer payment due in 10 days. "
This is actually, however, a smart play. Reading the tea leaves and doing a little math, this would generate Tesla $250 million in capital with very little effort. I'm confident there are at least 1,000 people willing (and able) to do this globally, and this is a fantastic way to get a lot of cash on hand without raising any the traditional route.
It's also where the brand got its fanatics: the Roadster was the company's first outrageous success, and propelled the company to where it is now. It's entirely possible by flipping the script with this car Tesla can push forward all of its projects.
I'm aware it's likely an unpopular opinion, but while Elon Musk's ability to drive people to innovate is well documented it appears he's unable to stop himself (and his companies) from diverting their attention to the hot new thing™ that he's come up with. 
Musk is a marketing genius, and it's clear he's frequently able to find a way out of complicated situations if you've read the book about him, but I'm beginning to wonder if the inability to find any sense of "laser focus" could be Tesla's downfall. 
Who knows, I'm just a guy writing a newsletter and the car looks cool. 🙃
---
Tab Dump™
Google Maps is getting a redesign
Maps is getting a whole colorful new redesign to focus on highlighting interesting places near you and how to get around. This looks incredibly well considered, particularly as it focuses on adapting for the user more.
YCombinator's latest list of startup ideas
I found this open in my browser and it's always fun to read through the accelerator's latest list of ideas they'd like to invest in, and it includes AI for talking with dogs.
What Tesla's UI tells us about the future
I figure if you don't like Tesla you'll have closed this email by now, but this piece is a fun breakdown of the Model 3's futuristic new interface design and what it means for the future of the car itself. I promise no more Tesla links next Monday!
---