So I tried a Google Home Hub...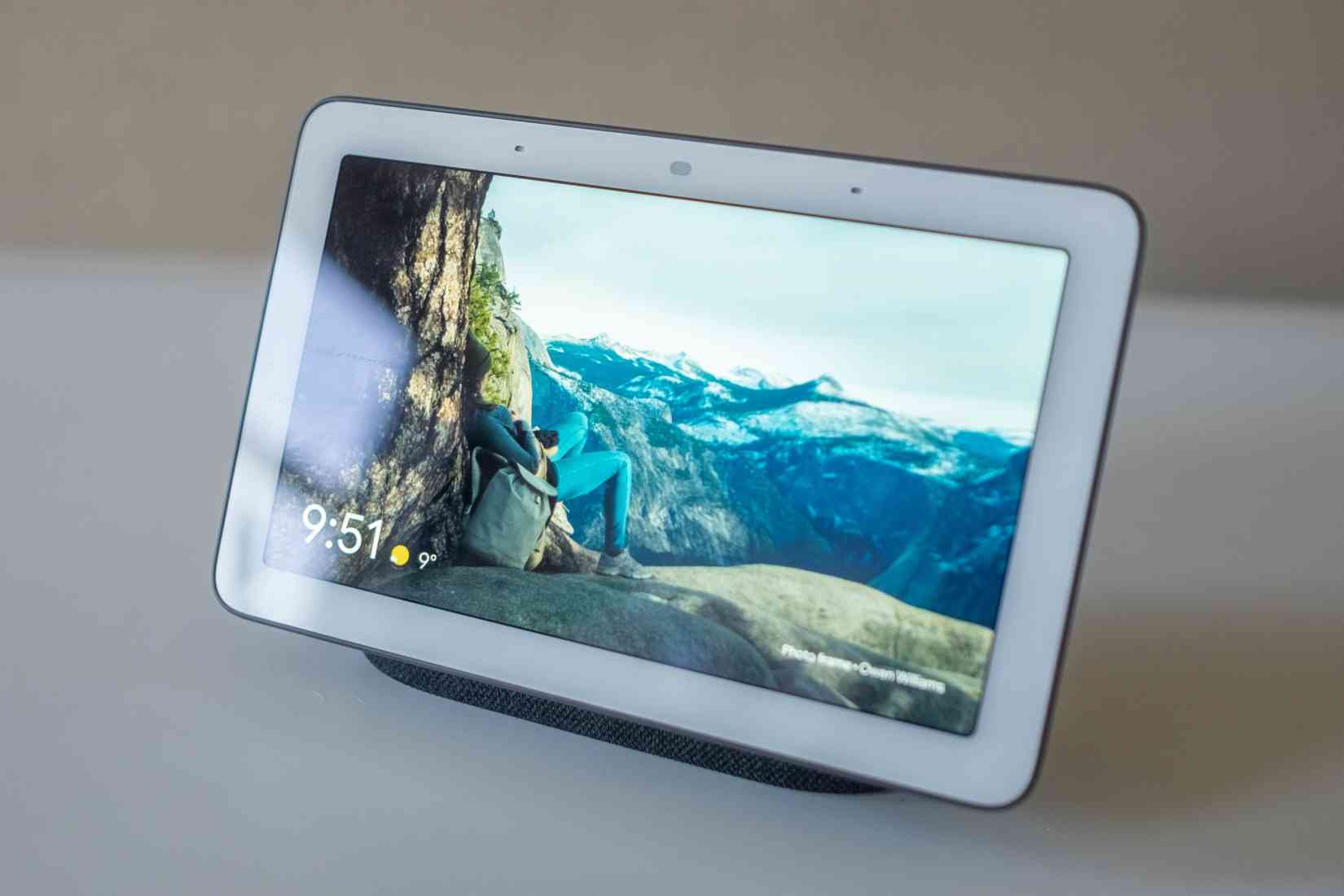 If you're not familiar with Google's new Home Hub product, it's essentially a Google Home speaker, glued to a screen for the first time, so that the assistant can provide visual responses along with audio ones. 

We've been using Google Home fairly actively since it launched, with a few dotted around our different rooms, so it's become a part of daily life for my partner and I. Voice assistants are still new, and have many teething issues, but largely it's become a tool that feels natural to have around. 
That made the Home Hub an interesting product: would the addition of a screen make it easier to use a voice assistant? As always, Google didn't release the Home Hub in the Netherlands, so I instead picked one up in the UK when visiting there.
Not only is the Home Hub one of the most surprising devices I've ever let into my home, it's genuinely delightful in almost every way, and seems to have considered every possible annoyance you might with the product. 
The first thought I had was that it seemed weird to have an always-on display kicking around in the kitchen, waiting for a command, but when it's inactive, Home Hub shows a slideshow of shots from your Google Photos. The hardware basically disappears when you enable this, and it feels like the photo is printed on the display, like a real photo frame — better than any digital photo frame I've ever seen.
Unlike every other device you interact with, Home Hub has a 'Ambient EQ' display which dynamically evaluates both the lighting conditions and color tone of your room, then adjusts the screen for that. The results are impressive, because it provides the illusion of the image perfectly sitting on the display, like a physical photo would.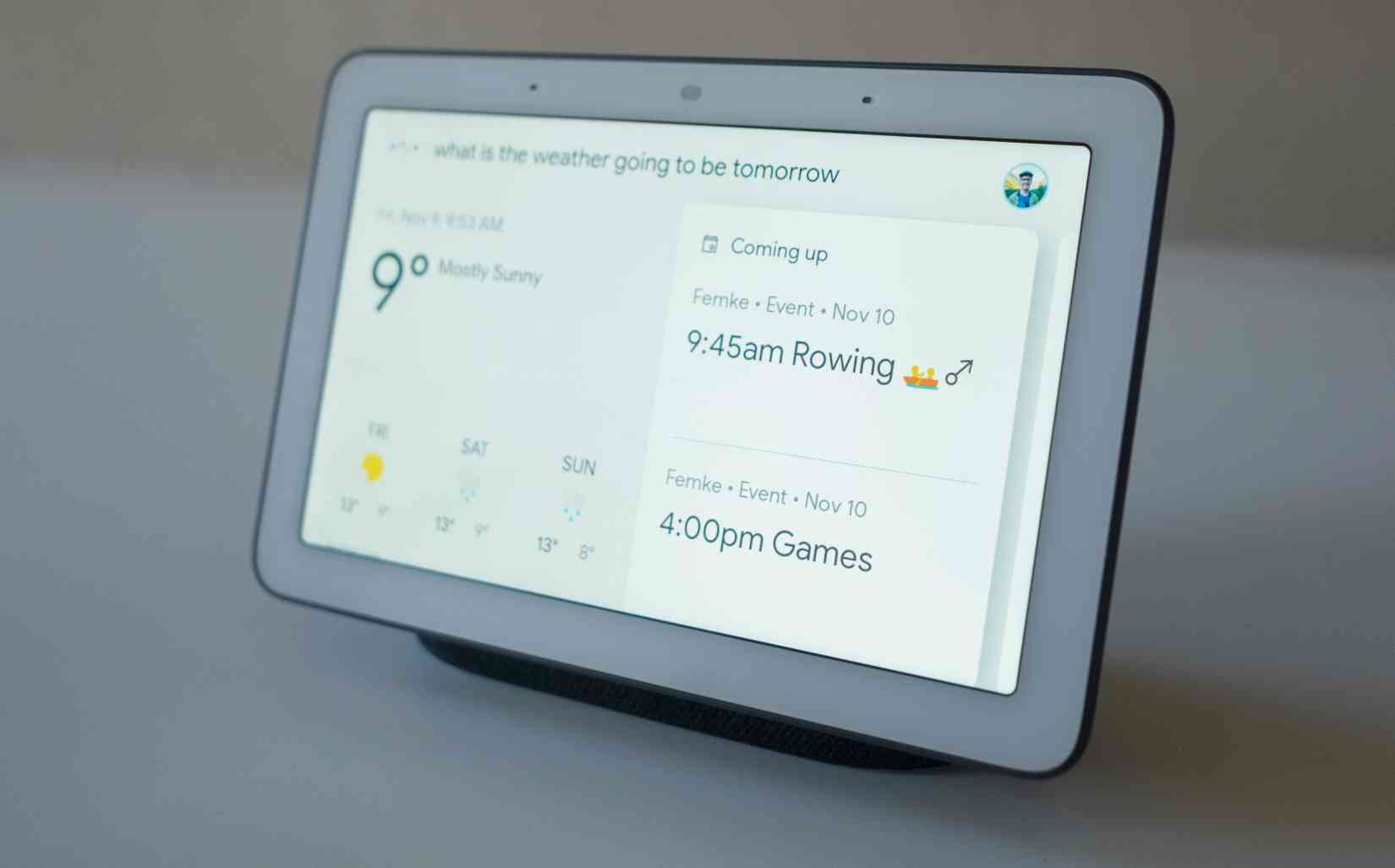 This also means that Home Hub doesn't blind you at night, or go haywire trying to figure out what the correct backlight is. If you change the lighting, it subtly fades over a few seconds, and if it's pitch dark, throws itself into an ambient clock mode that doesn't pitch any light. 
I realize I've written a whole lot about backlights here, but it's difficult to convey just how well this works in practice. It's genuinely different, because it's designed to just get out of the way, and blend in, unlike the majority of 'smart' home devices I've run into.
Home Hub's core functionality is Google Assistant, of course, which hasn't changed much in terms of functionality here, but the addition of a screen changes the paradigm, and the way you interact with it fairly dramatically. 
You can summon recipes and step through them at your own pace, set quick timers and so on, but the star of the show is the home screen, which shows an overview of your day, and quick access to things like weather, news and music recommendations.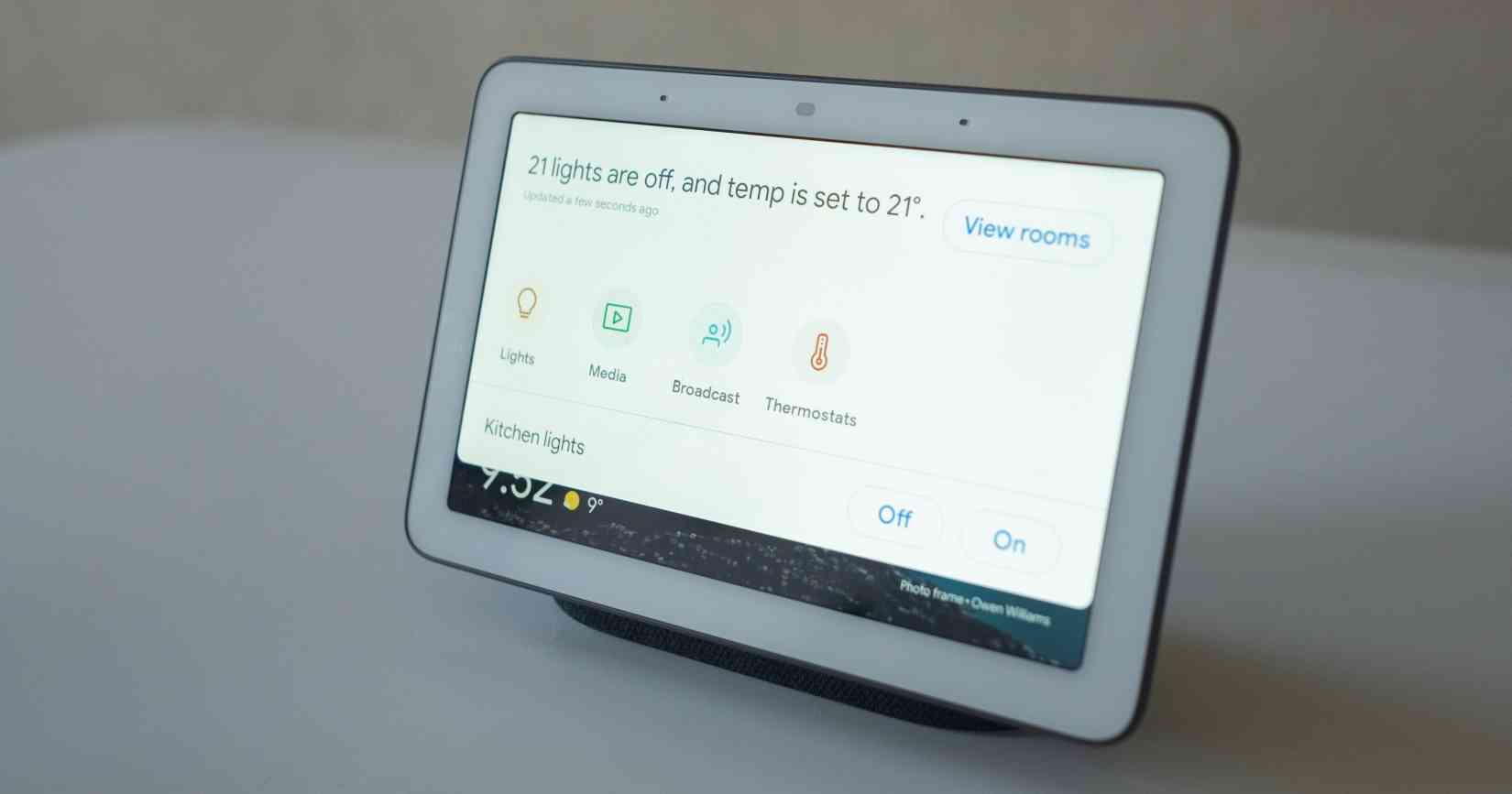 What I think Google nailed, and might be the thing that makes it the killer device for your home, is what was always missing from Apple's HomeKit: a great way to get an overview of the state of your smart home devices. Home Hub puts this at the top of the display, a swipe away at all times, and creates a de facto place to quickly change things, rather than pull out a phone.

The smart home is a messy set of disparate apps, standards and ideas, but Google's done a great job of bringing it together without any jargon or messing around. Just a single pane of buttons, right there by default.
An amusing sidenote is just how self-aware Google was with the creation of Home Hub. During setup, it ensures you know it doesn't have a camera by design so won't be watching you, and this is a point pushed home a few times throughout the device. This is unlike Facebook, which is more than brazen enough to slap a camera on its own home device on a year of record-setting data breaches for the company.
This is only a lightning review, but I don't think I've experienced a digital product that so seamlessly blends into the background since the original Nest thermostat was released. Home Hub is Google's best hardware play yet, because it's the only device that's never in the way at home, but makes the day a little easier.
As The Verge's review pointed out, Home Hub's excellence at being a digital photo frame alone is enough on its own to justify a purchase of this thing, but the price point isn't bad either: it's $149, and a much better buy than the non-display versions of Home.
I was suspicious of the value of these devices for a while — and I'm not certain anyone needs more than one in their home — but it's such a great fit for the kitchen, and a refreshing change of pace from devices that usually insist active attention, that I'm actually happy to recommend it to anyone. I suspect these will be flying off the shelf at Christmas.
---