Waymo v Uber finally begins
After an insane year of tidbits about the Alphabet lawsuit, the most insane lawsuit of the year is finally beginning. Uber acquired self-driving truck company, Otto, in 2016, a six-month old project by an ex-Waymo engineer named Anthony Levandowski — but it later came out it may be based entirely on stolen designs.
It's easy to forget about how insane this story even is with everything else that happened in 2017, but here's a brief overview of some fun bits:
Waymo is accidentally CC'd on an email by a supplier specializing in manufacturing LiDAR components with an attachment containing designs of Uber's LiDAR, except it almost looked like a 1:1 copy of Waymo's
Anthony Levandowski, the world's crappiest cyber-criminal and founder of Otto, purportedly downloaded 14,000 schematics and other files six weeks before leaving Waymo/Google — on his company laptop
Levandowski searches online for how to delete files securely... from his work laptop
Levandowski destroys a ton of Google files stored at his home across laptops, NAS devices and other places (and apparently misses many more) — but it can't be proved that this is in bad faith
Levandowski allegedly bragged to friends/colleagues that he planned to 'replicate' the technology at Waymo
Levandowski founds Otto in secret, as a side project, while still employed at Waymo — but eventually leaves to focus on it
Internal text messages between Levandowski and Travis Kalanick leak, which are worth a read. "Down to hang this eve and mastermind some shit" is my personal favorite. 
A hotly contested memo alleges Uber knew about the stolen files and was OK with it even during the acquisition phase
Levandowski is fired by Uber in May 2017 after pleading the fifth amendment repeatedly during the initial hearings and refusing to co-operate
Uber granted pass to continue self-driving work, if files returned, pending a trial 
Waymo's case begins to shrink, dropping patent claims, and focusing on cloning LiDAR designs
Levandowski, apparently bored at home, founds a church based on worshipping AI 🙄
I've probably missed a bunch of other ridiculous things that happened, but the whole way the case has unfolded makes it read like a parody. Uber, for its part, is trying to cast the case as a waste of time, and that engineers all tend to have thousands of files because they're often doing things like checking out entire Git repositories.
The judge in this case, William Alsup is not messing around either, berating Google last year for trying to redact documents repeatedly in open court.Alsup is an interesting guy — he has gone to lengths to properly prosecute companies for misconduct, and previously oversaw Oracle v Google (he personally learnt Java to better understand the case).
Anyway, we're going to hear about this case over the coming weeks and months. Much of it is focused around dramatic internal emails, embarrassing texts and piecing together a narrative, although Uber has already expressed that Levandowski was a "regrettable hire" in opening statements.
We won't likely know the actual core secrets in the case, but what will become clear is whether or not these designs were really stolen — and used — by Uber. For all the details on the opening statements, start here, but otherwise stay tuned.
---
Intel made AR glasses real
This super long piece from The Verge is unreal, if all is as it appears: Intel has made smart augmented reality glasses that don't look awful. Called Vaunt, the system uses lasers to display a simple heads-up display right in your eye.
There's no actual information or look at what it feels like to wear these, other than the text itself — Intel has obviously learnt from Google's mistake of overpromising what it could do with technology.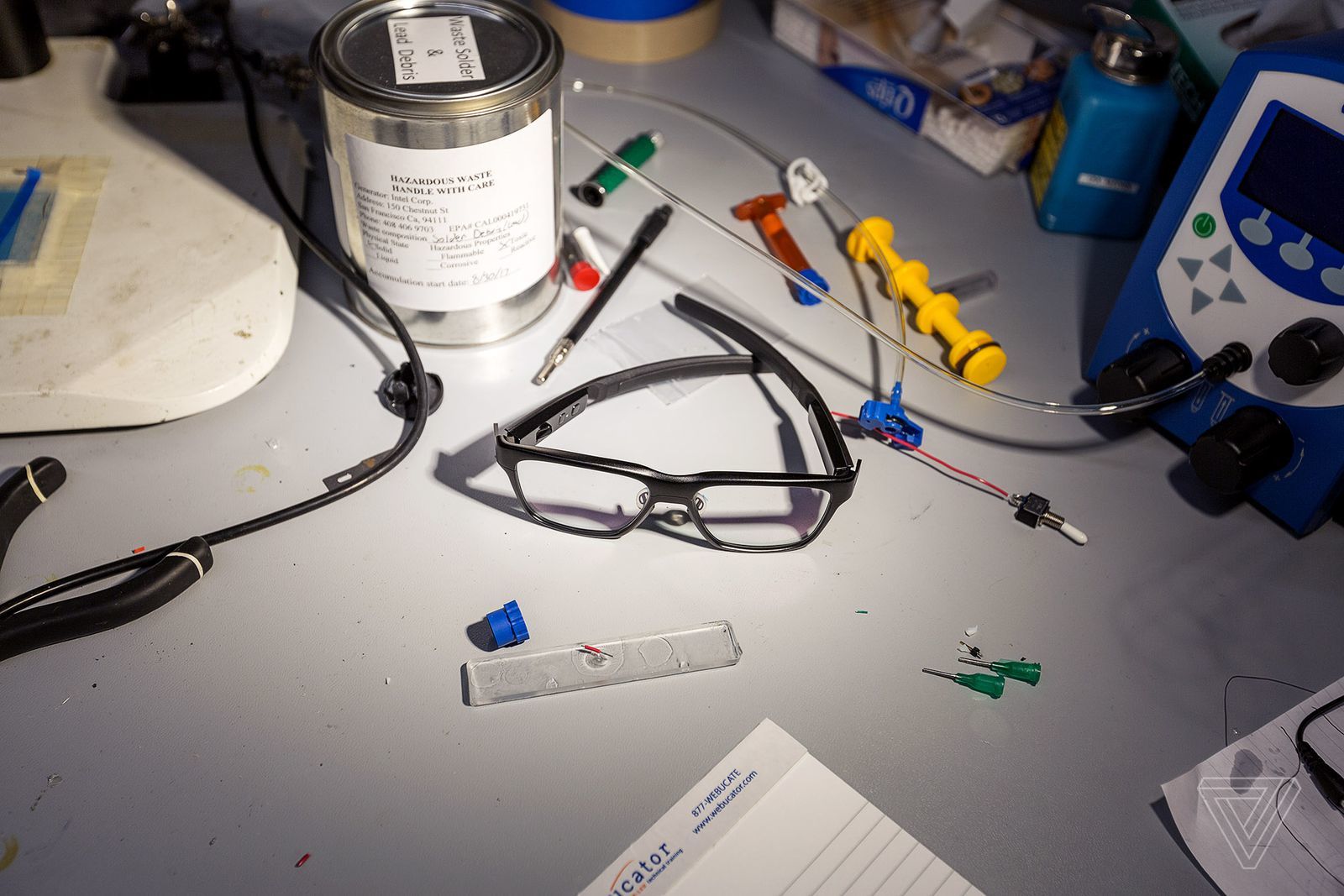 This technology is very different from Google Glass, and projects directly into your eye:
Because it's directly shining on the back of your retina, the image it creates is always in focus. It also means that the display works equally well on prescription glasses as it does on non-prescription lenses
What's most interesting is Intel is poised in this space to do well because it's able to custom design silicon that fits the form factor without going to another vendor — unlike how others have needed to build devices like this.
Vaunt is worth reading about, but it's also just plain impressive. If this is what Intel is working on, and they've managed to get it functional inside a pair of normal-looking glasses, we're about to go on an AR rollercoaster ride, because you can bet that Apple and others are working on much the same thing.
Just like Google did with Glass, Vaunt will hit the market for "early adopters" sometime this year. 
---
Tab Dump
Google collaborates with key app devs to unlock Pixel chip
It's pretty unprecedented for Google to get app developers to come onboard to release updates for specific chipsets, but its work with Pixel 2's visual core chip really shows it's worth doing. Instagram, WhatsApp and Snapchat are onboard from this week.
From oil to solar: how Saudi Arabia is reinventing itself
An amazing piece from The New York Times looking at how Saudi Arabia is heavily investing in renewable energy to push for a different future trajectory.
Apple Music may overtake Spotify in the US
Over the last year, Apple has been aggressively pushing its music service, and now, it appears it's growing faster than expected: 5% month to month, versus just 2% from Spotify. Not good news for the IPO this year — but also hard to understand where the growth is coming from other than people that Spotify hadn't already reached.
Smart homes and vegetable peelers
Benedict Evans takes on the smart home, and the new rage: cramming the internet into everything in your home. He really does not believe voice speakers/assistants in the home will survive in the long term, and is skeptical about the market in general despite how quickly those devices are selling (I'm all in on Google Home, and disagree, but more on that another time).
---