Snap's idea factory goes on display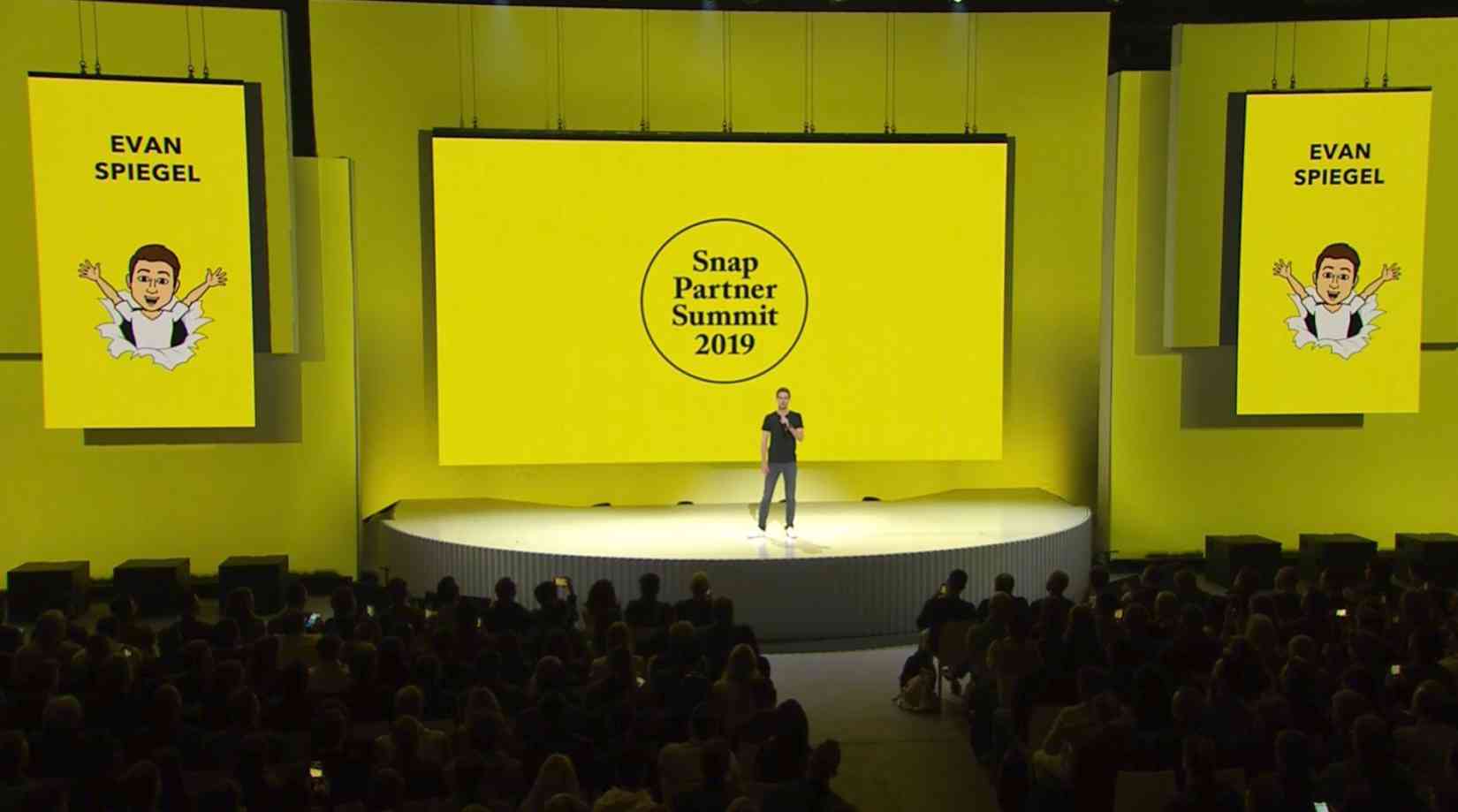 In Los Angeles last night, Snap held a glitzy "partner" event to show the world that it's still here—and that it's got things that it thinks everyone will want to check out. 

The biggest news of the night was that Snapchat stories are going to break outside of the walls of its app to live in other apps, starting with Tinder and Houseparty, with a new set of tools that developers can use to embed them within their own experiences as well. 
But beyond there, the company wanted to prove it has things that other companies—cough, Facebook—will have a hard time ripping off, securing Snap a place in the social media world it can actually own. One of those demos? A huge reinvention of its lenses platform that allows creators to get weird in the physical world.
The new technology, called Landmarkers, is a combination of augmented reality meets 3D graphics, pinned to physical places in the world. Essentially, Snap says it has a deep understanding of the physical world based on millions of public photos, and it can automatically recognize buildings or landmarks in the world in real-time.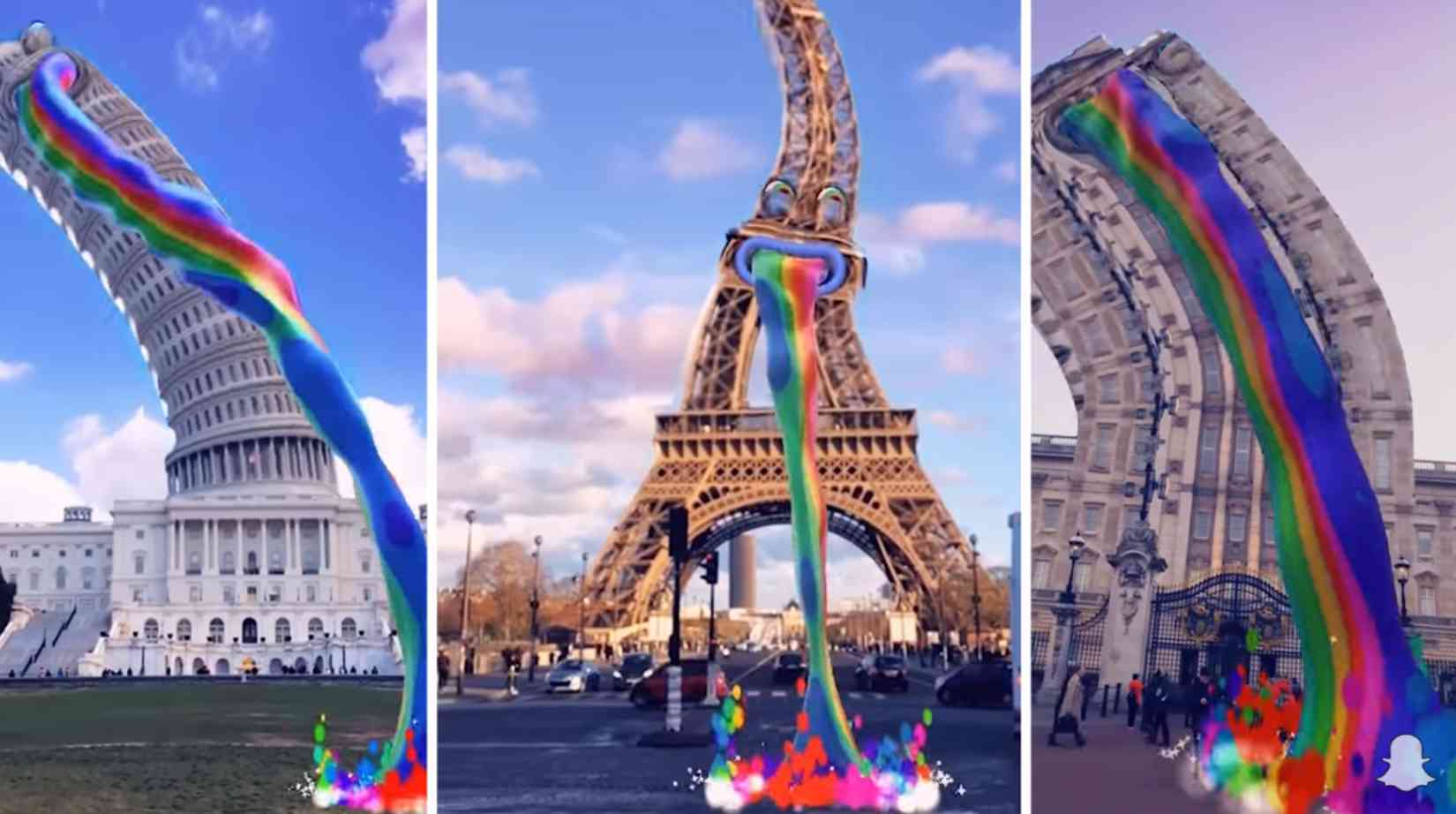 Creators will be able to use its 'lens studio' to do all sorts of weird stuff that automatically appears in the app for users to try when they're pointing their camera at a landmark—make the Eiffel Tower puke rainbows, or the town hall get googly eyes—and the tools are there to make it easy for anyone to do. This is impressive technology, and a very cool demo that only Snap could pull off.

The 'camera is the app' is the company's moat, as clearly demonstrated throughout the event: point Snap at a workbook and it'll solve math for you, or recognize a product when you tap and hold, then offer the ability to purchase it directly on Amazon without leaving the app. 
There were other announcements: Snap is still developing original content for teens, it's building a game ecosystem called Snap Games, and even extending its ad network into other apps. The only thing we didn't learn about? How any of these things will bring users back to the app: growth has leveled off, beginning to decrease for the first time this year, and the promised redesign to fix this is nowhere to be seen.
Evan Spiegel, the company's CEO, really wanted to redirect attention from that, into what are still impressive numbers: Snap has 186 million daily active users even if it might seem like your friends have all left the app. It captures attention in an incredibly effective way, too, reaching "75 percent of 13—34 year-olds" and "90 percent of 13—24 year-olds." That's a good reminder of why Wall Street's sole focus on growing to a billion users is a bad metric of success.
The presentation was very cool and an interesting achievement for a company that makes an app to pull off—but the media response has been surprisingly muted. I saw very few people tweeting about the event, and news stories seemed to pass through my feed unnoticed. Do people still care about Snap, or is it just the media that isn't paying much attention?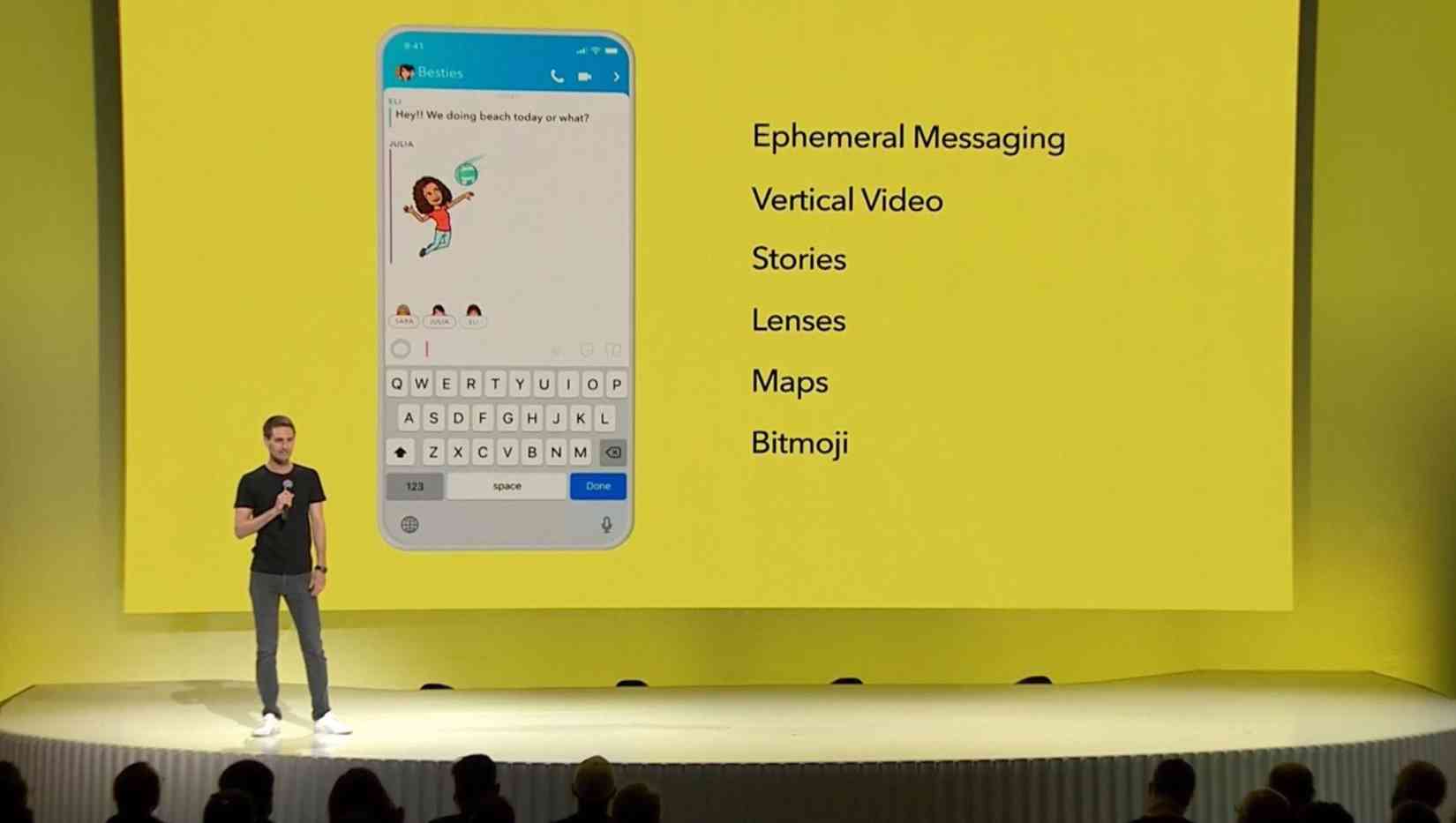 What Snap is good at is incubating weird, original ideas that push the boundaries of social media as we know it today. Spiegel showed off a slide that demonstrated how many modern features were invented by the company over the years: there's ephemeral content, the stories format, vertical-first video's prominence, lenses, and so on. 
The company has had many flops along the way, yes, but it's incredibly good at getting weird new ideas out the door that eventually redefine the industry—and this was another demonstration that it hasn't lost that ability.
Snap is well positioned in the current state of social media for a renaissance, as Facebook struggles with a societal shift to private-by-default messaging platforms, reinventing itself along the way, and grappling with antitrust investigations at the same time. 
Ironically, as Snap has struggled to build its public graph, it's given itself a great advantage for this new age: there's no public feed, so it's easy to stay private and just talk to your friends—and it doesn't feel like you're being spied on for advertising the entire time. 
Snapchat might be one of the last good, weird, fun places actually left in mobile, where Facebook's dominance seems to swallow new ideas whole and add a gloss on top, which I would argue is an advantage for the company in the next year or two.
The question we're all trying to figure out is simple: can Snap capitalize on that, and push back in front of Instagram's photocopying machine? Is it capable of capturing attention, or just building ideas? Some of the things it demonstrated are really difficult to copy on a whim, so perhaps it's gaining an edge again, but perceptions are a hard thing to shake, and it's harder than ever to get someone to download an app again.
But, Snap's event showed a glimmer of something interesting: it knows how to sell itself, and put together a good story. Whether or not users will pay attention or not, however, seems like anyone's guess.
---
Google's AI ethics board explodes in its face
At the end of March, Google announced an "external advisory council" for A.I., a group that was supposedly designed to help guide "responsible development of AI" at Google. 
I linked to the news but didn't really pay it much attention—because it was very clearly a toothless PR move that would have little influence over Google's actual AI development—but since then the board has exploded into a PR disaster, and dissolved entirely overnight. 
The board was to meet four times a year—certainly not involved enough to do much at all—and was not paid for their work, but hoped to add "outside perspectives" to Google's AI work. 
The problems with the board, made up of eight industry leaders, became clear almost immediately. Bear with me, because this fell apart in all sorts of weird ways: first, one board member announced that they would decline the position because it was not "the right forum" to engage in these debates. 
Days later, two others—Kay Coles James, president of the conservative Heritage Foundation think tank, and Dyan Gibbens, CEO of a drone company—faced thousands of Googlers signing petitions calling for their removal. 
Why? An open letter from employees derided the board for including Kay Coles James, because he runs a group that is "is vocally anti-trans, anti-LGBTQ, and anti-immigrant" while the company says it supports diversity efforts in the same breath. Dyan Gibbens' company worked on drones for the US military, a touchy subject within Google as well.
Then, when another member, Joanna Bryson, was asked about being on the same board as James, she said "Believe it or not, I know worse about one of the other people." 
The story grew out of control for a move that was largely a PR play in the first place, and Google decided to pull the plug entirely: the board is already dissolving, just over a week after it was first announced. 
It's disappointing, because the idea of putting ethics in AI at the forefront like this was a great idea in principle, but so poorly implemented to solve the problems it was trying to fix that it's likely to scare Google off doing it again. 
There's serious questions Google and others doing AI work in the industry need to address—but this board was not equipped to even start answering them, and it blew up, making the rate of progress even slower.
---