After days of silence, Zuckerberg speaks up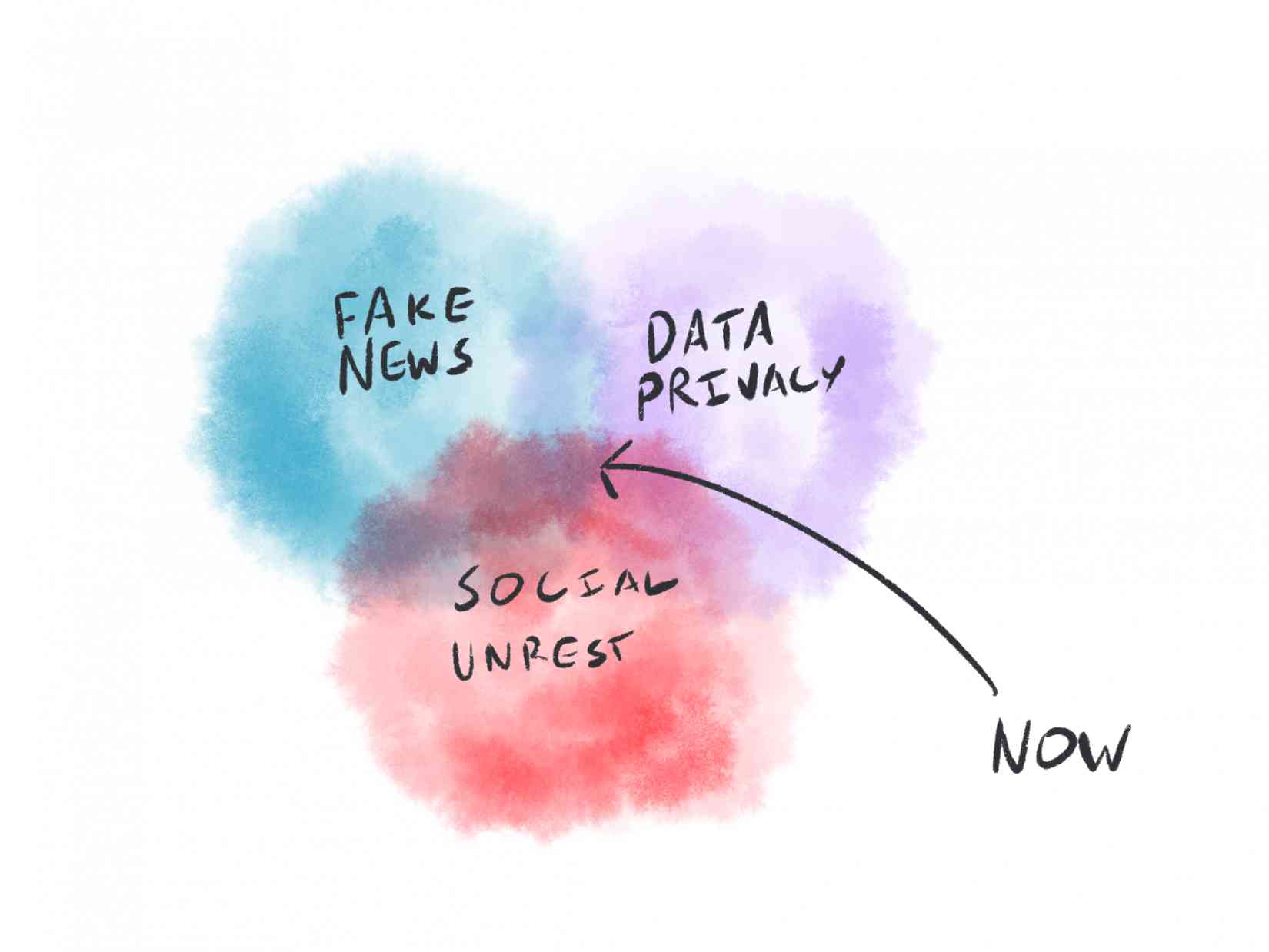 While the world watched the Cambridge Analytica story unfold in outrage, Mark Zuckerberg and his top executives gathered, trying to decide what the best response might be. 
Today, four days after the story broke, Zuckerberg broke his silence with a wordy Facebook post (surprise!) and a short media tour to tell the world how much he cares. 
"I started Facebook, and at the end of the day I'm responsible for what happens on our platform. I'm serious about doing what it takes to protect our community. While this specific issue involving Cambridge Analytica should no longer happen with new apps today, that doesn't change what happened in the past."
In his own Facebook post, Zuckerberg makes no apology for what happened but details changes that the team will make to mitigate such issues in the future. In the coming weeks Facebook will roll out tools to review what apps are seeing much easier, and will begin auto-deleting any authorized apps not used in three months.
These are welcome changes in a post that made me constantly ask why wasn't this already happening while I was reading it. I don't believe Facebook ever had nefarious goals when it simply took CA at its word in 2015 when it told the social network it deleted the data, just an inability to focus on the boring, important issues, which include improving the platform.
Zuckerberg spoke with a handful of media outlets under embargo, and each interview reveals that perhaps he cares more than the shiny PR-approved post would have you think. 
On CNN, Zuckerberg sheds a tear at the end when asked what's important to him:
That's what is kind of my guiding philosophy at this point is, you know, when I come and work on a lot of hard things during the day and go home and just ask, 'Will my girls be proud of what I did today?
Over in Recode, however, he struggles to rationalize doing his job and mentions hoping that someone else could define where the line is:
"[The] thing is like, 'Where's the line on hate speech?' I mean, who chose me to be the person that did that?," Zuckerberg said. "I guess I have to, because of [where we are] now, but I'd rather not."
In that case, regulation is one way to do so, but that doesn't seem to be on the cards either:
"I'm not sure we shouldn't be regulated," Zuckerberg said. "There are things like ad transparency regulation that I would love to see."
What we can take away, regardless of the media tour is that both Facebook and Zuckerberg now realize the scope of why this was a trust breach, and they've resolved to fix it in a number of ways, starting with audits for wide-scale data users, tougher rules and more.
I'm more interested in if Zuckerberg is able to understand what his job, and role, as the CEO of Facebook really is at this point as he reaches more than two billion people. Sometimes the job is about unveiling futuristic technology, but his responsibility as CEO of the company is defining where the line about hate speech lies, and it's owning up when things go wrong.
Time and time again we've seen him begin to accept responsibility for his creation's impact in the world, but it appears that it's repeatedly catching him and the company on the back foot. What's unclear from all of this, other than strong short-term action, is whether this is going to change.
Zuckerberg isn't going away any time soon, to be clear. He controls final say on any decision of the board, because he retains majority voting rights, which would theoretically include vetoing his own firing. 
Facebook finds itself at the intersection of three major problems with unique challenges at the same moment: data privacy, the news industry's fake news implosion and social unrest that's developed from how these networks brought us together.
It's easy to shrug this off as something that people will forget about in a few days, but I suspect we're on the precipice of a sea change. 
Social unrest from these networks, and the realization that billions of differing opinions in one place might not work, the ultimate gaming of the algorithm and how that's affecting the product itself are showing that what Facebook is today is not what it can continue to be for another decade. 
No country has the reach Facebook does, at around 2.5 billion people logging in each month. Zuckerberg, whether he likes it or not, has a lot more power than many country leaders in his hands, and must decide how strongly he will define what he builds, or if it will always be shirked to the 'community' instead.
Whether or not Zuckerberg can step up to the plate and take the reigns wholeheartedly as these issues continue to escalate will be the defining moment of his lifetime. Or, perhaps we'll witness the dismantling of the largest digital empire ever built.
---