In Europe, we're spoilt for choice when it comes to financial technology (fintech) startups. It almost seems like a new one's emerging every day, and it's reached the point where my wallet is full of startup debit cards, rather than that of my actual old-school bank.
I wanted to take a look at what's out there right now, after having used them a bunch personally, and what the benefits (or drawbacks) of each one is. Given that I live in Amsterdam, The Netherlands, this post will have a little bit of a slant for the Dutch market, but most of it should apply across Europe.
If you're stuck trying to decide what bank to use, or why Revolut is better (or worse) than any other competitor, use this post as a first starting point!
Overview
There's a bunch of great startups out there, so here's a quick primer of what they're able to do today, excluding any of the startups that have been announced but aren't officially available yet.
Startup name
Banking license
Card
Mobile payments
Multiple currencies
Additional services
Revolut
❌
✅
Mastercard / Visa / Maestro
✅
✅
Device insurance, travel insurance, metal card, concierge, business accounts.



N26
✅
✅
Mastercard / Maestro
✅
❌

Travel insurance, purchase insurance, business accounts.
Transferwise
❌
✅
Mastercard
❌
✅
Guaranteed exchange rate transfers, provides global account numbers.
Monzo
✅
✅
Mastercard
✅
❌
No foreign exchange fees.
Bunq
✅
✅
Mastercard /Maestro
❌*
❌
Business accounts, supports Dutch iDEAL system.
When a bank has a banking license, the EU guarantees the funds there: if the bank were to go out of business, the European Union will reimburse up to €100,000 in your accounts. This is an important thing to understand, and defines how much trust you'll give any of these entities.

Some of these banks support holding multiple currencies in one account and drawing from the relevant currency that's being billed. This is a different feature from supporting global travel, which most banking providers will handle.
When a bank supports mobile payments this specifically refers to whether or not the company has implemented either Apple Pay, Google Pay or both, not a third-party NFC implementation that relies on their own app. A star in the above chart means the bank supports it only through their own, third-party app.
Why use a startup bank?
There's plenty of reasons you're probably considering switching banks, usually because you're tired of your old-school bank's way of doing things.
That's how I ended up here: I use ING in the Netherlands and while it's not awful, their services tend to be frustrating to interact with and lacking in the mobile area. I started poking around out of a desire to get a better credit card, and better rates when I'm overseas or shopping online.
Startup banks are interesting because they're often the same category as your old-school bank, but with fresh thinking about how you interact with your money. That might include nice features like rounding up each transaction and saving the change, or auto-categorization for your transactions.
To get any of these Europe-focused banks, you'll need to be registered as a resident of one European Union country. Most of them ask for your identification number, a scan of your passport, or some other evidence during sign up.
Despite using a few different startup banks, I still retain ING today because they're fully European Union licensed. When Revolut gets their banking license, I'll drop my Dutch bank entirely, but until then, I need to be sure that my money is safe!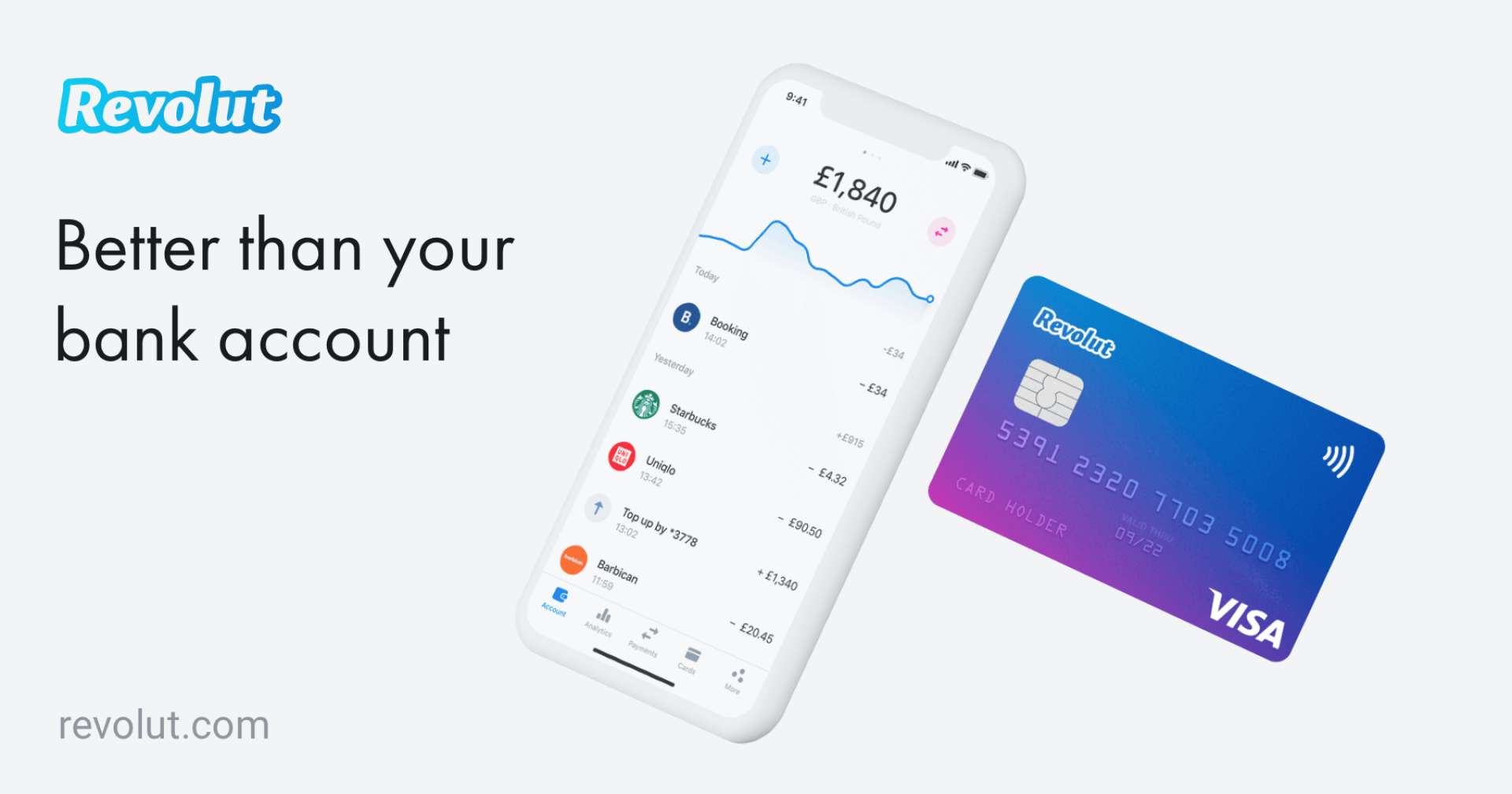 It's been around since at least 2013, but Revolut's sheer speed and feature set is why I chose the company as my primary current account for the last year.
The app has gained so many features that it's dizzying, from insurance to cryptocurrencies, and it's a really well considered experience from end-to-end. Revolut has fantastic auto-categorization of transactions, and allows you to set a monthly budget for things like 'coffee' to receive alerts about how you're tracking.
Revolut has real-time exchange rates, and allows you to hold onto multiple currencies in the same account. For travel, that means your card automatically draws from the relevant currency, such as USD if you're in the US, so you can lock in a good exchange rate before you head over there.
Depending on the market you're in, Revolut supports every major card out there. In the Netherlands, you can order a MasterCard and a Maestro card, which is required for local payments, but in places like the UK you can get a Visa as well.
The app allows you to freeze physical cards at any time to block them from being used, but can create virtual cards as well. These are super useful for things like a New York Times subscription, which can't be cancelled unless you call -- I just delete the card, and bam, it's over.
I chose Revolut because it has the best designed experience for banking I've seen to date, and most feature-rich app out there, along with supporting essentially every way to pay that I care about.
With free travel and medical insurance thrown in on top of all that, and cash-back with the new metal card, it's a no-brainer for me.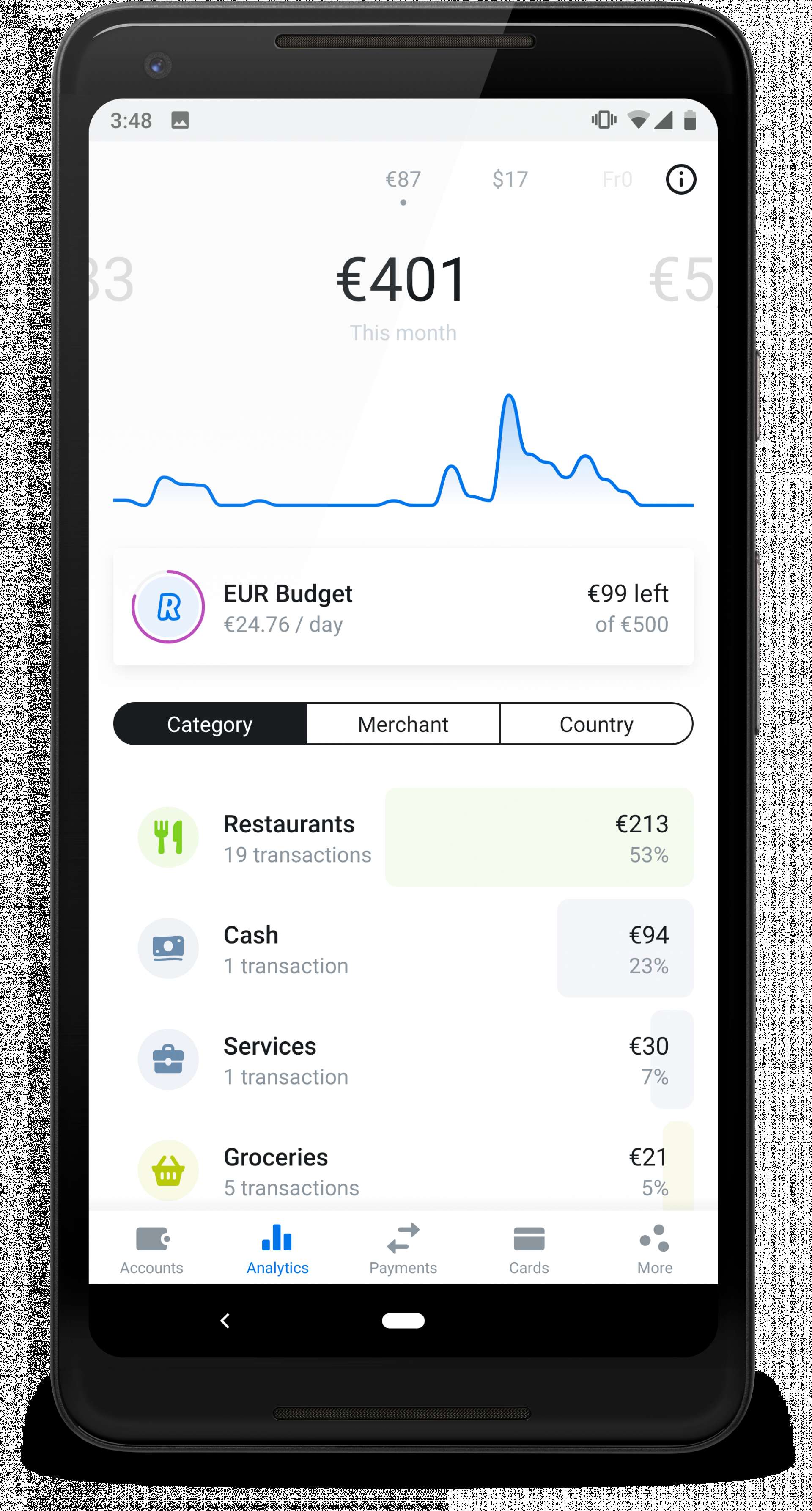 There are fees for the proper Revolut plans, if they're something you're interested in. I upgraded once I was sure I'd use the app to the metal plan, which provides free ATM withdrawals, a metal card, travel/medical insurance and more. It's cheaper than ING, and provides much more value.
My biggest issue today is that the company has no banking license, but has raised $250+ million to date.
The company has applied for one, but has yet to receive it, meaning I won't abandon my old-school bank for it yet. Once it receives it, I'll trust the company enough to shift over entirely.
To workaround that, I have my account set to auto-refill from my ING credit card, which is fast enough to happen while any transaction I'm making is still processing. Out of all the banking startups, Revolut's card seems to be the most reliable, and I'm yet to have it fail anywhere globally.
Like:
Great design, easy to understand analytics.
Allows multiple currencies to be held.
Supports Google Pay.
Medical insurance / travel insurance thrown in for peace of mind.
No like:
No credit card, just debit cards.
No banking license (yet).
No unique currency IBAN accounts.
No web app for personal accounts.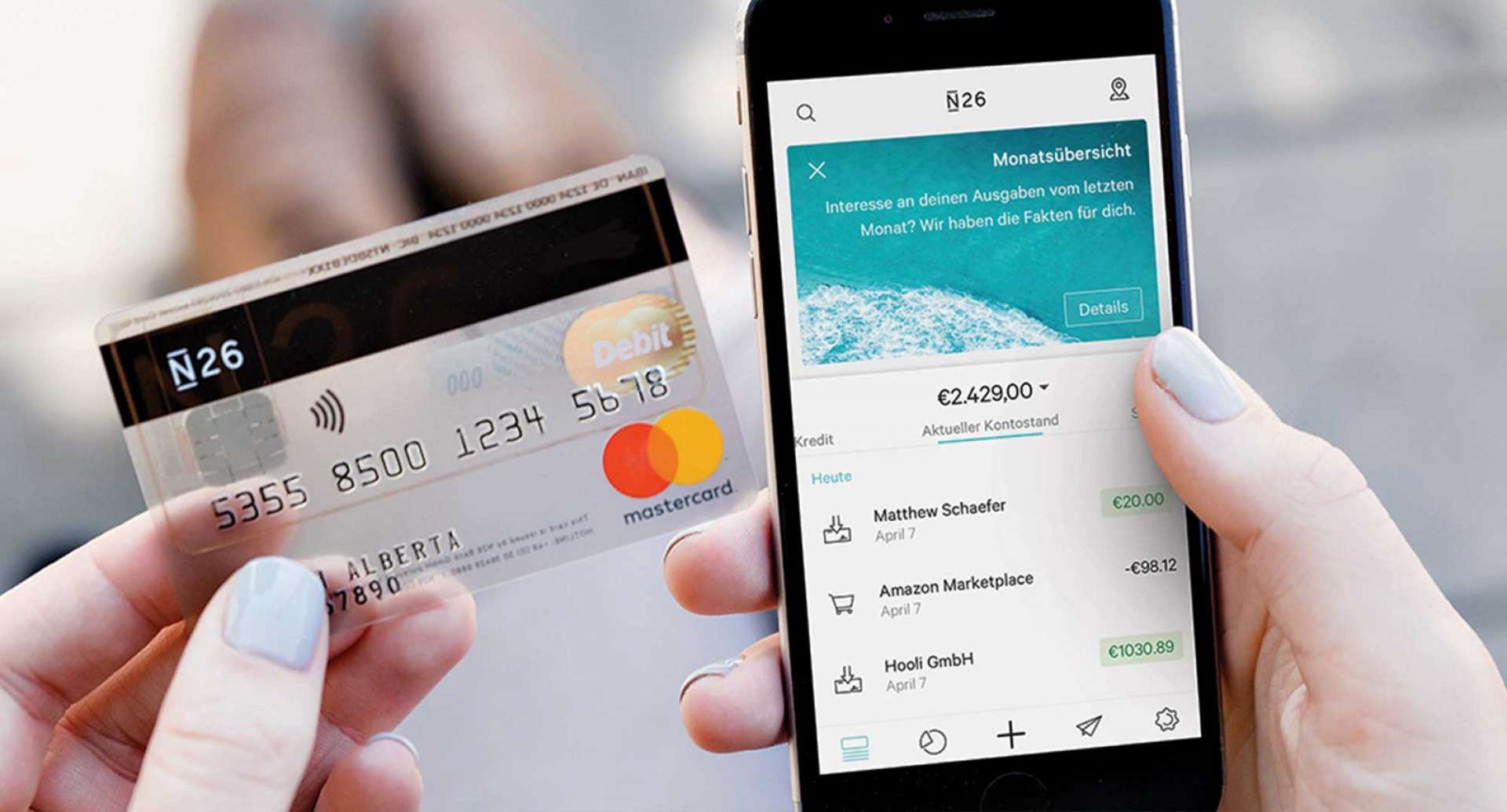 The youngest banking startup on the block, but defined by a very unique advantage: it has a banking license already. N26 has been around since 2015 and supports the majority of Europe already with $212+ million in funding.
It has the majority of features you'd expect from a modern bank, wrapped in a lovely app. There's analytics for your transactions, a digital card and support for both Google and Apple Pay depending on your market.
You can get an account and card for free at N26, but to get benefits like medical insurance and travel insurance requires a N26 Black subscription, which is similar to Revolut's Premium plan. The unique advantage here is they appear to be the only startup offering purchase protection on transactions made with N26 Black.
What I love about N26 is that they've built a proper web app for banking on a computer, and they're not focused on mobile devices exclusively.
I had interesting experiences with N26 when I tried them in the past: I signed up for a business account, but it mistakenly registered as an personal account, then couldn't be fixed!
The support experience was sub-par, over in five seconds flat, though after some public complaining was able to be resolved. I've had a number of friends advise me of similar circumstances, like this one.
You'll also need to verify your account with a video call to an actual human, which weirded me out a little. It's not the end of the world, but it is a strange first experience!
Unfortunately, the company doesn't have a number of great features the others do: there's no way to hold multiple currencies on hand, and I generally find the app harder to navigate than the others.
If you travel a lot, you'll be subject to the real-time exchange rate (sans foreign exchange fees at least), which is better than most banks, but less than ideal, which was what made me choose alternatives. N26 does have currency conversion and sending features, but these are powered by Transferwise.
Like:
Actually has a banking licence.
Web apps are still a good thing!
Great insurance options baked in.
Purchase insurance on high-end plan.
No like:
Weirdly bad support experiences.
Video calls to register an account are weird.
No multi-currency support.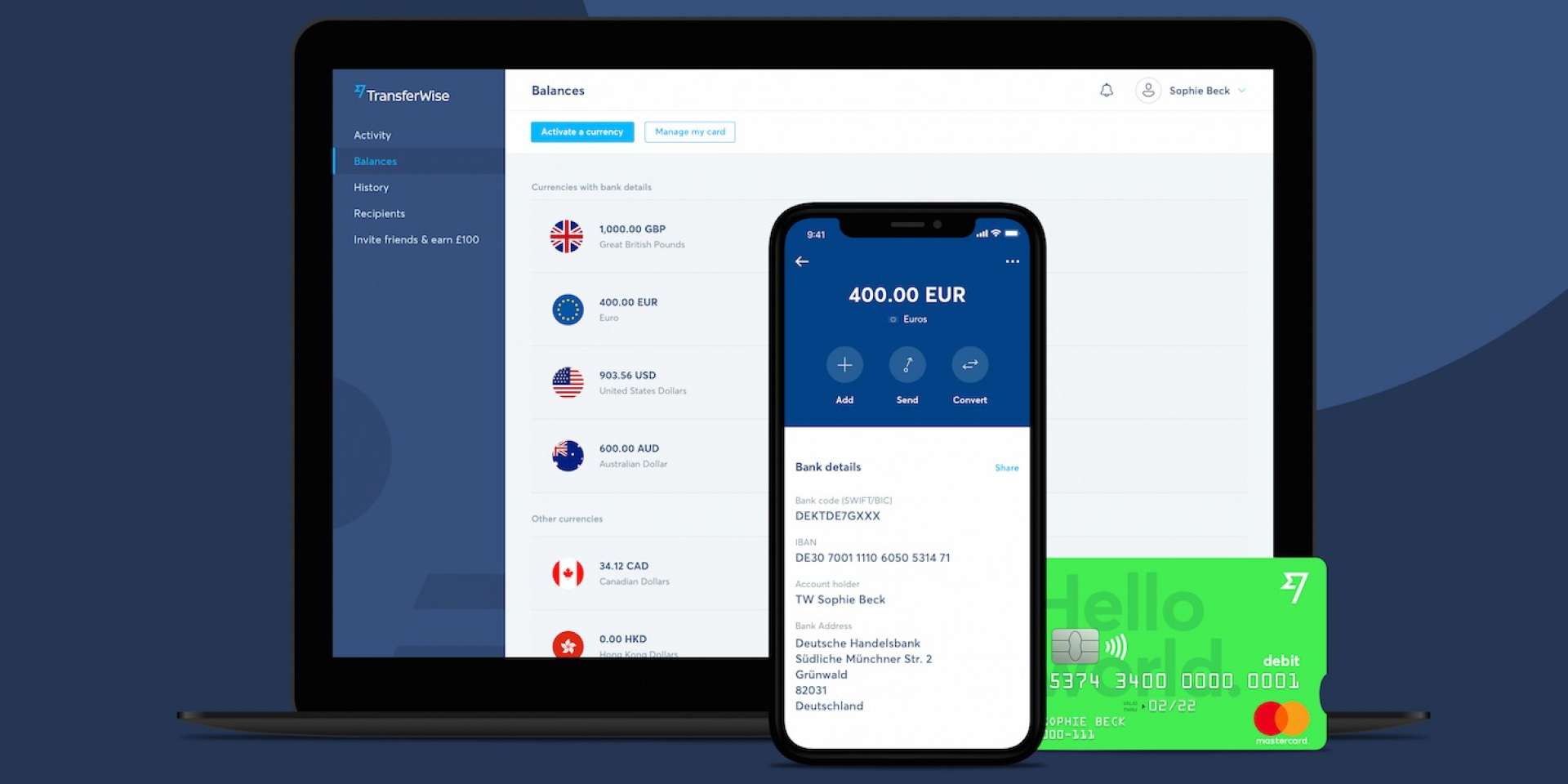 In this mix, Transferwise is a little bit of a strange one because it's somewhere in-between being a bank, and not being one at all. The company started out as a super-fast and honest way to send money anywhere (a service which I still use all the time), then recently expanded into card payments.
Here's the deal: Transferwise isn't really designed to be used as a current account, just a card you use when you're travelling, as well as a simple way to get paid by people anywhere in the world.
Like Revolut, you can hold multiple currencies on hand and convert them at any time, but Transferwise's real selling point is getting your own unique account number for each balance. That means people can pay you with a US bank account, to your Transferwise, without knowing the difference.
That's a freaking huge advantage, and I use this feature regularly to get paid by US companies for my work. As far as I know, it's the only startup to offer this feature, and I love using it. Because Transferwise actually gives you the real exchange rate, and will even lock it in for a certain amount of time, it's my choice for moving cash around.
The card features are a little less mature, as they've just debuted. The Transferwise card is a delightful neon green, and lets you draw from any currency balance you've got on hand to pay for things.
For a recent trip, I topped it up with a bunch of US dollars and used it almost exclusively. Unfortunately, at least in the US, it's pretty buggy still -- some transactions failed with CVC errors, but would work the second time, and occasionally it would outright freeze up the terminal.
I classify these as teething issues and would use it again, but it wasn't ideal. Revolut has a clear advantage in terms of how much control you get over this card and the information you get, but Transferwise has been quickly improving, so I'm optimistic they'll catch up.
Unlike all of the other tools listed here, there are no other banking features. You get the card, and transfers, and that's it -- no fancy insurance or cryptocurrencies, and that's fine, because it's really good at the rest.
Like:
Best exchange rates, period.
Provides unique bank account number for each currency.
Allows holding multiple currencies at once.
The card is fluro green, I dig it.
No like:
No mobile payments support.
No banking license, or additional banking features.
Card seemed buggy at best, needs work.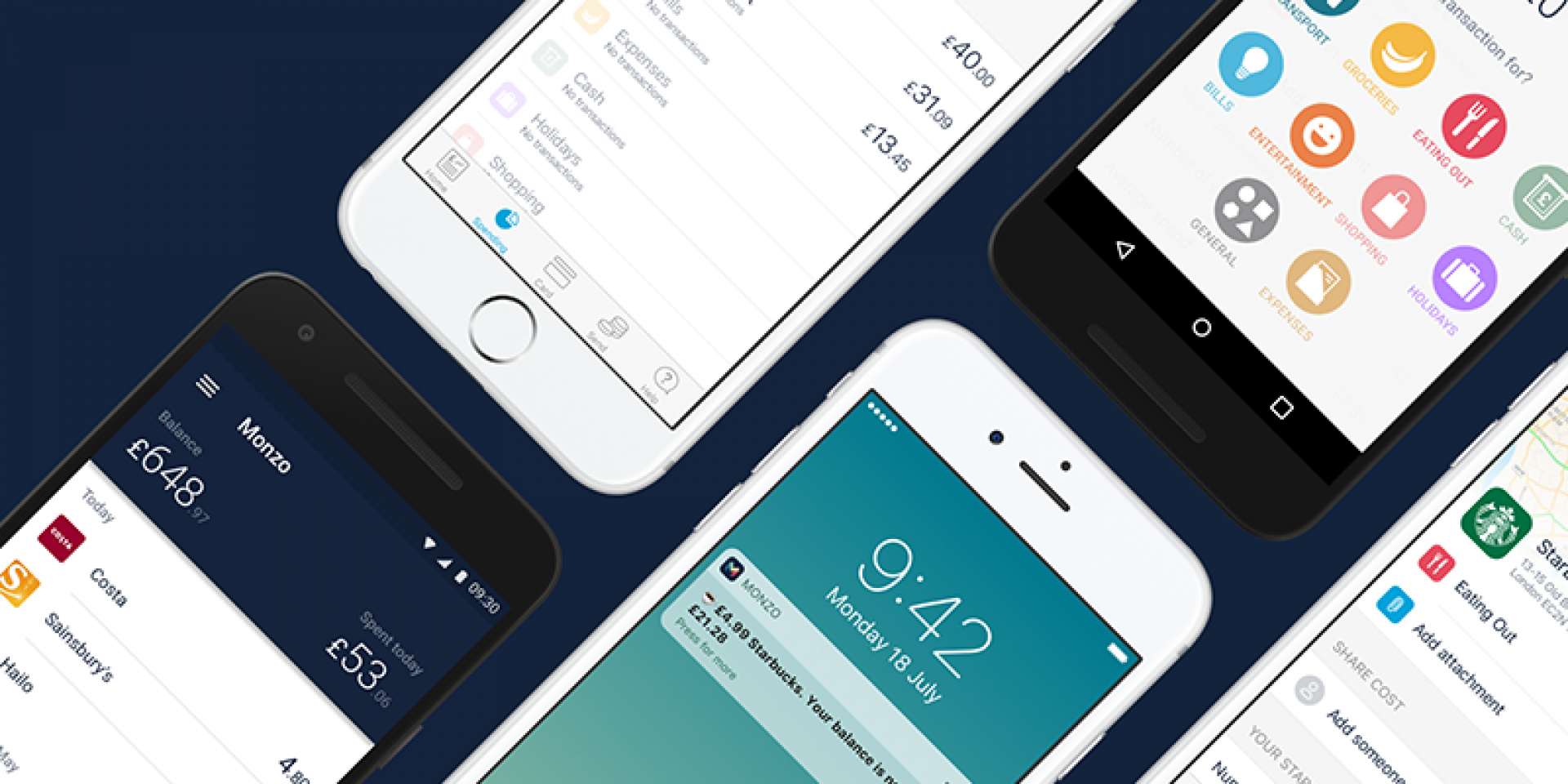 Out of all of these fintech companies, Monzo is the only one that's restricted to a single market, but despite that restriction has done weirdly well for itself. It has over a million customers today, and is focused on being kickass in its own market before pursuing growth.
Monzo has a banking license and works exclusively in British Pounds. There's really great analytics, which automatically categorizes your transactions and even adds a logo of the company you're purchasing from, and you can set targets on each category.
Because Monzo is so focused on its own market, it has specific features like seamless switching from other UK banks, recurring payments, overdrafts and so on.
It doesn't have any of the fancy features from Revolut or N26 like insurance or cryptocurrency, but the app is so well polished and delightful to use that if you're in the UK, it's probably a no-brainer. For everyone else, you're better looking elsewhere.
Like:
Fantastic interface design, well considered user experience.
Has a banking license.
The card is fluro pink.
No like:
Requires living in the UK.
No insurance, purchase protection or other features.
No multi-currency features.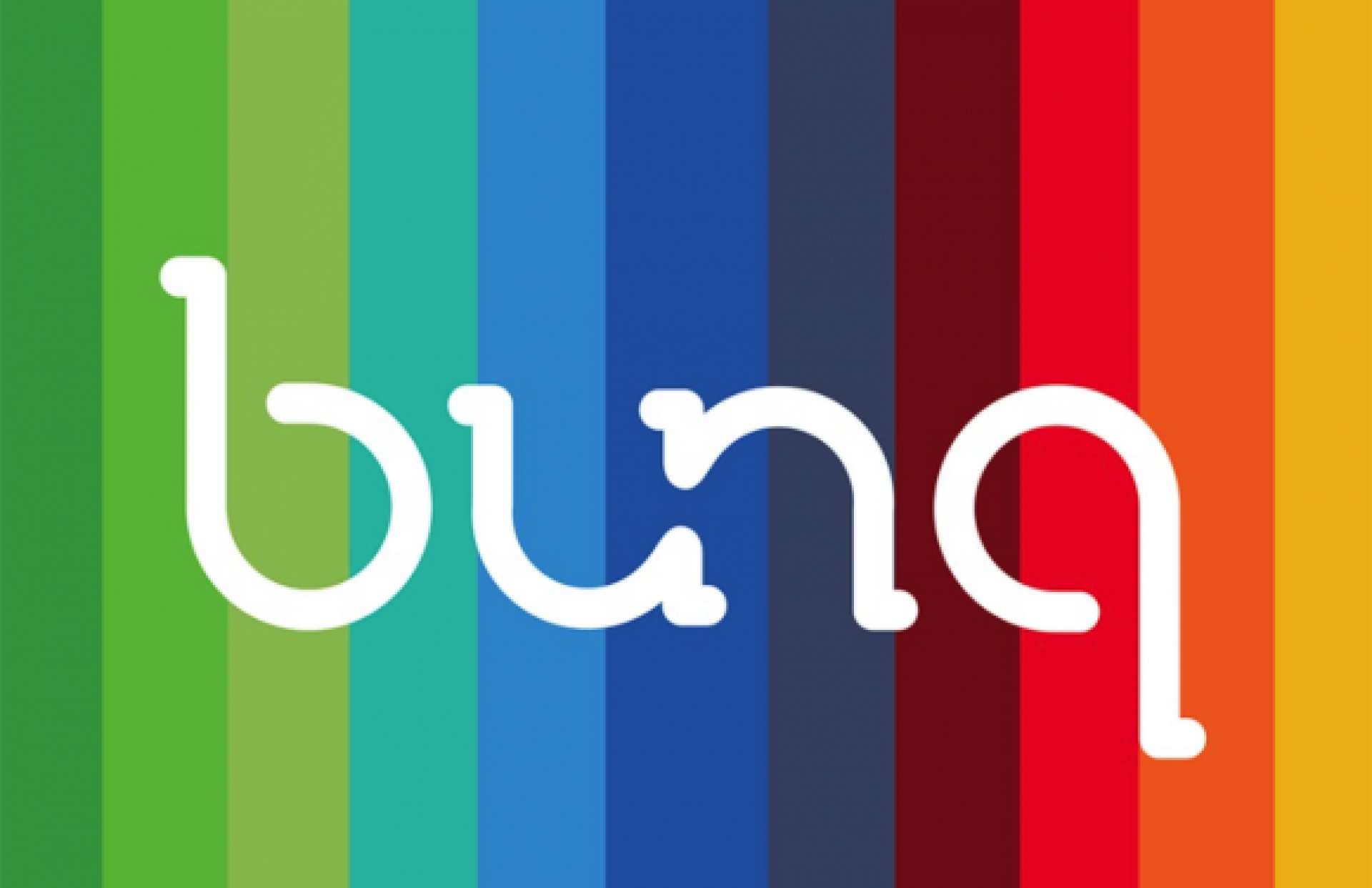 The Netherlands' own fintech startup, Bunq has been around since 2015 and has generally focused on the Dutch market alone, with a recent expansion to EU-wide users.
I used Bunq for a number of years, and it has all of the features you'd expect from a traditional bank, as well as a MasterCard that can be controlled from the app. If you're looking for basic features the service is fine, however it's lagging behind other fintech startups today.
Compared with the other startups here, Bunq has one of the more confusing interfaces I've run into, and a number of additional "security" features that make little sense, as well as fewer bonuses for the price you pay compared with the other players.
For example, the company claims that Touch ID, the iPhone security standard that even the NSA couldn't reverse, isn't safe, so it requires you to use an image of your hand instead, which results in awkward scenarios where you're unable to authenticate.
Bunq also exclusively supports Euro, and will actively reject any transaction sent in any other currency without telling you. This is noted here on their website, but if someone tries to send you USD, it'll bounce back to sender with a few less dollars thanks to interchange fees.
I lost a large sum of money to this process, which the company insists is because "it's saving me money" by not working with interchange banks, a common practice which ensures the transaction doesn't just disappear. These transactions are reversed to the sender, but Bunq is too small to actively trace them, so you'll struggle if it's sent by a large company.
In the Dutch market, Bunq is unique in supporting the iDEAL payment system, which is overwhelmingly popular here, as well as the ability to set two pin numbers on a single card to access unique accounts. Until recently, it was also the only startup to issue Maestro cards, which are needed in some Dutch stores, however Revolut also added those in 2018.
Bunq is a great idea, poorly executed, and it shows when compared to its fintech competitors which are similarly priced. Maybe it'll get better, but today it needs work, and will likely only appeal to people who really want to use Dutch payment methods.
Like:
Supports Dutch payment methods.
Has a banking license.
Supports joint accounts.
No like:
Awful user experience design.
Questionable "security" decisions.
Poor support desk service.
No multi-currency support.
No web app.
What's to come
There's a whole bunch of interesting fintech startups coming that are worth watching, and I'll add them here when I think it's interesting enough to look at. I'm keeping my eye on Acorns, Holvi, Starling, and Paysend right now, but let me know of any I haven't got listed here.
It's a fun time to be in Europe: we've got so many great options taking on the incumbents that there's a ton of choice. I'm wary that not all of these players can survive in the long haul, but in the meantime it's fun to see what a bank, reimagined for today could look like.