We finally got a brand new MacBook Air from Apple in 2018, but for many of us it missed the mark. It's a solid refresh without any of the hallmarks that made the Air so fantastic: lots of connectivity, a great keyboard, decent performance and a good price point.
Huawei's MateBook X Pro, however, hits so many of the right points that I think it's a better MacBook Air, combined with many of the benefits found in the MacBook Pro. It's overwhelmingly reviewed as one of the best Windows PCs, so I had to try it as a part of my series looking at great alternatives for those considering switching.
I've been using the MateBook for a few months as my primary laptop to determine whether or not it's something I would recommend as a great alternative to the Mac — and it's beyond good enough to the point that it's so much better than the modern MacBook.
If you're reading this, I suspect you're in the same camp as I was a year ago: you're looking for an alternative, even though you don't necessarily want to. But, I'm happy to say that there's finally a great set of choices out there, particularly if you care about price.
Read on for my thoughts on a laptop that's achieved Apple-level hardware without the painful price or compromises in the latest devices.
Hardware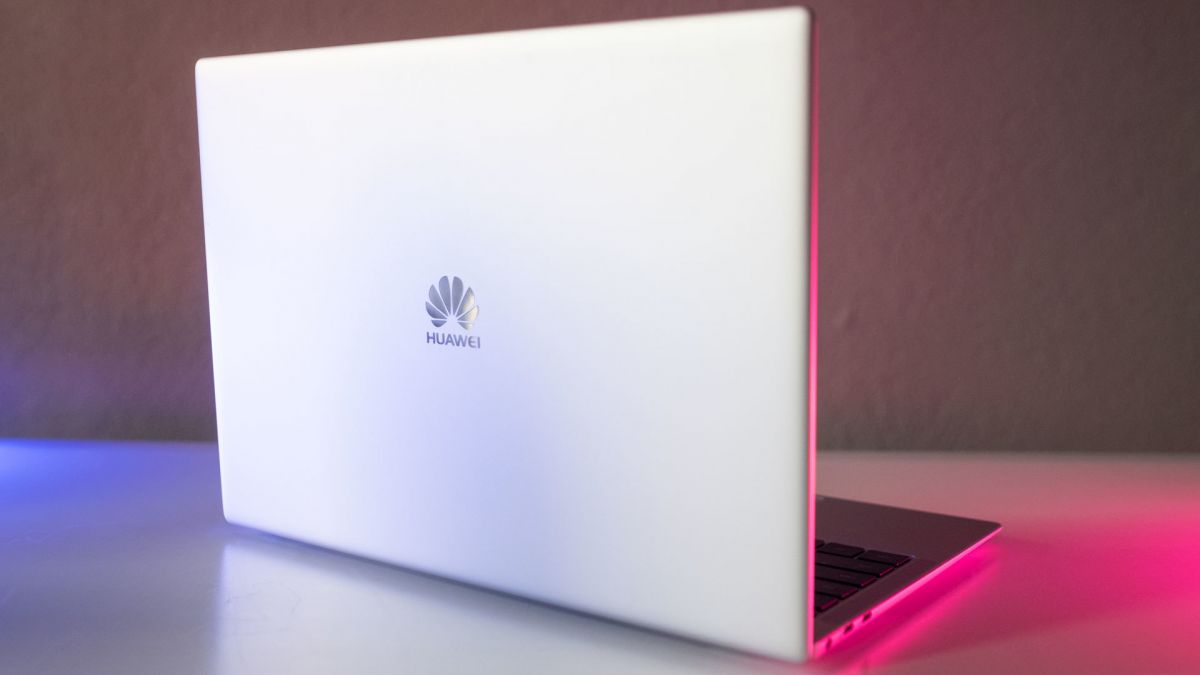 You'd be forgiven for mistaking the MateBook for a MacBook, especially from the outside. Huawei shamelessly borrowed design elements from Apple's modern laptops, while adding its own design flair. It looks great!
The silver is remarkably reminiscent of the default MacBook color, and the feet on the bottom are eerily similar to those you'd find on any Apple laptop. It's gorgeous, and feels like something that could've fallen off the Apple truck with a different logo on it.
But, open the lid and it's a different story: the screen is incredible and makes this laptop stand out with ultra-thin bezels, stretching the usable space to almost the edge of the machine. It's the wow-factor that everyone comments on about this device, and it's where you'll be spending most of your time.
The miniature bezels make the screen look impressive on their own, but the screen delivers in terms of performance too. If Retina displays were a revolution in display technology, they look ancient compared with what Huawei put in this laptop: there's a 3000 x 2000 pixel resolution, impressive color reproduction (100% of SRGB) and a level of brightness I've only ever seen on the MacBook Pro before.
There's also the right connectivity to match: you get two USB-C ports on the left, and a single USB-A port on the right. I've embraced USB-C as much as I can, but there's laggards: the amount of times I've been caught in a ridiculous situation where I couldn't plug a device into the new MacBook Pro was ridiculous.
The hardware specifications don't let down, either. Inside, there's a choice of either the Intel Core i5 or i7 (the latter is what I'm using), 8 - 16 GB of RAM and a discrete GPU, the NVIDIA MX150 with 2 GB GDDR5. All of this is crammed into a 13" laptop that weighs 1.33 KG (the 2018 MacBook Air is 1.25 KG) and 14.6 mm thick.
What makes the MateBook so impressive is that these specifications fit inside a frame that's as thin and light as the MacBook Air, without the compromises Apple made to achieve that form factor, which we'll cover later. You get raw power in a tiny machine that looks great, rather than being forced to choose.
The biggest complaints I have about the physical design of the device are simple: the edges are this chamfered reflective metal that looks cheap, and the logo is messy on the lid. Why not just omit it entirely?
Keyboard / trackpad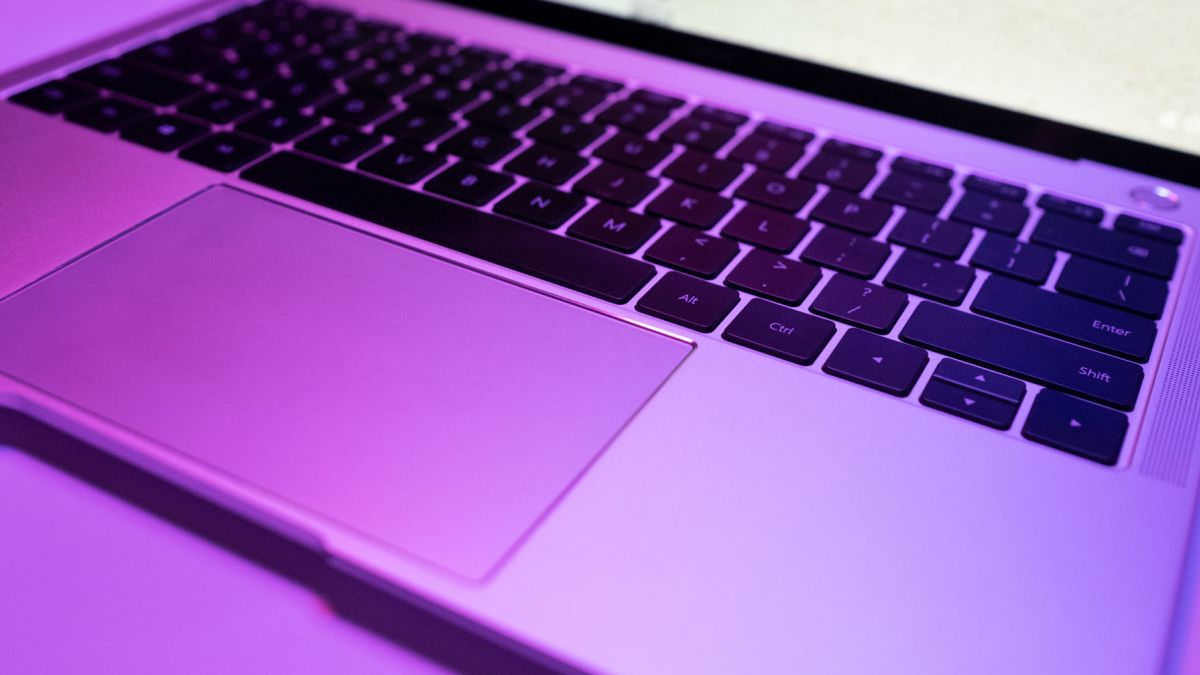 If you happen to love clicky keys that actually move, I've got good news: the keyboard on the MateBook X is a breath of fresh air. I don't mind the butterfly keys that Apple's now introduced on every model of its laptops, but I have questions about their reliability, and have found that they hurt my fingers with prolonged use.
The MateBook's keys are like the keyboards you would find in laptops a few years ago: just enough squish to feel right. I have no complaints in general, other than to say that I hope that the butterfly keys stick to Apple hardware.
Trackpads have long been a problem on Windows hardware, but I was surprised by the Surface Book's for the first time after years of looking. But, Huawei took it one step further, building the damn best trackpad out there. It's as good as the MacBook, plain and simple, with great responsiveness and the right feeling to match.
I don't know what to say, except: finally. This is MacBook-level accuracy, in a Windows device, and it's damn delightful. It's crazy it took so long.
A big difference between the modern MacBook and the MateBook is worth discussing here: the edges on the MacBook Pro are incredibly sharp compared with previous generations, and actually get uncomfortable on your wrists if you use it for too long.
The MateBook has no such issues, because the reflective edge tapers inward slightly to avoid cutting into your skin when resting your wrists on it. In terms of comfort, this is a small, but important difference that I was thankful for.
Display + camera
As I've already mentioned, the display on the MateBook X is one of the more impressive out there on aesthetics alone, but it's a fantastic all-around screen, too. It genuinely makes me wonder why Apple hasn't started pushing the boundaries a bit more with Retina displays, particularly on the pixel front, because it makes a real difference.
It's Retina, but better, and there's a single compromise to get there: the camera's wedged down in the keyboard now. Hidden between F6 and F7 there's a key that pops out a camera -- a design decision made to get the most out of the screen space possible, while avoiding the awful chin that the XPS series had to work around this.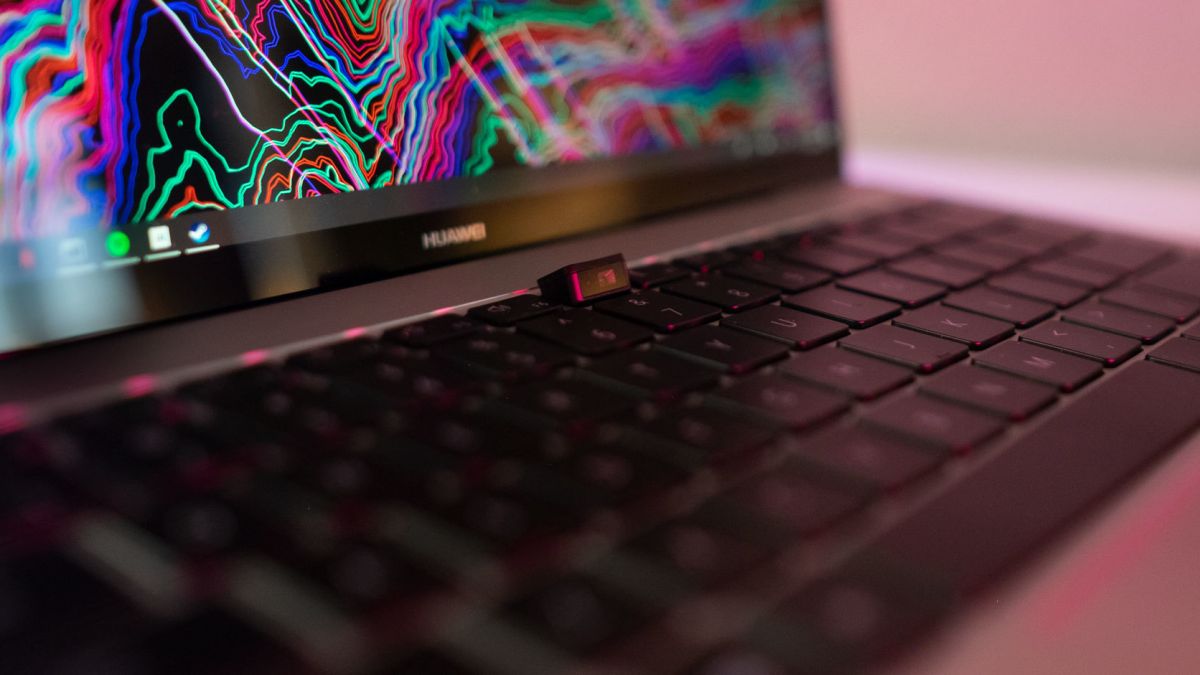 Let's get this out of the way: the angle of the camera is awful.
I make calls a lot being self-employed, and you'll be putting this on a phone book before calling someone. But, it is better than the angle found in the XPS, and absolutely worth the compromise: how long do you really spend calling with video on versus just staring at the screen? I'll take a better resolution display with thin bezels over a webcam at the top any day.
An unexpected benefit of the camera being embedded in the keyboard is that it's private by default. I place camera shutters on every laptop I have, but they're eyesores, no matter what you do to work around it. By embedding it in the keyboard, Huawei solved something by accident: I can be sure it's not going at all when it's tucked away.
Fingerprint sensor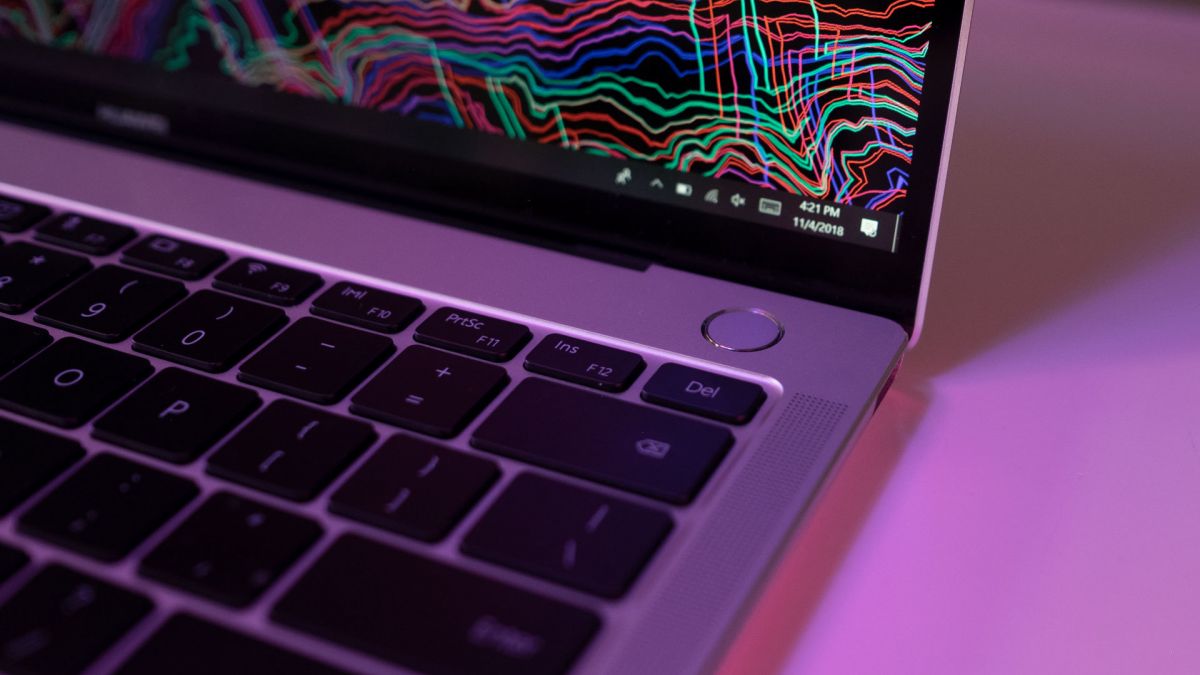 I've grown accustomed to unlocking Surface Book 2 with my face, so I don't think about passwords too much anymore, so when I switched to the MateBook I was thrown off balance: there's no space for a dual-sensor array so face unlock is off the cards.
There is something that's just as good, however; a fingerprint sensor embedded in the power button. It's just as good as Apple's Touch ID, logging you in before you even realize you've touched it.
The touch sensor has a trick up its sleeve too: even if you authenticate when your device is off, it'll pass that fingerprint through to the OS once it's booted. In other words, there's no waiting around for the machine to wake up.
I did have some concerns about how secure a fingerprint sensor might be on a Windows device, but having researched the technology, I discovered that the MateBook encrypts a hash of your fingerprint, rather than a scan, using Windows Hello. There's no images stored on the device, and it's encrypted on the physical TPM chip, so it can't be stolen.
Every device should have face unlocking like that found in the Surface, but I can totally handle unlocking with a fingerprint too.
Other bits
1) In terms of connectivity, the MateBook usurps every MacBook out there: you won't need any dongles. I've resorted to carrying a dongle pencil case around since the introduction of USB-C, but the MateBook includes two USB-C ports on the left, and a single USB-A port on the right-hand side.
This means you can drive two 4K displays at 60hz, or a single 5K display at 60hz. That beats even the higher-performance Surface Book 2 at its own game, which can only drive one 4K display due to the way that the Thunderbolt lanes are arranged.
It also means no connectivity compromises. I have enthusiastically embraced the USB-C future, but the amount of times I've been caught out with some weird cable or missing connector is frustrating. This way, I can still use a USB drive without dealing with a dongle, and this is a much better way to nudge people into the future.
2) I wish companies would stop being cheap and pay up to skip the sticker logos all over these things. The MateBook I tried out at least put the majority of the stickers on the bottom, including the Nvidia logo, but slapped a goopy Intel sticker on the inside.
It's such a terrible way to cheapen the experience, particularly on such high-end hardware, that on the shop floor it must be a harder sell. Most consumers might not care about it, but if I was comparing the almost-Mac to a real one, the sticker adds a certain level of gross that might lose people.
The experience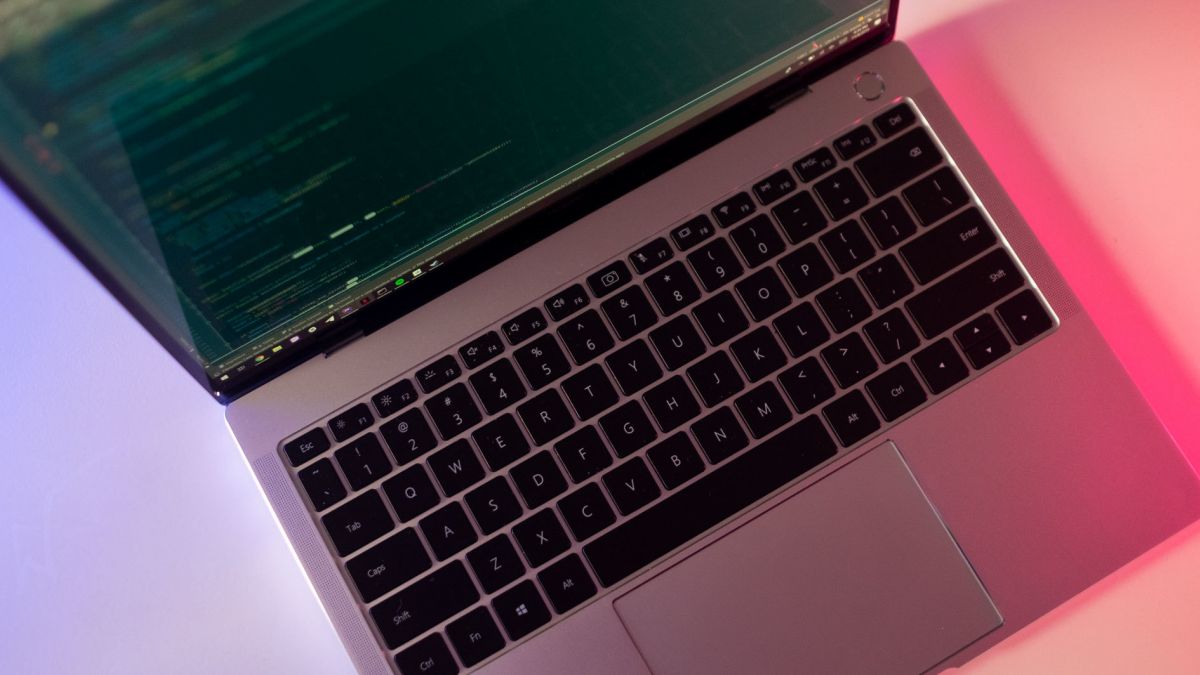 With all of the hardware out of the way, how does this thing actually perform? If you've read my previous reviews, you'll know I prefer to use a device for a few months to run my business before making a judgement.
I have a demanding set of tasks I impose on my hardware, too: I write PHP, run virtual machines, occasionally edit podcasts, and like to play a few games if I can.
Given the sheer size and weight of the MateBook, my expectations were much lower than a device like the Surface Book, but they shouldn't have been. The device was able to throw almost anything I threw at it, while still maintaining impressive battery life... and not sounding like a jet engine.
The MateBook quickly proved to me that it's possible to carry a device that doesn't weigh a ton, and not have constant battery anxiety at the same time.
On busy days, I could get through just under an 8 hour day in PHPStorm set to balanced battery, with a virtual machine running, which is no easy feat. If I was just writing, surfing the web in Firefox and checking email, it would easily outlast the entire day.
This is rare in laptops, and should not be discounted: it actually delivers all-day battery life without thinking about it, and I was blown away. If I needed a laptop I could trust to get me through the day, this is it.
One point worth noting is that the MateBook didn't have issues with rocket-engine-fans that have plagued devices like the Razer Blade. I rarely heard them spin up at all, and if they were running it was under heavy workloads like multiple virtual machines or a game, which is a refreshing change of pace.
What made me particularly happy is that I didn't have to give up all of my favorite games with the Matebook. Lightweight hardware doesn't tend to be compatible with gaming, given that traditionally Apple and most other vendors rely on the integrated Intel graphics to do the job, but Huawei included a discrete graphics card too.
The Huawei Matebook X is wild - straight up the MacBook Apple should have made 👀👀👀 pic.twitter.com/kksEbKbvUV
— Owen Williams ⚡ (@ow) August 14, 2018
While it isn't a high-end Nvidia card like the GTX 1060 found in the Surface Book 2 15", it's more than enough to play a few games on modest settings. The MateBook has more than enough power to play Fortnite on medium settings, which is perfect for a quick few matches on the move. For longer trips where I needed real entertainment, I was able to play games like Civilization V on high settings without dropping frames at all, which is good enough for me.
Having a GPU of any type, other than the integrated Intel one, is so welcome, and helps make the device much more versatile across how you might use it. But this is what the MateBook comes down to: it doesn't have any of the compromises Apple forces on you when picking a particular line of devices.
Deep-dive: Thin doesn't need to mean slow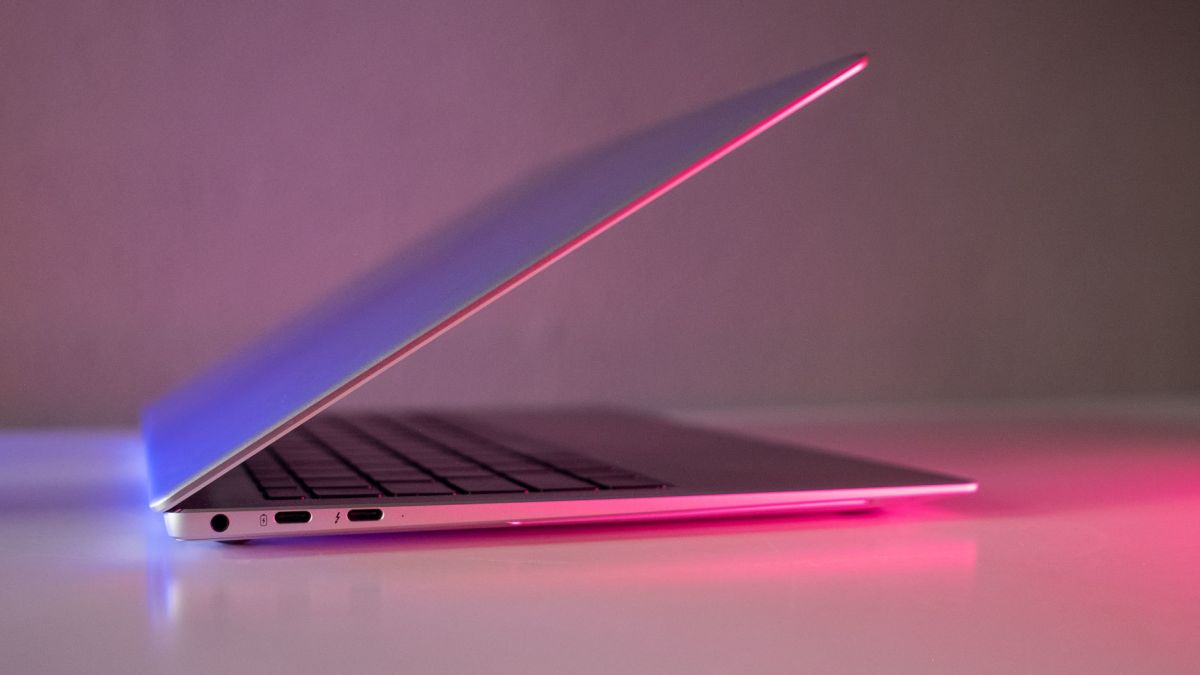 I don't like diving into technical specification pedantry very much, because most of the time hardware numbers are irrelevant. In the case of comparing the MateBook with the MacBook Air, it's worth breaking this down a little more to detail why this machine matters.
The problem with Apple's ultra-light machines comes down to processors, thermal envelopes and the pursuit of thin.
The 2018 MacBook Air uses an Intel Y-series processor, where the MateBook X (and the latest MacBook Pro!) use a U-series from the same generation instead. The devil is in the details, and the difference between these letters is subtle: the Y-series processor has a 'thermal design power' (TDP) of 4.5W, whereas the U-series goes up to 15W.
A lower-wattage TDP, like that found in the MacBook Air, means less heat and longer battery life, but at the expense of performance. Y-class CPUs are restricted by design, due to that lower power throughput threshold, and as a result, aren't great at anything that requires decent performance.
I believe that the decision to put a U-class CPU in the MateBook's frame is what makes it matter so much: you're able to achieve performance that's only available in Apple's high-end MacBook Pro lineup in a device as small as a Macbook Air.
What's astounding to note here is that the MateBook is just 80 grams heavier than the 2018 MacBook Air, with significantly better performance in a similar form factor. That's a feat in itself, and I think it shows that there could have been a performance-focused version of the Air, but Apple chose not to do it intentionally.
The laptop might generate a bit more heat or last shorter on battery than an Air, but can handle much higher-end workloads as a result. I wouldn't expect to edit a podcast or play Fortnite on a MacBook Air without it choking or at least hitting a ceiling, but the MateBook can pull off both without breaking a sweat.
There has been a lot of disappointment in Apple's choice of the U-class chipset, and rightfully so; I believe the decision is largely designed to force users to consider the higher-priced MacBook Pro if they need to do anything of substance with the Air. That's fine, but getting the best of both worlds in the MateBook is magic.
Thoughts on Windows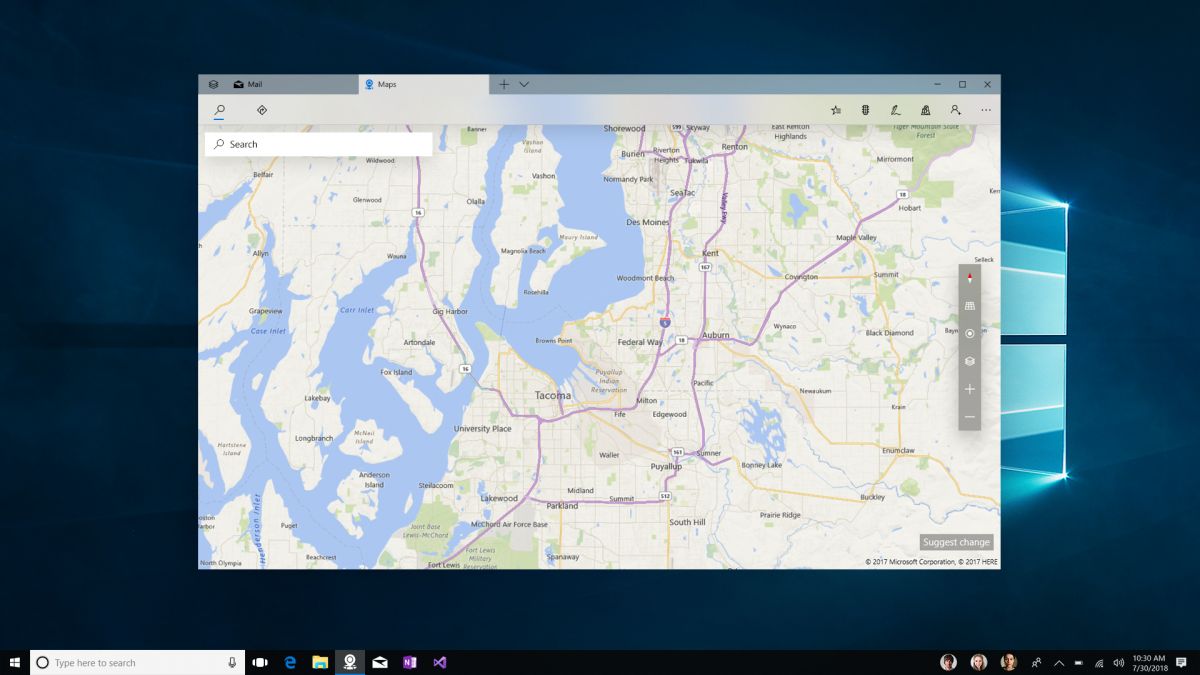 After writing one of these long reviews about how there's a decent MacBook alternative on the market, I inevitably receive hundreds of tweets and emails saying if only it ran macOS.
I think it's time to forget about it; Windows 10 has become something truly great, and it's getting better much faster than macOS is improving. Yes, you'll need to change your workflow, no, it isn't the end of the world.
I'm now more than a year into using Windows again, and while there are rough edges all over the place, Microsoft is quick to address issues, and the sheer amount of improvement in every release is astounding.
Bash on Windows (WSL) has come such a long way since I originally started writing about switching, too, and it's at the point where it's now 'native' enough to work with every use case I can come up with. My entire workflow, including PHPStorm, Vagrant, Docker and other tools are no different than that I used on my Mac.
It's time to switch the narrative around that Windows is a negative; it's now a net positive, and Microsoft is building features that make it far more compelling as an ecosystem. Just last month, it unveiled full integration with Android phones for instant SMS and photo sync, as well as a future where you'll be able to control your phone from the computer seamlessly.
I truly believe that Microsoft's ecosystem play is more compelling, simply because it's not a walled garden. Because Microsoft lost in mobile, it's opening up, and embracing playing nice with others -- and we all win.
What gives me pause
The biggest issue I have with the MateBook is the company itself, which has been accused a number of times over the years of spying on users of its devices.
While many of these concerns may be legitimate, we're yet to find any real evidence of such behavior. If they were legitimately spying on us, we'd have a larger problem at hand: everything is made in China, and the supply chain is even more vulnerable -- why would a vendor even bother?
I spent a while looking over the software on the laptop, and unlike most Windows devices that ship with pre-loaded tools, Huawei installs a single application called 'PC Manager' that helps keep drivers up to date. That's a refreshing change of pace, though I'd still recommend a quick fresh install using Microsoft's verified builds if security concerns you.
Choosing a laptop is harder than ever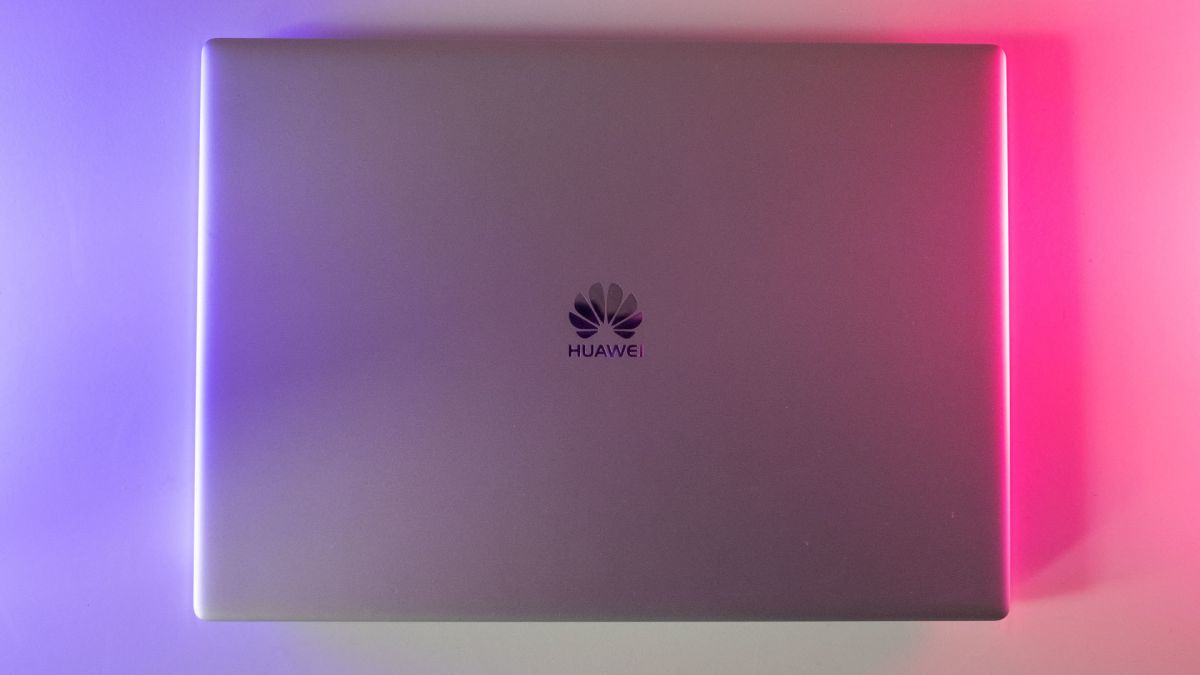 If the refreshed MacBook Air had arrived a year or two ago, it would have been a no-brainer for most people. Apple, however, floundered, and PC vendors have caught up in the vacuum.
We're finally at a point in time that if you're suddenly needing to upgrade your Mac, there are legitimate reasons to pause and consider not replacing it with another Mac. From keyboard problems, poor performance or even just ever-increasing price points, Apple has made grabbing a new device a harder sell than ever.
On the Windows side I've tried so many devices that change the game for me, simply because they're innovating in the spaces Apple is ignoring. Many of us would like a lightweight device that offers performance when needed, or are looking for a 2-in-1 that does both. Apple missed both of these marks, and it shows.
As to what you should buy if that ship has sailed for you too, the MateBook is absolutely my top pick for laptop, particularly if you don't care much about a convertible. If I wasn't already a complete addict to the way the Surface Book can change modes on the fly and a firm believer a convertible is more useful, I would get this machine.
What makes the MateBook X Pro even more compelling is Huawei's pricing: the base model starts at $1,299 and the higher-end version comes in at $1,499.99 — you won't find more competitive pricing anywhere else. The base model ships with an i5 processor, 8 GB of RAM and 256 GB of SSD storage, which is comparable with the base model MacBook Air, except Apple opted to set the storage at a measly 128 GB.
The fully tricked out edition of the MateBook X Pro, however, comes with an i7 processor, 16 GB of RAM and a 512 GB SSD for just $200 more. On the MacBook Air, just upgrading the hard drive to a usable amount of space will run you $1399 already, and a comparable configuration (keeping in mind the constrained CPU) comes in at $1,799.00.
This is the best MacBook out there, because Huawei took what made a MacBook great and fixed the rest. It's what I imagine would happen if Apple listened to its customers and would be more willing to compromise on the pursuit of thin, and I love that. Yeah, it's a shameless ripoff, but there's only so many ways to make a laptop-shaped slab.
If you're looking for something to replace your aging MacBook Air, or a broken MacBook Pro, this is it. This could become the new, default MacBook Air, and I suspect, that alongside Microsoft's Surface lineup, many people will consider making the jump.
---
P.S - If you're looking for other devices to replace a MacBook, I've created a collection of the best devices and long reads you'll need to get started.
P.P.S - The lovely wallpaper used in this review on the MateBook X is by The Verge, and you can get it here.