We made it: a look at what's ahead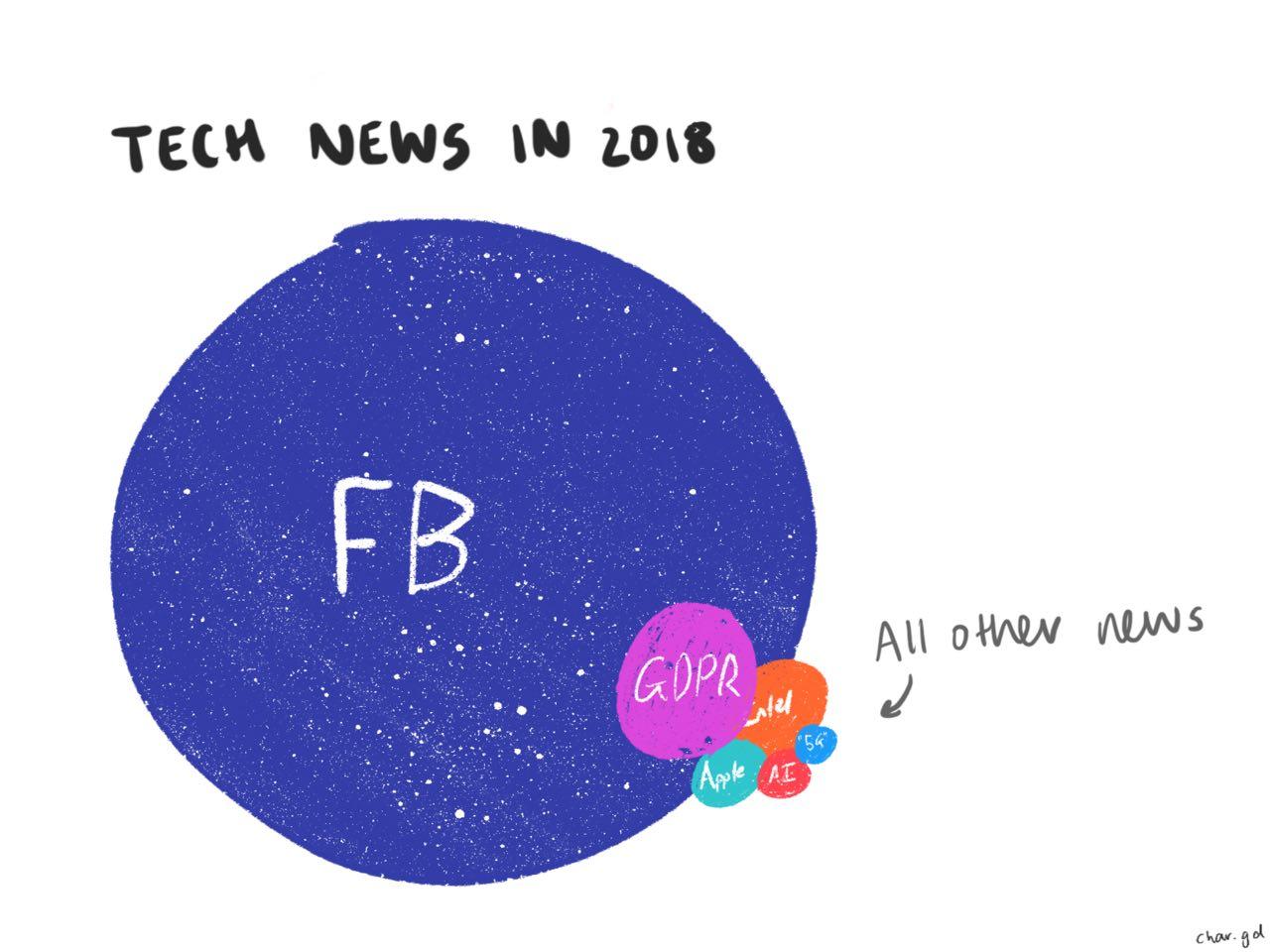 At times it felt like 2018 in the technology industry was an exhausting onslaught of news stories about social networks, technology companies being evil and doing all sorts of crazy things. The illustration above really is tongue-in-cheek, but it felt like this regularly, despite the reality that so much happened outside of the Facebook realm.
I was reflecting on the year as it was in 2018, and realized just how big the year truly was: not only did Cambridge Analytica unfold in 2018, so did the biggest processor attacks of all time, GDPR legislation being rolled out to the world and Magic Leap actually shipped a product — who would have thought?! For me, many of these stories felt like they happened years ago, but I had the realization that it was often just a matter of months.
Over the last week I kept trying and failing to make a 'year in review' newsletter looking at where we'd come from, but I just couldn't bring myself to it, so I thought I'd share something different: a look at what I'm excited about in 2019.
Private by default
I sense a shift in how many of us are communicating online, from public by default, to private by default with public sharing only selectively. Instead of gravitating to a feed of your life across platforms, people appear to be gravitating toward smaller groups of friends, strangers and others, discussing ideas in a safer space.
There are a number of examples of this trend unfolding already. Discord, which has more than 130 million active users, is divided into topics and interests (largely game related, but many more are popping up) with entire sub-communities for specific niches.
Islands is another example of an app that addresses this niche: it's invading college campuses because it specifically divides up communities into sub-groups such as the college they attend, and their interests, allowing users to only reveal as much information as they're comfortable with.
This trend will be driven by two outside forces: the ongoing debate over user data and privacy, as well as the realization that perhaps everything doesn't need to be public by default, forever, because that comes with its own implications. I expect Facebook to react aggressively, adding groups to Instagram in the near future.
Actually smart things
The 'smart' home has been arriving slowly for years, but in 2018 it felt like it truly was difficult to avoid. If you try to buy a TV, dishwasher or even an oven right now, it's going to be hard to avoid the smart choice, for better or worse. In many cases, these devices made life harder through firmware updates or complexity that got in the way of the primary thing you want to do with it.
In 2019, I see a larger shift on the horizon to the ambient experience these devices have promised for a long time. Google's Home Hub is a great peek at this future: a thoughtfully designed smart screen that is self-aware enough to not blind you at night, nor wake you up with notifications once it's clear that bedtime is here.
There's absolutely no reason any of us should be standing around to do updates, and this is another sign that the wild west is receding. Sonos, the maker of smart speakers, now installs updates just like the Chrome browser — you won't even know it happened.
A big sea change on the horizon are home devices that try to melt away into the home, making life easier, not more difficult. Google is clearly leading the way with its home devices, but I expect others such as Philips Hue to begin building features that make them seem magic (adding a motion sensor to your bathroom with smart lights is a great example of this, but it's too hard today).
Expect these companies to continue fighting for a spot on your kitchen bench, too. Google Home, Amazon Echo, Facebook Portal, Apple HomePod and many others exist, and I don't expect the battle to cool down: all of these companies are fighting for a spot in your home in order to become your 'primary' assistant. The race is not over yet.
The great Intel debate
Much has been written about the death of Intel, and I suspect that 2019 will be a make-or-break year for the processor industry. We continue to hear rumors of Apple's switch to ARM (which is supposed to occur in 2020) but we've also seen evidence that Intel isn't sleeping on the threat.
There are signs that we might see a fundamental shift this year for the types of hardware we buy. Microsoft is already building computers with native ARM architecture that run Windows apps without any changes, and performance is rapidly improving. If Apple throws in, all hell is likely to break loose, which will drive the biggest shift in PC form factors we've seen in years.
The shift may be painful, however. Developers will eventually need to rebuild their apps to support ARM and get the most out of the new architecture (namely, performance and battery life), which is a long and expensive project for the largest apps.
For the consumer, a switch to ARM would mean potentially cheaper hardware that's lighter, faster and better on battery. Additionally, it is likely to spark competition again: Intel has dragged its heels for years, shipping only incremental updates and largely blocking innovation in the market as it's struggled to make chips increasingly smaller.
Mobile contraction
Apple's Q4 earnings will land in the next few weeks, and with it, a peek at what everyone in the industry is wondering: is the smartphone officially over its growth period? Or is there still room here? The evidence suggests that Apple is desperate to prove that it isn't over yet, but that we're well beyond 'peak smartphone.'
I've written extensively about this in the last year, but what to watch in this space piques my interest: what will the fallout of this be? The PC industry's contraction made vendors around the world, from HP to Toshiba, collapse in rapid succession; what will it do to the iPhone/Android ecosystem? 
Genuinely, I don't really know yet, but it'll result in some turmoil. HTC already was a casualty of a slowing wider industry, selling the majority of its phone division to Google a year ago, but what does it mean for the likes of Samsung, Xiaomi and others? Stay tuned.
The platform fight
What is the next desktop platform? Microsoft has seen a renaissance with Windows in recent years, and appears to be reorganizing the entire company around a newer, lighter version of the OS that pushes web-based technologies (Progressive Web Apps) as its big bet on the 'next' platform.
That stands in stark contrast to Apple, which has been working on a project called 'Marzipan' to port iOS-based apps onto macOS. Evidence of this arrived with macOS Mojave, which shipped with iOS-like apps for news, stocks and others, with Apple planning a developer-ready framework to begin the transition at WWDC in 2019.
This move stands in stark contrast to how popular Electron has become. Electron is a framework which allows the creation of desktop apps with web-based languages, and the majority of modern apps are built on it: Slack, Discord, Visual Studio Code, Skype and so on. 
Is the next platform still native apps? Or will web technology invade further. Microsoft is betting the whole house on the web, with the news that it will discontinue the Edge browser's rendering engine in favor of Chrome, and it acquired the Electron framework along with GitHub in 2018.
My personal bet is that the web will subsume the desktop whole, and the future will look a lot more like ChromeOS, but it's still first innings. This area is one to watch in 2019 as developer events from the technology giants kick off, starting with WWDC expected sometime around June.
Facebook, in a new light
Made it this far? I'm impressed! My final prediction is that Facebook will continue to dominate the conversation in 2019, but there will be a fundamental shift in our relationship with the company. It's clear from the marketing pushes and shift in tone that Facebook knows it needs to win people back, but the core platform continues to stagnate.
Today, we're all fairly positive on Instagram, but as the company continues to add advertising, growth hacking and other new features to the social network, that is likely to change. I sense resentment to how quickly Instagram has become more like Facebook, and I'm not sure that it's sustainable.
In keeping with the shift to private by default that I mentioned earlier, Facebook risks missing this boat entirely, but has a big trump card: WhatsApp. Used by a billion people across the world, WhatsApp is a sleeping giant, largely untouched by Facebook until recently as the founders left.
2019 will be interesting for many reasons relating to Facebook, but I'm watching to see if the tide can be turned. Can Facebook win people over again? Or is there even any perceived issue at all for the majority of users? How will the company fix its problems, and stop the fallout? So far, it's failed to do much at all.
Your turn
These aren't even all of the things I'm watching, just the ones that are top of mind, so I'm sure I've missed something enormous. I've got folding phones, self-driving cars and others on my list, I just couldn't write about them all in an email just yet.
I'd love to hear from you what you're thinking about the technology industry in 2019, and what's important for you. Jump into the community to share your thoughts, and I'll feature the responses tomorrow.
---